WASHINGTON, DC—Thousands of identical scientists traveled to the nation's capital this week to urge lawmakers to lift restrictions on the cloning of human beings and increase funding for cloning experimentation and research.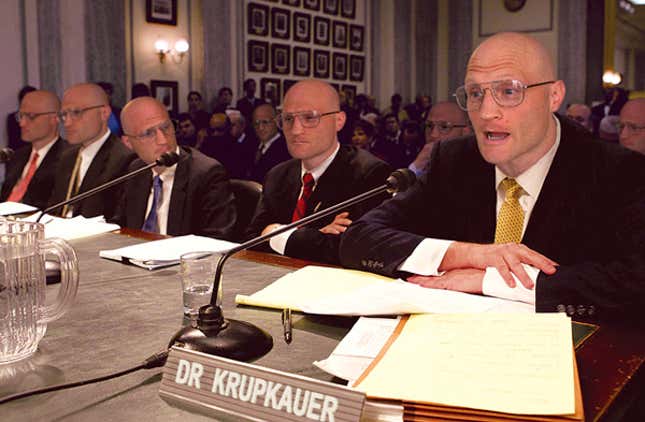 This Week's Most Viral News: September 22, 2023
"Ladies and gentlemen of Congress, we stand united before you today to speak with one voice," said Dr. Gene Krupkauer, founder of the lobbying group Like-Minded Scientists For Cloning Advancement, in testimony before the House Committee on Science Tuesday. "We implore Congress to fund this important research and acknowledge the growing support of many who share our views."
The benefits of human cloning touted by the LMSCA include ease of organ transplants and possible organ regeneration, mass telepathy, and coordination between pod brothers.
Krupkauer and his colleagues' testimony and its unified delivery brought the little-known lobbying group to the attention of many lawmakers who might otherwise have been politically opposed to their cause.
Sen. John McCain (R-AZ) said that after a Monday-morning meeting with one of the scientists, he encountered the same man at more than six functions that day. McCain said he also spotted the scientist around the city—once at a convenience store and twice at an area Chili's. Each time, the man took the opportunity to speak with McCain in the hopes of earning his support.
"Dedication like that gets my attention," McCain said. "I'm still cautious regarding issues of human cloning, but that man has certainly succeeded in putting a distinct human face on the issue."
The scientists credit the group's remarkable coordination to their leader, Dr. Gene Krupkauer, who first achieved prominence in the late '70s as an innovative geneticist at MIT, where his early research demonstrated the viability of large-scale human cloning. A protégé of MIT's late Dr. Gene Krupkauer, Krupkauer said his advanced studies on human cloning under Krupkauer generated enormous public furor and caused the revocation of his university funding. Undaunted, the duo cofounded the Krupkauer Institute For Genetic Research, where they were soon joined in their work by 256 male students of like build and facial features.
In 2002, a Krupkauer Institute fellow named Gene Krupkauer was unanimously appointed by his peers to develop and oversee a pro-cloning lobbying group.
"For a relative newcomer, the LMSCA has managed to make itself a force to be reckoned with in science-research lobbying," said Molly Van Steen, a chief researcher for the D.C.-based Center for Public Integrity. "Top lobbying firms may have more cash and diverse issues, but LMSCA seems to have a steadily increasing supply of volunteers."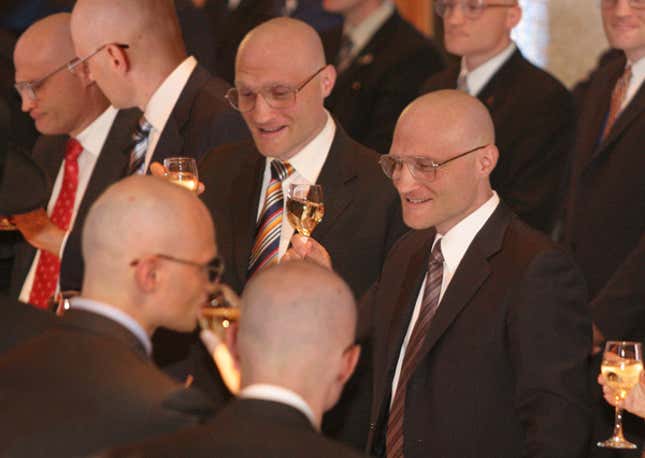 In an address before LMSCA members at the Renaissance Mayflower Hotel Tuesday evening, Krupkauer called upon Congress to "heed the wishes of the 2.8 million people who already support, and the precisely 5.62 million who will support, this cloning research."
"There is still resistance to cloning out there," Krupkauer said. "But that is of no consequence. The world we envision is as inevitable as it is beautiful—it is a world from which every one of us stands to benefit. If you put it to a vote in, say, 18 years, there can be but one result."
Krupkauer's testimony before the committee was frequently interrupted by the thunderous, rhythmic applause of his supporters.
"I believe I speak for my colleagues when I say that Dr. Krupkauer's speech said exactly what we have all been thinking," said audience member Dr. Gene Krupkauer. "If only there were more like him."