WASHINGTON, DC—In a move that has sparked widespread speculation, Attorney General John Ashcroft gave explicit orders to his staff Monday to tightly bind him in heavy iron chains before the next full moon on Sunday, Feb. 16.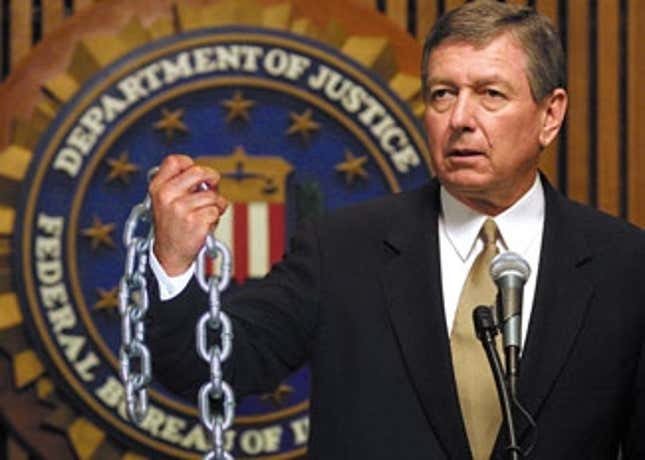 This Week's Most Viral News: September 29, 2023
"The entire Justice Department is under my strict orders," Ashcroft told reporters during a brief press conference. "I must be restrained, I must be shackled, I must be kept safely away from the innocent."
Ashcroft said he told top department officials that his chaining must last the entire night of the 16th "at all costs."
"I told them, 'No matter how much I scream, now matter how frantically I beg, you must not let me loose,'" Ashcroft said. "'I will likely tell you to forget what I'm telling you now; that I didn't mean any of it. Do not listen to me, I implore you.'"
Added Ashcroft: "I'm not like other attorneys general."
Ashcroft then abruptly ended the press conference, saying he was due at a Cabinet meeting "before the setting of the sun."
According to a Justice Department memo leaked to The Washington Post, Ashcroft is to be wound in five loops of strong chain and shackled to a stone wall, his wrists bound in sterling-silver cuffs branded with the sign of the crucifix. Washington archbishop Theodore McCarrick has been enlisted to stand watch over the Attorney General for the duration of the evening, armed with ample quantities of holy water and wolfsbane.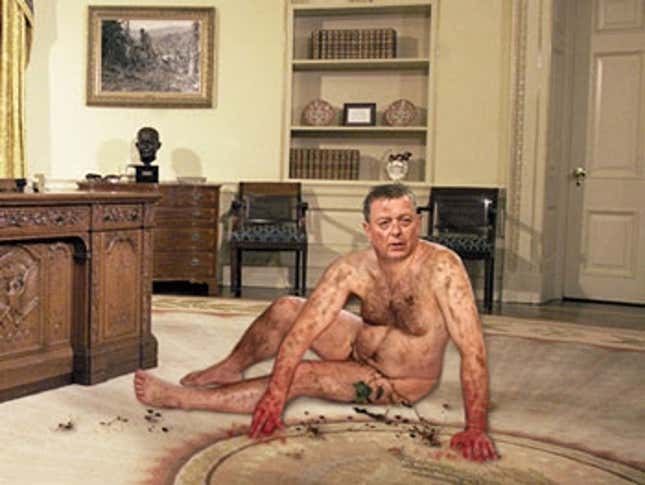 The memo also ordered Solicitor General Theodore Olsen to supply D.C. police chief Charles Ramsey with a .45 revolver and six bullets of consecrated silver, with vague instructions to use them "should it become necessary."
Beltway insiders are at a loss to explain the unusual orders. However, in a possibly related development, during a Jan. 26 press conference, reporters noticed a small crescent-moon shaped tattoo behind the attorney general's left ear—a mark they had not seen there before.
"He was up at the podium, announcing a new measure that would give the federal government broader powers to detain immigrants and other non-naturalized U.S. residents, when I happened to notice this weird mark behind his ear," Boston Globe reporter Jason Moran said. "I tried to move up closer to see it better, but he growled and shot me this chilling look I can't even describe. I immediately backed off, but I know what I saw."
On Jan. 18, during the last full moon, Ashcroft unexpectedly disappeared from an NRA fundraising dinner he was attending. The next morning, a nude man matching Ashcroft's description was reported running through the streets of downtown Washington.
D.C. police are also investigating a series of animal mutilations that occurred that same evening at the Smithsonian National Zoo's Deer Park. No suspects have been identified in the case.