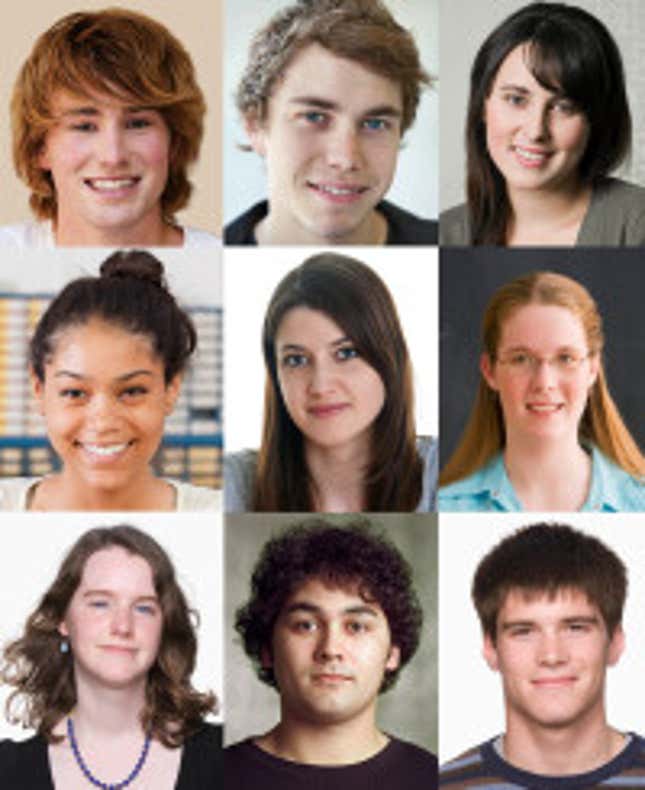 Dear Freshman English Class Going Around The Room And Saying A Little Bit About Themselves,
This Week's Most Viral News: September 22, 2023
My girlfriend and I just moved out of our old apartment. We're sure we cleaned it thoroughly, but our landlord called it "filthy." He's refusing to return our security deposit because he hired professional cleaners to deal with the "mess" he insists we made. We didn't think to take pictures of the house after we cleaned it. Is there anything we can do?
—Gypped In Grand Rapids
Dear Gypped,
Um, okay, I guess I'm first. Ha. Um, my name's Katie. I'm from Bridgeport, CT. I like… Sorry, my last name is Harris. Katie Harris. Um, what else? Um, I'm from Bridgeport, CT, I have two brothers and a dog, Arnold. Golden retriever, part collie. Ha. Um…I talked to my student adviser, and she's pretty cool and she said she took this class her freshman year and that she really liked it. She said you were a cool professor, ha-ha. And my major is…um, I guess I'm not sure what it is yet? Maybe English, though! I mean, I enjoy literature…so maybe English, yeah. But definitely undecided for now. Oh, and one fun fact about me…is…that…I…um, I went to Puerto Rico over the summer with my best friend Bekkah and that was super fun.
Dear Freshman English Class Going Around The Room And Saying A Little Bit About Themselves,
I work at this coffee shop that shall remain nameless, and part of my job as a barista is to be friendly. But my boyfriend visited me at work last week, and I'm pretty sure he thinks I'm being a little too friendly with some of the customers. How can I tell him that it's not like that without implying that he's being possessive?
—Fresno Flirt
Dear Fresno Flirt,
Evan. I'm a freshman too, ha-ha. Let's see, I'm from Massachusetts, just outside of Boston. Like 20 minutes north. Probably gonna be either applied math or Spanish. They're kind of different subjects, I know. I'm sort of all over the place. I'm actually taking a bunch of different courses this semester. There's English, obviously, um, intro to statistics, poli-sci, and me and a bunch of people from my floor signed up for this fencing class. Ha. And I'm also taking intenatch—inchn. Blah! In-ter-na-tion-al relations. Sorry, it's still pretty early for me. Ha. A fun fact? Um…go Sox.
Dear Freshman English Class Going Around The Room And Saying A Little Bit About Themselves,
I'm thinking about buying an awning for my back porch. The only problem is that now it's basically the end of summer, so I feel like I won't really get a ton of use out of it. Then again, there are good sales now. What do you think? Should I hold off, or should I just do it now and get it over with so I don't have to worry about it next year?
—Awning In Akron
Dear Awning,
I'm Kai. I'm from California. West Coast. Um. Not much to say about me, really. I'm a freshman. Um, I dunno, I like pretty normal stuff, I guess. TV. Sports. Uh, movies, music, food. Um, yeah. I'm pretty low-key, mostly. English isn't really my thing. Pretty much just taking this because it's a requirement. I guess I'm more into math. Thinking about engineering or maybe econ. Yeah, I dunno.
Dear Freshman English Class Going Around The Room And Saying A Little Bit About Themselves,
Our son is four years younger than our daughter. Until recently, he's been fine with his earlier bedtime, but now that he's 8 and his sister's 12, he's asking more and more often to be allowed to stay up as late as she does. How long should we wait before instituting "bedtime equality"?
—Double Standard In Des Moines
Dear Double Standard,
I'm Jayson. I love long walks on the beach… Ha. But seriously, um, I guess I was like the editor of my school newspaper, so I'm like pretty into writing and stuff. Um…I was also treasurer of my student council and I was in National Honor Society. I played varsity soccer, but I didn't feel like playing in college so I didn't try out for the team, but maybe I'll do intramurals or something. I saw The Avengers this summer and thought it was awesome. Ha. And my favorite writer is Charles Dickens, so I was pretty psyched when I was at the bookstore and I saw all the Dickens books for this class. Great Expectations is so good. It's like my favorite. Can't wait to read it again. Um…a fun fact about me? I'm double-jointed in my left arm, so it does…this. Sorry. Sorry.
Confidential To Tormented In Tempe:
Well, it looks like it's my turn now. Okay. My name's Jim Morse. You can call me Professor Morse or Jim. Either one is fine. In fact, why don't you call me Jim? I think that would be easier. I went to Syracuse for undergrad and Virginia for grad. I suppose a fact about me is that I've had several poems published in various journals. I'm actually doing a reading of my poems at Espresso Royale this Friday, so you should all come out. It'd be great to see you there. A fun fact about me? I also saw The Avengers this summer, and I'd love to talk about that and anything else that's on your mind during my office hours. You can find those listed on the syllabus, which I'm just passing around now.
Ask A Freshman English Class Going Around The Room And Saying A Little Bit About Themselves is a nationally syndicated advice column that appears in more than 250 papers nationwide.