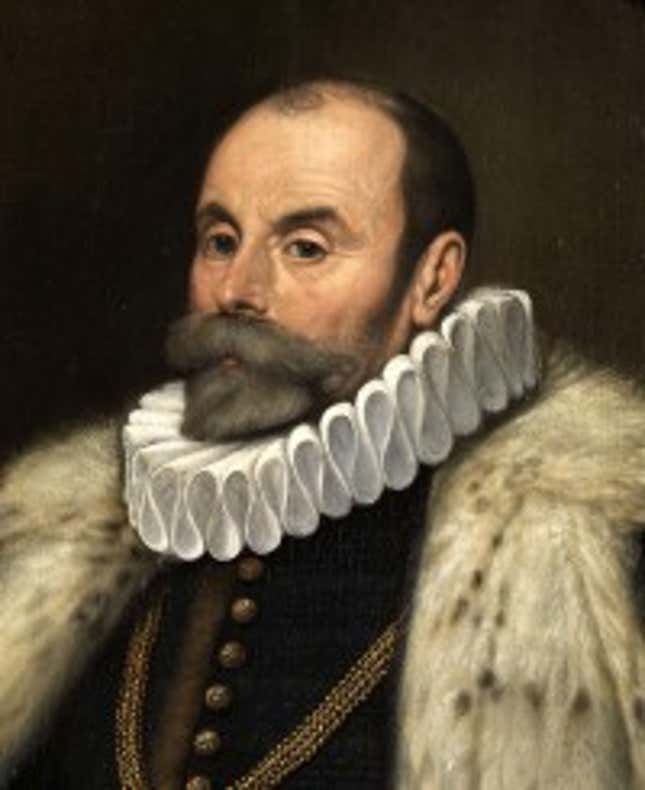 Dear Nobleman Attempting To Secure A Husband For His Least-Marriageable Daughter,
My son is a freshman in college who almost never calls home. When we do talk, it's only for a few minutes, and I never get a sense of what's going on in his life. How can I encourage him to keep in touch without making him feel as though I'm prying?

—Shut-Out In Schaumburg

Dear Shut-Out,

Sir Langsby, you know me as a landowner of goodly character and domain, do you not? Now, you will pardon my candor, but I believe a man of your years is in want of a wife. As fortune would have it, my eldest daughter, Ageltrude, is unbetrothed. You have no doubt seen her about the manor in her generous smock. She may not possess the delicate features and smooth, hairless visage of other maidens, but there is formidable strength in her ample figure. Furthermore, she is unblemished in virtue. You would do me great honor if you took her as your bride.

Dear Nobleman Attempting To Secure A Husband For His Least-Marriageable Daughter,

My husband and I are planning our first vacation with the kids, and we can't agree on where to go. He wants to go to the Caribbean, but I'm not sure it's wise to venture outside the country with two toddlers. Is it okay to travel internationally with small kids, or are we asking for trouble?

—Torn In Toledo

Dear Torn,

Verily, I will grant that my Ageltrude is not always the…comeliest to look upon, marked as she was by harsh childbirth. But her lovely flaxen tresses cover a fair portion of her head, and she retains one very long arm with which she is quite able. Take my assurance that her well-muscled shoulder and large hand make her a fine worker. She would prove of great assistance in the barley fields should your men need help with the coming harvest. And bother yourself not so far as childbearing is concerned. She is in possession of an exceedingly sturdy frame—sturdy as a plow-beast, forsooth! I am confident she would bring you a fine male heir anon.

Dear Nobleman Attempting To Secure A Husband For His Least-Marriageable Daughter,

I live in a duplex and share a driveway with the guy next door. Every time it snows, I'm the one who winds up doing all the shoveling. I've asked him several times if he wouldn't mind helping out, but he always says he's busy. How can I get him to do his fair share?

—Wronged In Rutland

Dear Wronged,

You see, my youngest daughter, Gwendolyn—a beauteous vision, she—will be betrothed to the Earl of Harrington not two fortnights hence. Aye, and my fair-skinned angel Beatrix was promised to another long ago. But my sweet, innocent Ageltrude! Always cloistered in her chamber, alone but for the beloved guinea fowl she keeps as her dearest friend. O poor Ageltrude, lowing in her guttural baritone the night entire. It is perhaps this solitude to which she owes her hearty appetite, as she saves all her passion for the supper table. Yet her considerable dowry will more than recompense thee for the abundance of meats, puddings, and buttermilk required for her satiety.

Dear Nobleman Attempting To Secure A Husband For His Least-Marriageable Daughter,

Every Friday, my coworkers go out for drinks at a nearby bar. They always invite me to come along, but I had to quit drinking a few years ago and do my best to avoid social activities where alcohol is served. By not going, I'm missing out on a bonding opportunity, and I worry my work relationships may suffer as a result. Any advice?

—One Confused Coworker

Dear Confused,

Prithee, good sir, hear me out! The dowry would include 15—nay, 20—parcels of my most fertile land, and all the oxen from my stable. Surely, such bounty would persuade a man of your enlightened character to look beyond the, how shall I say, severity of Ageltrude's features—which, might I mention, would hardly be noticeable behind a bridal veil. Likewise, simple tinctures purchased from the town physic would quickly restore her eyes to a more straightforward direction and subdue her admittedly prodigious salivation. Such expenses would be mere trifles with the 20,000 gold sovereigns this marriage would vouchsafe to your purse. Come now! What say you to my proposition?

Confidential To Mortified In Montauk:

My dear Langsby, wait! Do not dismiss this offer yet. Tell me, what can I do to make this match worth your while? Ten casks of the finest apple wine? Handsome imported linens of sufficient breadth to shroud your bride-to-be? A pewter table set? Say the word, and you shall have it. You do understand that a wife need only accompany a gentleman on official occasions, yes? Or perhaps not even then! If you like, you could send Ageltrude to live in a guest house on your country estate in Hamptonshire; she does so love looking upon the ducks of the pond and shrieking heartily. Please, Langsby! Please, do not walk away! Please…. Ah, well. O my dearest Ageltrude. We shall try again on the morrow with the Chamberlain Douglas.

Lord Walter of Wykeham is a syndicated columnist whose weekly column, "Ask A Nobleman Attempting To Secure A Husband For His Least-Marriageable Daughter," appears in more than 250 papers nationwide.