ASPEN, CO—Citizens of this small mountain community remained in a state of shock Wednesday as law enforcement officials continued their frantic, all-hours search for a ski that went missing last weekend.
According to sources, the sense of desperation is mounting as the search for the 2-year-old ski, last seen in the vicinity of the Gent's Ridge chairlift, enters its third day.
"We're doing everything we can to ensure the safe return of the ski, but as of now, we have very, very little to go on," said Pitkin County sheriff Joe DiSalvo, confirming the missing equipment is one half of a pair of Rossignol S80s belonging to a part-time Aspen resident. "The important thing is that we not panic. I assure you, we're using every resource at our disposal to find this ski and bring it home safely."
"Please, if anyone has any information regarding a red and white alpine ski approximately 170 centimeters long and weighing around 2,000 grams, I urge you to contact authorities immediately," DiSalvo continued. "Time is of the essence."
G/O Media may get a commission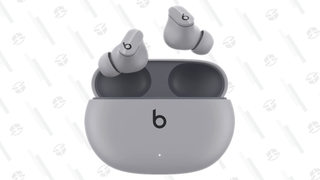 Search and rescue teams—including police officers, tracking dogs, and at least nine helicopters, as well as dozens of firefighters, EMS personnel, and volunteers—continued to scan the perimeter of Aspen Mountain today, combing snowbanks for chemical traces of the ski, digging out massive drifts where it could have accidentally fallen, and questioning people who may have spotted it from a passing gondola or mountainside estate.
Dive teams have also been deployed to scour nearby Hallam Lake.
"Whether an abduction occurred or not remains to be seen, and out of respect for those close to the ski, I'm not going to speculate on that at this time," Sheriff DiSalvo told reporters, adding that every second the ski remained missing its owner was losing valuable time on the slopes. "Obviously, the pain of knowing one's ski is out there somewhere, very possibly in harm's way, is a lot to bear. I just can't imagine if it were my own ski."
The ski's owner, Dallas-based venture capitalist Perry Shaw, 33, offered brief words to reporters outside his leased condominium yesterday, explaining he was still reeling from the sudden disappearance.
"I don't care what it takes, I just want my ski back," Shaw said as he clutched his wife's hand. "It's all so senseless. I left it alone for a few minutes to head over to the lodge for a glass of chardonnay, and when I came back, it was gone. If something's happened to it, I don't know what I'll do."
"How am I supposed to continue bombing down the slopes on one ski?" added Shaw, becoming too overwhelmed by emotion to continue speaking.
A candlelight vigil was held Tuesday evening outside the Burberry store on East Hyman Avenue, where donations to the rescue effort were offered, along with prayers that the ski is not permanently damaged by exposure to the elements—a risk, according to experts, that increases with each passing day.
Gov. John Hickenlooper has placed the state patrol at the disposal of the rescue effort, effecting the largest mobilization of law enforcement in Colorado since the successful 2003 recovery of a pair of Oakley sunglasses that went missing at Crested Butte.
Despite the outpouring of support, few held out hope of finding the ski and bringing it back safe.
"It's been almost three days now without a single lead, and the situation seems pretty bleak to me," said day spa and salon owner Catherine Marsh, shaking her head. "It pains me deeply to say this, but the owner may just have to buy another ski."