KANSAS CITY, MO—Senior sales representative Mark Seversen, already notorious at Aqua-Dek Water Filtration Systems for being an asshole, made the ultimate asshole move Monday when he triumphantly admitted to being an asshole.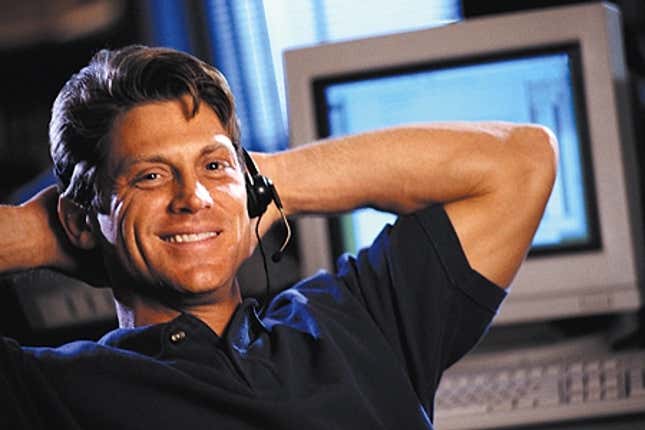 "Look, I know you all think I'm an asshole," Seversen, 32, told a roomful of fellow employees. "Well, that may be true, but I moved more units for this company last year than any three of you combined. News flash: Nice guys finish last."
"So I'm an asshole," Seversen added. "Deal with it."
Aqua-Dek sources said Seversen has a long history of being an asshole. In five years at Aqua-Dek, he has alienated virtually all of his coworkers by blaming others for his failures and lying to secure promotions. Recently, he slept with an emotionally vulnerable, newly divorced coworker, only to complain about her "saggy ass" to the rest of the office afterward. Coworkers report that Seversen frequently brags about his car, his many beautiful ex-girlfriends, and his hair. He also frequently makes asshole-ish comments about minorities, the poor, and "fatties."
However, according to coworkers, Seversen's recent admission that he's an asshole takes him to a whole new level of assholitude.
"That's a real supreme asshole move—admitting you're an asshole and not giving a shit," coworker Bob French said later that day. "He acted like outing his own assholiness somehow made it our problem, not his. What a dick."
Coworkers report that, having declared himself a supreme unrepentant asshole, Seversen gleefully explored the freedoms of his newfound role.
"If doing what it takes to make more money than any of you people means I'm an asshole, then what can I say? I guess I'm a rich, successful asshole. Guilty as charged," Seversen said. "Now, if you'll excuse me, I've got some calls to make about the houseboat I'm going to buy. Make way for Mr. Asshole."
Severson reportedly grabbed his briefcase and walked out, leaving his coworkers in disbelief.
"On my first day, when Mark made an elaborate show of learning my name, I could tell he was an asshole," receptionist Nina Taylor said. "But within weeks, he moved from Asshole Who's All Proud Of Himself Because He Knows My Name to Bigtime Asshole Who Has Me Phone In His Lunch Order to Seriously Major Asshole Who Propositions Me In The Parking Garage. But today in the conference room, when he told us all he's an asshole—that thing put him into the category of El Assholio Supremo del Mundo. He really outdid himself."
According to Seversen's former assistant, Janet Manning, the asshole's recent leap into the category of Supreme Asshole will probably only benefit his career.
"The more of an asshole Mark is, the more money he makes, and the more authority he's given by the head office," said Manning, who left Aqua-Dek in April to "do literally anything that will get me away from that son of a bitch." "In Mark, you see a classic example of the cycle of escalating assholedom. Instead of hiding his assholishness and putting on a good show, he brags about it as if it's a virtue, because it benefits his career. But I don't believe for a minute that he's only an asshole for career advancement. For Mark, being an asshole is its own reward."
"God," Manning added. "I can't believe I slept with him."
When asked to comment on allegations that he'd made the ultimate asshole move, Seversen did not disagree.
"Hey, you're doing a story on me?" he told reporters. "Make sure you put it in huge letters on the front page: 'Mark Seversen is the world's biggest asshole, and he doesn't give a fuck whether you like it or not.' That'd be hilarious."