PASADENA, CA—The world scientific community is reeling following Monday's announcement by California Institute Of Technology astrophysicist Miles Lindgren that he has discovered evidence of a black hole at the center of his 27-year marriage, a commitment vortex from which no love can escape.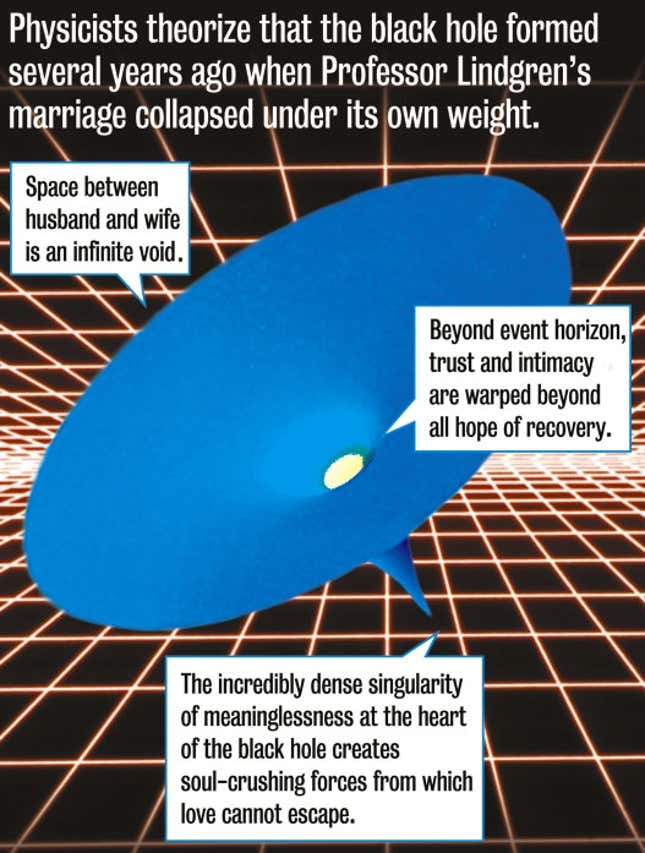 Edgelords Explain Why They Love Elon Musk
Though evidence suggesting the possible presence of black holes has been documented by scientists in the past, Monday's discovery marks the first time anyone has ever proven the existence of one within an interpersonal relationship.
At a press conference Monday at Cal Tech, a dispirited Lindgren announced his discovery in a flat, broken monotone: "Last night, while unsuccessfully attempting to interest my wife Harriet in sexual intercourse, I began noticing inconsistencies in our bedroom's electromagnetic radiation signatures that suggested they were being affected by an immense and joyless invisible force, leading me to suspect the presence of a massive black hole of joylessness and despair."
According to Lindgren, the existence of a marital black hole is difficult to prove due to the fact that it is so massive that not even light can escape its gravitational pull. "Thus it is possible that one can go undetected for years," Lindgren said, "even when you're living in the same home with someone each day, thinking that you are happy, deluding yourself to avoid facing the empty charade that your relationship has become."
Efforts to study the Lindgren black hole have been hampered by the marriage's extraordinarily powerful gravitational pull, which sucks anyone who comes near it into an ever-descending spiral of sadness for the once-happy couple.
"The space between Miles and Harriet has become so vast that it is almost impossible for the layman to comprehend," said Harvard University physicist Wolfgang Milos. "It's a shame, really. Think how it must be affecting those poor kids."
Experts believe that the couple's two children, Lindsay and Marc, passed the black hole's event horizon long ago and will never escape its immense, psychologically damaging downward pull.
"As Lindsay and Marc near the singularity," said noted therapist Eli Wasserbaum, "they will each be stretched into a one-dimensional geometric anomaly, never again able to enjoy healthy, well-adjusted emotional lives."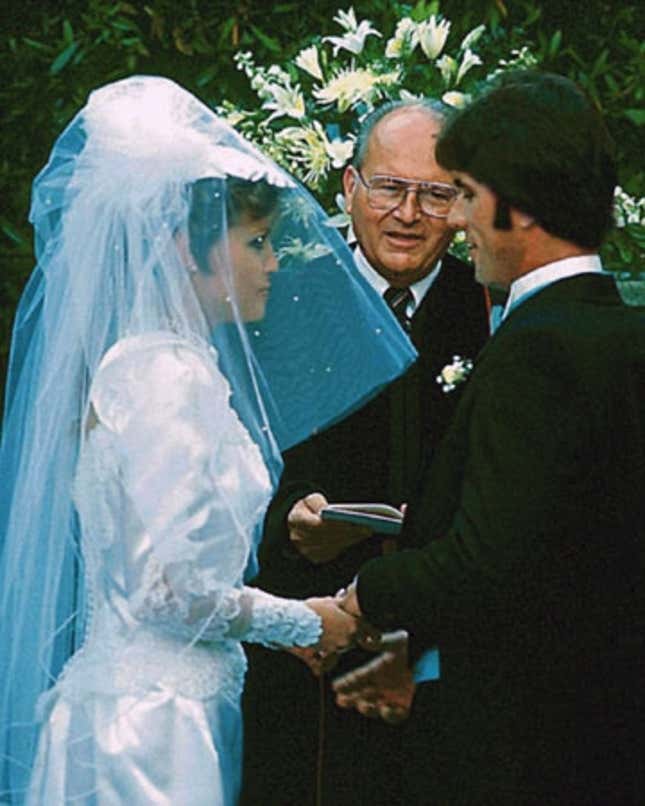 Therapists and astrophysicists from around the world have gathered to observe the marriage. A remote robot probe fired into the black hole by a joint Russian/American counseling team detected a soul-crushing sense of loneliness before the black hole consumed the marital probe and data transmission was cut off.
"Data collected by the probe indicates that sometime around the birth of the Lindgrens' second child, their marriage began to collapse under the crushing weight of its own lack of intimacy, eventually becoming so small and dense that no heat or light could escape," Milos said.
Lindgren agreed with the probe's findings. "After Marc was born, the space between Harriet and myself became a loveless, immeasurable void, a rift in the fabric of existence where space-time—as well as private, quality time—collapsed onto itself," he said. "Because space and time have no meaning within such a singularity, each day stretched out into infinity, with each passing second seeming like an eternity of profound emptiness."
"This phenomenon was," Lindgren said, "invisible, even to Hannah and myself, so everything seemed normal, as if nothing was wrong, as if we still cared."
Though Lindgren and his wife are said to be seriously considering a divorce, this effort will fail too, as the couple will be unable to escape the accumulated emotional mass of 27 years of marriage.
Experts believe that the couple's inability to divorce will only lead to greater research opportunities in the future. For example, in an effort to infuse his life with new purpose, Lindgren recently began having a secret affair with 22-year-old Cal Tech physics graduate student Sarah McCue.
It is a development that scientists are watching closely. "As the young woman grows closer to Lindgren and begins to realize that the relationship is limited from the start, she too will begin emitting an intense field of desperate, hopeless electromagnetic waves, waves of anger and resentment as her emotional mass is, in turn, self-consumed," said Cal Tech astrophysicist Charles J. Chang, who shares an office with Lindgren. "I am looking forward to collecting and analyzing this data very much."