WASHINGTON—A spokesperson for the Bureau of Alcohol, Tobacco, Firearms, and Explosives announced Tuesday that the agency has intensified its manhunt for an individual suspected of bumming more than 75,000 cigarettes nationwide.
ATF agents, who have tracked the elusive cigarette moocher for nearly four years, claimed they could be just days away from apprehending the "single greatest threat" to American smokers.
"For far too long, this lowlife criminal has preyed upon unsuspecting cigarette owners," ATF spokesman Stuart Thompson said. "However, we are confident that recent developments will finally allow us to bring down this menace to justice once and for all."
"Mark my words," Thompson continued. "His days of annoying the living crap out of smokers everywhere will soon be over."
G/O Media may get a commission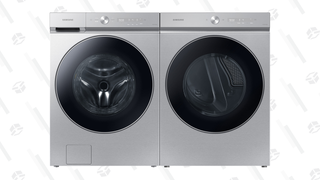 Get $500 back in credit
Last Chance: Samsung Bespoke AI Washer and Dryer Preorder
Representing the largest investigation in ATF history, the nationwide dragnet has nearly exhausted the agency's resources, with daily operating costs exceeding $2.5 million, and more than 1,500 federal agents being mobilized in hopes of stopping the serial bummer before he strikes again.
A special bulletin released by the ATF warned that citizens should be on the lookout for a Caucasian male in his early to mid-20s, with absolutely no sense of social etiquette whatsoever. The moocher is reportedly also known for having never once purchased his own pack of cigarettes, falsely claiming that he only smokes when he's been drinking, and thanking his victims to an insufferable degree after the bumming has occurred.
In addition, investigators have described the freeloader as being constantly in need of a light.
Despite tracking the suspect on his cigarette-bumming spree across three state lines, investigators have failed to detect any discernable pattern to the mooching. Preliminary analysis has concluded that the perpetrator is equally comfortable stalking his victims around college campuses, parks, local bars, and at all hours of the day and night.
In each instance, however, the moocher was observed to exploit the sympathies of nearby smokers by claiming that he had "just smoked his last one."
"This individual will say anything to get a cigarette," said ATF agent Gene Lorenzo, who while searching the agency's database found 20,000 instances of the offender alleging that he was totally trying to quit, but was having a shitty day. "He's a smooth talker who befriends you, and before you know what's going on, half your pack is gone."
"And trust me," Lorenzo added. "He's never going to get you back like he promises. Never."
Since 2001, the ATF has conducted interviews with people who have encountered the cigarette bummer to better understand how he chooses his victims. Diane Gustercan, a Denver bank teller, said the culprit first approached her when she was having a smoke after work.
"It was awful," said Gustercan, who helped officials assemble a profile of the bummer. "He came straight up to me and he said, 'I hate to be that guy, and I hate to even ask, but do you think I could get a smoke off you?'"
"I felt so helpless," Gustercan continued. "It was like there was nothing I could do."
"No smoker is safe while that man's still out there," Kentucky resident and local barfly Dale Richardson said. "He hit me up three times in the same night. Tried to chat with me for a little bit too so I wouldn't feel bad about it. I finally just gave him a cigarette so he'd leave me the hell alone."
According to an internal report, the perpetrator uses a number of clever cons to successfully mooch cigarettes. The agency's data confirmed that these include halfheartedly offering to pay 25 cents for a smoke, and hovering around two people engaged in conversation while desperately miming for a cigarette with his index and middle fingers.
Despite working with local law enforcement across the country, the ATF has for months struggled to home in on the suspect, largely because he leaves so few clues behind.
"Six months ago, we received a tip that the moocher was at a Staples parking lot in Omaha," agent Alex Leonard said. "We spent hours combing the area and finally came up with a cigarette, but it was burned beyond all recognition."
"He definitely knows what he's doing," Leonard continued. "Sooner or later though, he's bound to slip up. And when he does, we'll be there. We'll catch that slimy piece of shit."
A break in the case this morning nearly netted the notorious moocher, but officials reportedly let the fugitive slip away when he approached several officers during their smoke break, asked for a cigarette, and quietly went on his way.