MINNEAPOLIS, MN—In what many in the literary world are decrying as a violation of the sacred bond between author and readers, Benjamin Webb's much-anticipated second novel, In Winter's Shadow, a follow-up to his acclaimed debut Autumn's End, has met with abject disdain from critics and readers feeling exhausted and betrayed by Webb's tendency to "puss out" when it comes to ending the lives of any of his characters.
Webb, 26, was praised as a "literary wunderkind" by Newsweek in 2003 after his ambitious first novel, a 452-page account of five generations of a Norwegian–American farm family living in Minnesota. Yet it slowly dawned on readers of his even more ambitious 579-page sequel that the penetratingly insightful young writer had no intention of addressing the mortality of his characters.
This Week's Most Viral News: September 22, 2023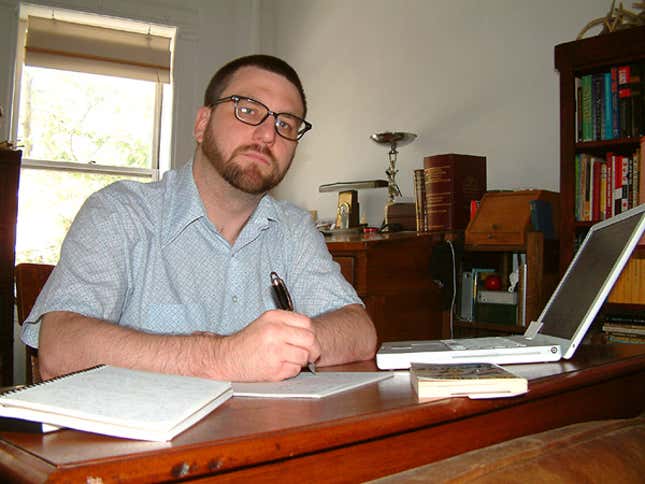 "You know the grandfather character who was something like 84 in 1973?" said Chicago resident Kaya Bishop, who was referring to family patriarch Per Kjellstad. "The book goes to the modern day, and he's still alive."
"Why is he still alive?" she added.
Also returning was Kjellstad's son, alcoholic Korean War veteran Christian, now nearly 77 in the tale, who was trapped in a flaming barn at the close of In Winter's Shadow, and rebellious gay grandson Derek, who contracted AIDS in 1981. Even the Mexican émigré handyman Jesus Diaz, whom Bishop, along with many astute readers, had assumed to be a secondary character meant to die in the book's violent burglary scene, makes an appearance in the final chapter.
Ten new characters are also introduced, and all remain alive and healthy—including two who were newly pregnant—at the book's end.
"Take that whole Felice thing," said Bishop of the over-curious teenaged great-great-granddaughter of Kjellstad. "She has all the makings of an innocent victim of her family's messy history. It'd be a tragic and largely unjust death, but at least it might help us relate to the inherent randomness and vulnerability of the human condition. Instead, Felice receives answers to all her questions and eventually opens a craft shop in town."
"We all know you're in love with this fictional character, Mr. Webb, but please, do us all a favor and kill her already," Bishop added.
In fact, a stillborn infant, Kjellstad's late first wife Kirsten, and the suicidal farmer whose land Kjellstad purchased in a foreclosure auction in 1932 were the only non-living human beings mentioned in In Winter's Shadow. But Kirsten's death came before 1924, the year the narrative begins, the farmer was never alluded to when alive, and the infant was later revived.
Also perplexing to readers were the slaps on the wrist dispensed to those in clear need of poetic justice. Peter Reid, a former St. Olaf College classmate of Webb's, told reporters that his tutu-wearing 6-year-old niece could write more compelling fiction.
"You want me to believe that a pill-popping, fanatically religious feed-store dealer who raped his niece shouldn't have ended up getting shot in revenge by the emotionally troubled Kjellstad boy?" said Reid, who read a galley copy of the book prior to its release. "I asked [Webb] about it, and he went on about how I'd missed the feed-store guy's loving and compassionate side."
"Christ, Webb, grow a pair," he added.
Reached for comment in his Grand Marais-area cabin in which he does most of his writing, the unchallenged master of the literary cop-out genre defended his authorial choices.
"I don't know about you, but I can't wait to see what happens to [fly-fisher and limerick-loving town eccentric] Patrick Munson in the third book," Webb said. "I know the readers are clamoring for his death. But it would be like saying goodbye to a close friend taken way before his time. I'm sure people will agree when they read Before The Thaw."
With the exception of The New York Times' Janet Maslin, who gave In Winter's Shadow a favorable review, critics once sympathetic to Webb's work are universally panning the book. Publisher's Weekly denounced it as "life-affirming schlock," while Harper's deemed it "the most frustratingly victimless book since Ethan Frome." Oprah Winfrey, who was considering featuring the novel in her high-profile Oprah's Book Club, decided to drop it after determining that her viewers would "probably not get anything out of a death-free story."
Despite poor reviews and meager sales, Webb said he was excited to begin his next project: a work of historical fiction that will provide "a whole new take" on the Kennedy clan.