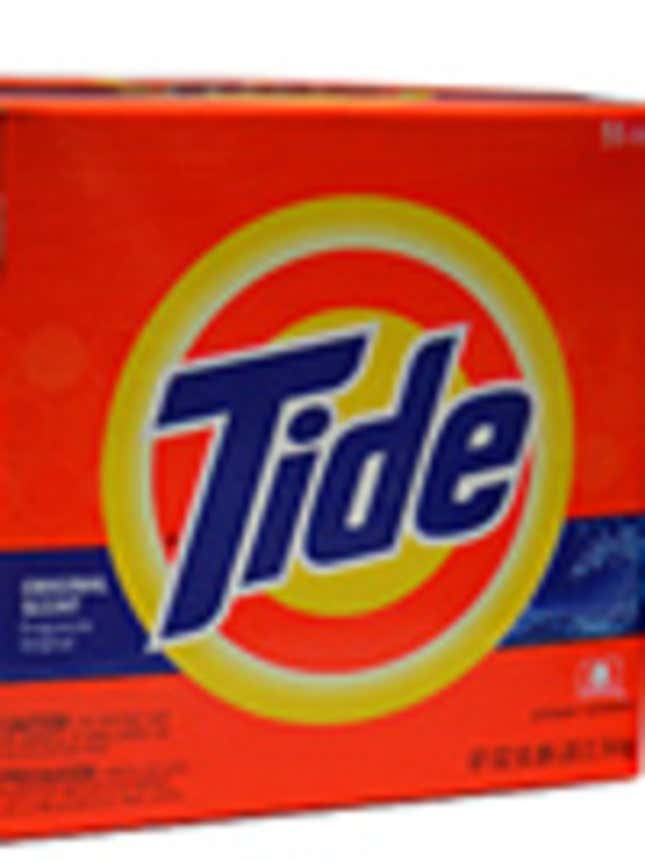 For more than 60 years, I have been recognized far and wide as America's foremost stain-fighter. I'm sure you've all heard the ad copy: Tide is the scourge of blotches and splotches everywhere, able to tackle dirt, grime, or hard-to-get-out stains with the best of them. And while that may not always be true, exactly, I still believe that if you examine my record carefully, you will find it is, you know, for the most part…very…uh…very….
This Week's Most Viral News: June 2, 2023
Aw, nuts. Who am I trying to fool here? We all know I couldn't beat a stain if my life depended on it.
I know, I know, I have the stain-fighting power of baking soda, I'm a powerful two-in-one cleaner, blah blah blah blah.
I used to believe all the hype myself. I'd see a stain and I'd dive in with everything I had. But I was younger then, full of hope and wide-eyed idealism. Nowadays, my label might say "new and improved," but on the inside, I'm as flimsy and torn as the cheap, colored cardboard that contains me.
Jeez, listen to me. What the hell happened to my confidence?
People say I shouldn't beat myself up about it so bad. After all, I've taken out some great stains in my day. I used to go up against a massive coffee stain on a white button-down like it was nothing. And who can forget the disappearing act I did on that red wine after the famous merlot-on-silk-blouse incident? Incredible! Yes sir, those were some mean stains, boy, and I zapped them right out. Yeah. Right out.
Oh, man, what'm I saying? Those stains were all presoaked with club soda and scrubbed with a coarse brush before they even made it into the washing machine. I had an unfair advantage right from the very start!
I mean, come on. Doesn't everybody realize how worthless I am? I should just give up and disappear from America's supermarket shelves for good. I'm sure no one would even care.
Of course, I can get some stains out. There's no denying that. But the real ground-in, serious stains, the ones that really mean something, make it through the wash every time, without fail. Because the ugly truth is that stains like that are pretty much impossible to get out. That's why they're called stains, because you can't just wash them out with simple dodecylbenzene sulfonate compounds like me. Oh, sure, you can throw phosphors and enzymes at them till your heart's content, but those tainted cloth fibers ain't goin' nowhere. And even if I do defeat a stain, there's another, bigger, tougher stain right behind it. It never stops.
Just stain after stain after stain after stain.
That's why most days, after I get poured into the washing machine, I just sit there, staring at dirt and grime, completely paralyzed by fear. What's even the point anymore?
This whole thing is a joke. I'm a joke. Splashing my logo in huge, bright colors on daytime television. Trying to convince the housewives of America—and myself—that I was something I am not. Bragging about how no stain could defeat me, when all the while there were plenty of fairly mild stains kicking my powdered ass all over town. What a blowhard. What a phony. And all those whites that came out pink because they were mixed with colors? I used to think that was funny. Now I see it for what it always was: a scarlet letter of failure.
So I guess, if you want, you can bring on the stains, America. I'll do my best, but we both know I'm playing a loser's game here. Go ahead, pour me into your dirty laundry. Maybe I'll get your stain out, if it's tiny and hasn't dried yet. But if it's just one of your garden- variety, set-in discolorations, I probably won't do a damned thing. And though it hurts to admit that to myself, it's the truth.
Sometimes I wish I were already dissolved.