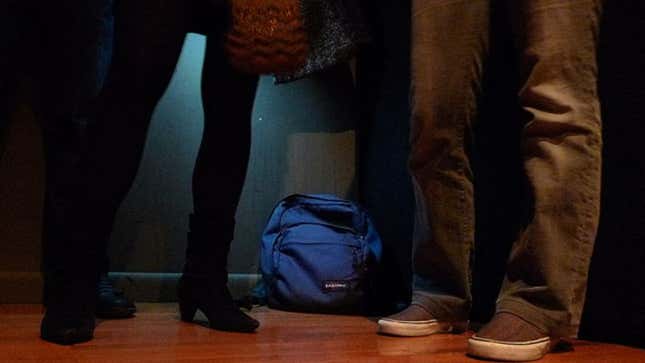 ATHENS, GA—Wishing to avoid the annoyance of wearing his backpack during a rock and roll show at the 40 Watt Club Friday, concertgoer Nick Hurley ingeniously placed the bag in the corner, thereby rendering his personal items completely inaccessible to any potential thieves.
The 26-year-old software developer told reporters that the corner—located to the left of the main stage in an area slightly darker than the rest of the room—would act as an inviolable barrier against any attempted theft while providing him with the peace of mind necessary to leave his backpack unattended for the duration of the concert.
"I'm so glad I thought to put it there," said Hurley, whose iPod, house keys, and new laptop computer were made utterly secure in the open floor space by simple virtue of his having chosen to place them there. "To the untrained eye, this corner might seem like any other right angle formed by two perpendicular walls, but I instantly recognized it as the impregnable fortress that it was."
"My backpack is partway under a chair," he added. "There is no way anything can ever happen to it."
After discovering the corner—a veritable Fort Knox of backpack safety—Hurley was freed from the 8-pound burden of his belongings, an encumbrance he said would have diminished his enjoyment of the Seattle-based indie-folk group Fleet Foxes. According to Hurley, placing his backpack between the club's entrance and the spot near the stage where he intended to stand during the show would even allow him to double-check the sophisticated bulwark of the corner's defenses should he need to go outside for a cigarette at any point.
"And to think how close I was to shelling out $2 for the coat check," said Hurley, chuckling.
Hurley reportedly has a preternatural knack for scouting out totally secure places for his valuables, most notably the glove box of his car, hooks on the doors of public toilet stalls, and anywhere there is a total stranger he can ask to keep an eye on something for a minute.
A concert attendee who wished to remain anonymous said he was immediately thwarted in his attempt to steal Hurley's backpack from its invulnerable stronghold and was instead forced to take a bag that had been foolishly placed in an adjacent corner of the club.
"At first, the brown Eastpak with the headphones dangling out of the side pocket looked like the perfect target, but as soon as I approached the corner, I knew it would be impossible to swipe," the source said. "What could I do? If he'd placed it along the wall 3 or 5 feet down, then I'd at least have had a chance. As things were, it might as well have been on top of Mount Everest."
"Even if by some miracle I could have gotten anywhere near it, [Hurley] almost certainly would have spotted me from his perfect vantage point across the room, though his sight line was often obscured by other concertgoers and he sometimes went 15 minutes without looking over in the direction of his bag," the source added.
At press time, Hurley had reportedly become so confident in the security of the corner that he allowed himself to become thoroughly intoxicated and consequently forgot to pick up his backpack when leaving the venue.