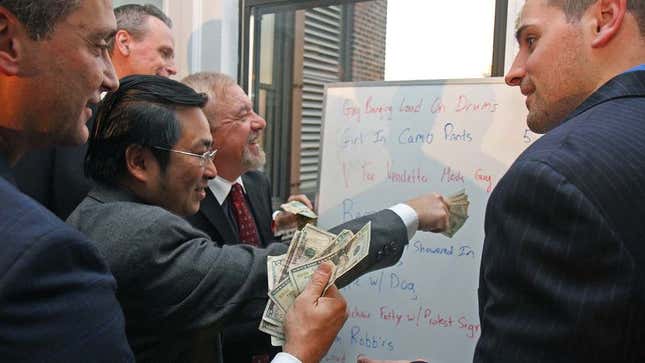 NEW YORK—Peering down from their 15th-floor boardroom onto the Occupy Wall Street encampment in Lower Manhattan's Zuccotti Park, executives at the financial services firm Wittinger Group reportedly placed bets Monday on which protester would be arrested next.
This Week's Most Viral News: September 29, 2023
According to sources, the bankers had gathered around the large picture window in a mahogany-paneled conference room after an exhausting morning of foreclosing on more than 9,000 homes.
"Five-thousand bucks says it's V For Vendetta Guy," bank vice chairman Malcolm Grant said in reference to a protester wearing the stylized Guy Fawkes mask popularized by the 2006 film. "Look at him. He's just asking for the cuffs with that thing on his face. Come on, who's in? That stupid fuck's not gonna last out there long."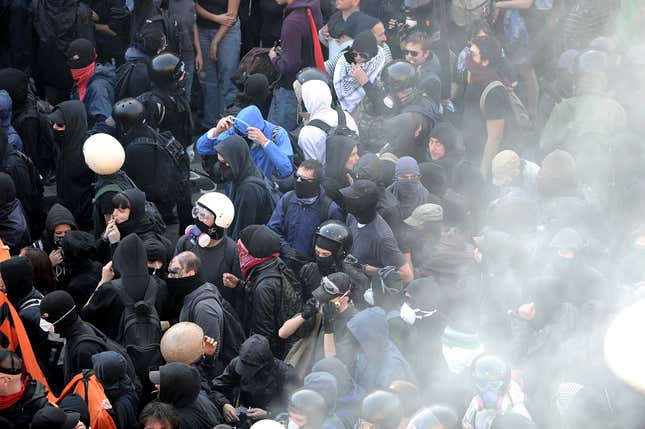 "Georgie, take your thumb out of your dick and put some cash down," continued Grant, addressing global strategies officer George Malkin. "Pick out one of those little shits and buy me a hot tub."
Witnesses said Malkin, who has earned $21 million in salary and bonuses since the recession began in late 2007, spent several minutes weighing various options for his wager—including a man standing on the sidewalk with a dollar bill taped over his mouth, a woman sitting in a lotus position on a straw mat, and a man playing an African hand percussion instrument in the drum circle at the west end of the park—before finally settling on a woman passing out leaflets.
"She looks more normal than the others, but she's feisty," Malkin said of the clean-cut young woman in a green T-shirt and jeans who had earlier led an impassioned "We are the 99 percent" chant. "You know she's going to open her yap one too many times and get a face full of pepper spray. Yeah, no doubt in my mind. That mouthy bitch is a winner, all right."
"Don't get me wrong—it'd be a shame to see titties like those get hauled off to jail," said Malkin, 43, adding with a chuckle that if the girl really needed a job, he'd be more than happy to give her a shot in several positions. "But if she makes me 5,000 bucks, they can stick her on death row for all I care."
Over the next hour, the bankers, whose employer was kept afloat by having more than $19 billion of its toxic assets purchased by taxpayers as part of the 2008 TARP bailout, not only continued betting amongst themselves but also received calls from executives at Bank of America and J.P. Morgan who said they wanted "in on the action."
While wagers generally revolved around who would be taken into custody next, additional side bets were reportedly made on specific aspects of the arrest, such as the amount of force police officers would apply and whether or not things would turn violent.
"It looked like the cops had my guy—some scrawny hippie with a braided beard—totally under control," dejected chief of compliance Ben Dubner said. "So I thought [risk management officer Tony] Calcagno was an idiot for betting me double-or-nothing they would tase him. Well, next thing you know, he's twitching and flopping on the grass, I'm out 15 grand, and now I'll probably have to miss the Antigua Yacht Regatta."
"It's just not fair," Dubner added.
By 2 p.m., the gambling had ended, with a reported $1.1 million having changed hands, though the executives acknowledged they might have lost track of a stray $10,000 or so. Sources said Grant, who had championed the protester in the Guy Fawkes mask, had won the largest betting pool and taken home $130,000.
"Pay up, motherfuckers!" a jubilant Grant said. "Pay the fuck up!"