ST. LOUIS—According to staff at the Paddle Wheel Tavern, owner Wayne Trimble, 48, admitted Thursday night that he had no goddamn idea why he ever decided to sponsor a team in an adult kickball league.
This Week's Most Viral News: September 29, 2023
The team, known as the Ballbusters, is a group of grown men and women from Trimble's neighborhood who play competitive kickball matches against other area teams of grown men and women on Sunday afternoons in Tower Grove Park.
"Why? Why in hell did I think this was a good idea?" said Trimble, explaining that a bearded 27-year-old wearing skinny jeans came into his establishment last month and told him all the local bars were sponsoring kickball teams. "This guy kept bugging me, and next thing I know I'm forking over 500 bucks for T-shirts, headbands, and some idiotic striped tube socks they just had to have."
When asked what possessed him to connect his bar to a team of college-educated adults who play kickball, a game normally enjoyed by second-graders, Trimble responded by saying that he had obviously lost his fucking mind.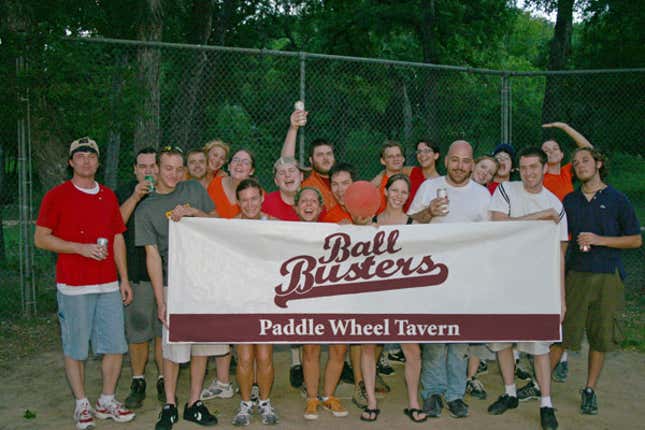 "I guess I thought it might be a good way to get the bar's name out there," Trimble said. "Business has been tough lately, and I thought maybe I should try and get more young people in here. Huge, huge mistake."
"Now this place is going to be known as a kickball bar," Trimble added. "If another asshole comes in here wearing a 'scoregasm' shirt, I won't even be able to look myself in the mirror anymore."
Trimble, who attended the Paddle Wheel Ballbusters' first game earlier this month, said he was initially disappointed when the only people to show up were himself and a couple of the players' chain-smoking girlfriends. However, after witnessing the first few minutes of the competition, Trimble said he began praying no one would ever associate him or his bar with this group of 24- to 33-year-olds running around acting like morons.
"All the guys thought it would be so funny to cut off their brand-new shirts like football jerseys so their guts would hang out," Trimble said. "Everyone had these goofy hats and crap. And I'm the jackass who paid for it all."
It appeared to Trimble that many of the players did not know the most basic rules of the game, and he finally left in disgust after one of them somehow managed to strike out.
According to Paddle Wheel Tavern bartender Reid Henton, 28, in the weeks since forming their team, the Ballbusters have gone from treating kickball as some kind of joke to becoming complete assholes about it, boasting of their triumphs on the playing field and talking shit about other teams' footwear.
"This one guy with a dipshit haircut who was trying to show everyone how he threw someone out accidentally whipped the ball across the bar and broke a dozen pint glasses," Henton said. "Then after last week's game some chick came behind the bar and starting filling up her own pitcher. When I asked her what the fuck she was doing, she said it was for the goddamn kickball team."
"And not one of these brats can order a drink without using a fancy-ass name for it," Henton added. "You want a 'Cape Codder'? It's called a vodka-and-cranberry, dickhead."
After confirming that sales of Pabst Blue Ribbon had doubled since he began sponsoring the team, Trimble confessed that the new business was coming from patrons he never wanted in his bar in the first place.
"These are people I should be beating up, not bankrolling," Trimble said. "Now this place is turning into a total hipster nightmare."
"Maybe the new dodgeball team I'm sponsoring will be better," he added.