WASHINGTON—Attendance may be down, but the fans at last week's game didn't care—they were too busy enjoying the stadium's new Fuck-Cam.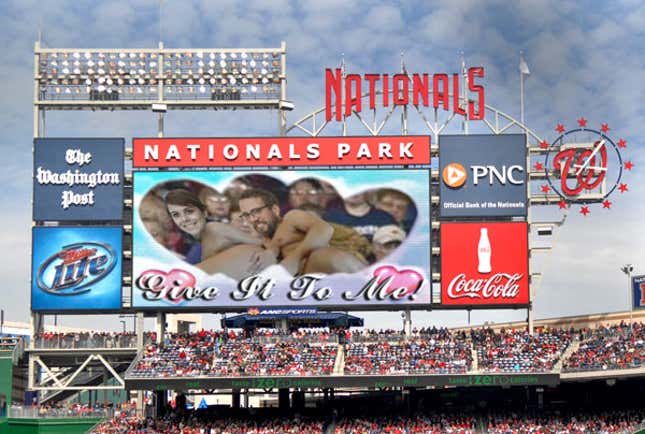 CDC Issues Dire Warning That Nick Cannon Is Feeling Horny
"We've been really surprised and delighted by the crowd reaction," said Washington Nationals public relations director Janine Perry, who started the Fuck-Cam program that has since been emulated by every other ballpark in the major leagues, except Miller Park in Milwaukee. "Apparently, people who like watching baseball games also really enjoy watching other people have sex. And not just between innings, either. If the action on the screen is still going when the play on the field resumes, they'll still watch. The Fuck-Cam has been quite a phenomenon."
Major League Baseball estimates that more than 700 people have had been featured on the Fuck-Cam since its introduction. The first Fuck-Cam couple, Gary Kochalk and Kim Dahle, have been guests on Late Night With Jimmy Fallon. And a montage of legendary Fuck-Cam performances is one of the most viewed clips on YouTube, featuring such great Fuck-Cam moments as the man who hasn't realized his partner has fallen asleep; a would-be suitor who goes down on one knee, produces a ring, and is flatly denied; an overweight couple who is booed off the JumboTron by the crowd; and a good-natured if somewhat clumsy performance by the Fox Sports broadcast team of Joe Buck and Tim McCarver.
"It's at the point where some people come to the ballpark with the idea of getting themselves on the Fuck-Cam," Perry said. "They dress up for it, wave signs, even start fucking with two outs at the bottom of an inning in the hope they'll get noticed, the whole thing. The buzz has been awesome. Of course, we'd rather people come to see our beloved Nats, but our attitude is, if people having sex in the seats gets people to come to the park, it's good for baseball."
Perry refuses to take credit for the concept, although she did make it official by adding the subtitles and frames now associated with JumboTron displays of crowd sex. Instead, she credits the Washington fans themselves—"the greatest and most sexual fans in the world," she said gratefully—with the spontaneous invention of the Fuck-Cam.
"The Nats were getting blown out by the Dodgers in an early May game, and the camera guy went to the kiss-cam early and often," Perry said. "Well, he lingered a while on the same couple, and they just got into the spirit of the thing and started fucking like you wouldn't believe. It was great, but I really didn't think much about it until the next morning when someone told me it had been mentioned in the news, and later that day it was No. 3 on SportsCenter's Top 10 Plays."
By June, Fuck-Cams were in use at Baltimore's Camden Yards, Detroit's Comerica Park, Yankee Stadium, and countless other major- and minor-league ballparks. The promotion has been a hit at every stadium in which it has been introduced, although the process has not always been smooth.
"You want to be careful," said Wrigley Field cameraman Greg Somerset, who noted that he "gets" an average of four couples a night on his Fuck-Cam. "Sometimes you can have good luck with a guy and a girl who are just sitting next to each other, but other times it doesn't work at all. A couple who's fighting may or may not have great makeup sex while you're watching. Getting two guys on the Fuck-Cam, well, it may work or it may not, and the crowd may or may not like it. The time with two guys and a girl, that was a mixed reaction."
"Also, I just want to forget about souvenir bat night," Somerset added. "You just can't tell with some people."