REDWOOD CITY, CA—Video-game developer Pixxel Arts announced Monday that it will delay the release of Beltway Sniper: Silent Strike out of respect for the victims of the recent D.C.-area shootings.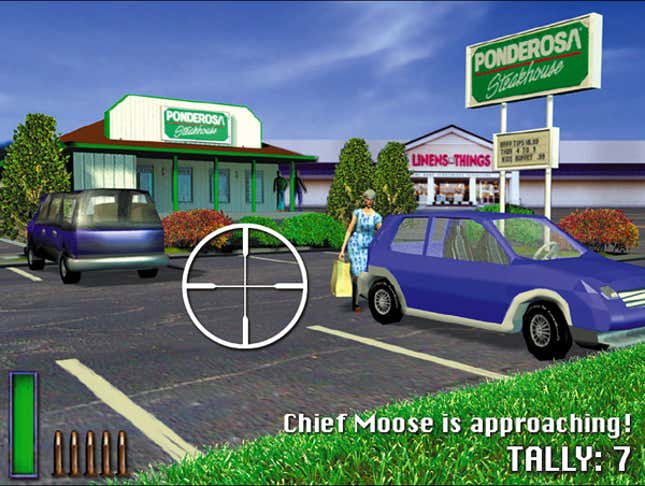 Edgelords Explain Why They Love Elon Musk
Based on the sniper attacks linked to suspects John Muhammad and John Lee Malvo, Beltway Sniper: Silent Strike was slated to hit store shelves Nov. 15. Last Friday, however, Pixxel top brass made the decision to postpone the game's release until March 2003.
"Upon discussing the matter internally, we decided that it would be inappropriate to unleash the intense sniping action and white-knuckle stealth gameplay of Beltway Sniper at this time," Pixxel Arts president Davis Conway said. "Out of respect for the victims of this horrific killing spree and their loved ones, we are delaying release of the mind-blowing first-person shooter until early next year."
According to Rich Koslow, editor of GamePro magazine, Beltway Sniper: Silent Strike was expected to be one of the hottest video-game releases of the holiday season. Available for Nintendo Gamecube, PlayStation 2, Xbox, and PC, the game enables players to wander through an ultra-realistic suburban D.C. landscape shooting innocent passersby.
"Beltway Sniper is everything you've heard and more," Koslow said. "I recently had a chance to play it myself at Pixxel's offices, and it's as close as you can come to real-life experience short of actually being Muhammad or Malvo himself."
Despite the strong buzz surrounding the game, Conway said Pixxel Arts is committed to holding off releasing Beltway Sniper "until the wounds from the tragedy have begun to heal." He stressed that the delay has nothing to do with any problems with the game itself.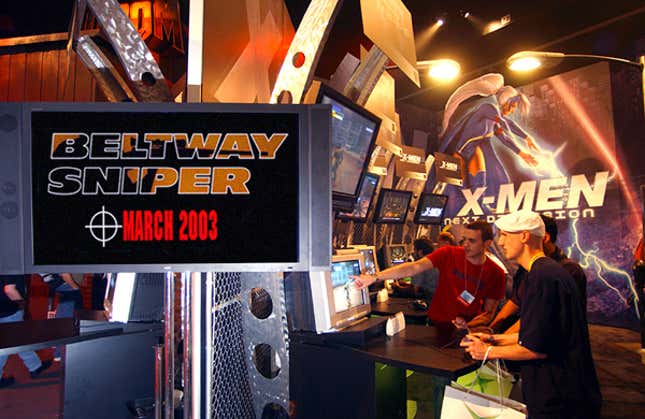 "I want people to understand that the delay is strictly a product of our deep and profound compassion for those affected by this tragedy," Conway said. "The game itself is ready to go and, believe me, it more than delivers: The mind-blowing, fully rendered 3-D graphics feature both first- and third- person modes, and the special SneakScope View enables players to track their targets with deadly precision while still keeping an eye out for police. Once enough time has passed and we as a nation have put these events behind us, I am confident that gamers will find the strength to move on to more than 20 thrilling levels of stealth-shooter action."
Though disappointed by the delay, software programmers at Pixxel Arts fully support the decision.
"This was clearly the right thing to do—it's just too soon," programmer Russell Sperber said. "No one is ready for the realistic wound-channel modeling or rifle-bullet ballistics right now, but by the time March rolls around, they'll go nuts over it. That and the unlockable extra levels, the 'Create A Cryptic Note' feature, and the 'Play As The Cops' mode. And, of course, we'll be expanding the Create-A-Sniper feature, in which you can put yourself or your friends in a tree outside a strip-mall parking lot and take aim at the customers exiting such stores as Ponderosa, T.J. Maxx, and Jo-Ann Fabrics."
As new details of the sniper case unfold, Pixxel Arts has agreed to work in tandem with D.C.-area law enforcement.
"We've been in regular communication with the various police forces involved in the case," Conway said. "They've been very helpful, both with regard to how to respectfully approach this event and how to make the gameplay as realistic as humanly possible. In situations like this, it's crucial that you do things right."
Conway said that a percentage of the profits from sales of Beltway Sniper would be donated to the victims' families.