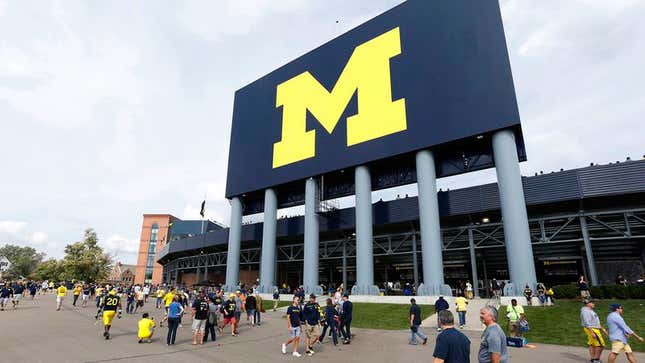 As Detroit prepares to demolish and say goodbye to the storied Joe Louis Arena, Onion Sports examines some of the greatest stadiums of all time.
Study Finds LSD Highly Effective At Ruining Nephew's Baptism
---
Michigan Stadium
Has been selected by The Saginaw News as the best 100,000-plus-seat venue in Washtenaw County for 13 consecutive years.
---
Stade Roland Garros
Grunts travel up to 150 percent faster on clay courts than hard courts, making the home of the French Open a favorite among ATP pros.
---
Old Yankee Stadium
The original home of the Yankees was torn down in 2010, but fans can still visit the grounds to meet historical actors who reveal what it was like throughout important eras.
---
Superdome
The home of the New Orleans Saints was also briefly home to New Orleans.
---
Arrowhead Stadium
On September 29, 2014, the stadium finally broke the record for loudest crowd when season ticket holder Allen Haskins sneezed while clapping.
---
Madison Square Garden
The legendary Manhattan arena has hosted the NBA and NHL Finals, the Final Four, and golf's U.S. Open.
---
Wario Stadium
Hairpin turns and gravity-defying jumps make this the true test of the Star Cup.
---
AT&T Stadium
One of the largest HD video displays in the world hangs from the roof of the Arlington, Texas stadium, giving fans a clear view of the Cowboys playing​ their home games at a separate nearby location.
---
Wrigley Field
The second-oldest ballpark in baseball still features a charming, hand-operated home plate umpire.
---
Fenway Park
The stadium is famous for the "Green Monster" in left field, though the more discriminating fan appreciates the complexity and intricacies of the ballpark's right field fence.