Netflix's "Skip Intro" feature has led to concern that opening sequences of television shows, which can be artful, meaningful introductions, could be a dying art. The Onion takes a look at the most compelling and defining opening credits sequences of all time.
---
All In The Family:
U.S. audiences had never before seen a TV show opening that so brazenly suggested that women can play the piano.

---
That '70s Show:
The sequence of cast members in a car as seen from the dashboard is a subtle nod to the unique Wisconsin tradition of sitting in cars.

G/O Media may get a commission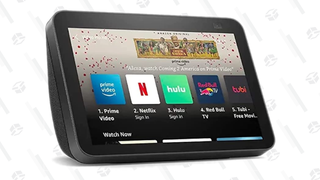 ---
The Dick Van Dyke Show:
Not only was this sitcom's intro iconic, it helped raise awareness about the frequency of ottoman-related injuries, which the CDC estimated declined by nearly 45 percent over the run of the series.

---
The Wire:
We actually think this one is too long.

---
Freaks And Geeks:
Set to Joan Jett's "Bad Reputation," the time-lapse opening sequence of the cult show featured its cast rapidly going through puberty in two seconds while screaming in pain.

---
Full House:
Rewrote all the rules about what objects a character could catch and hold during an opening credits sequence.

---
Jeopardy:
Usually cut for time after the first season, the opening depicts Alex Trebek working his way up through the brutal trivia underworld.

---
Diff'rent Strokes:

Widely credited with teaching Americans that the world does not move to the beat of just one drum.
---
Mad Men:
The lyrical fall from grace of a silhouetted ad genius was punctuated by the sickening splat he made upon colliding with the Madison Avenue sidewalk.