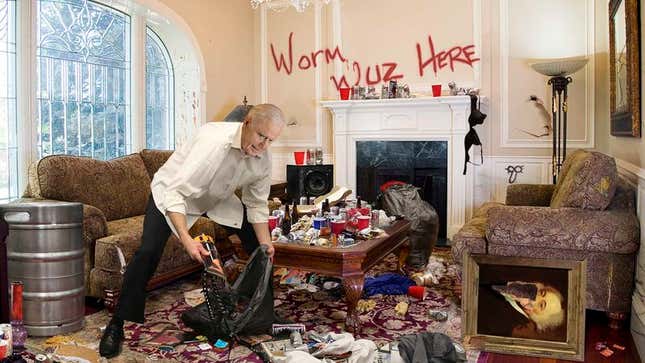 WASHINGTON—Telling reporters he needed to get his "digs back into primo condition" as quickly as possible, Vice President Joe Biden was seen scrambling around Friday morning in a frantic attempt to clean up Number One Observatory Circle just hours before his successor was scheduled to move into the residence.
CDC Issues Dire Warning That Nick Cannon Is Feeling Horny
Biden, who said he needed to get the place "real fucking clean" because the incoming resident was a "total tightass," reportedly spent his last remaining moments in the home darting from room to room prying Keystone Light cans and empty bottles of Jose Cuervo from the sticky wooden floors and tossing them into heavy-duty black plastic trash bags. According to sources, the vice president paused frequently to sniff the Colonial- and Federal-style furnishings, spraying an aerosol disinfectant on anything that smelled "iffy."
"I thought the casa might need a little tune-up before I gave back the keys, but this is way more of a shitstorm than I bargained for," said the outgoing vice president, who then opened a second-story window to hurl out a heavily stained 200-year-old rug that was a gift from the British ambassador Viscount Halifax. "Truth be told, I'm not even sure how it got fucked up so bad. I guess Dynamite Joe must've raged harder than I remember."
"I'll do my best to give the place a good scrubdown, but I can't guarantee there won't be a few 'souvenirs' left over from my time in the saddle," continued Biden, picking out shards of a broken lava lamp from the cushions of a damask settee that was draped in several large beach towels to hide its numerous cigarette burns. "Shit, clock's a-ticking. I better get a move on."
According to aides, Biden crammed several embroidered drapes into the 123-year-old home's washing machine, sprinted into the kitchen, where he dumped an entire bottle of detergent into a sink overflowing with Lenox china, and then left the faucet running as he grabbed a piece of coarse steel wool and turned his attention to buffing out the words "Ratt" and "Crüe," which had been carved in large letters into the decorative molding of his dining room chair rail.
The winded and perspiring vice president was reportedly later seen hurrying around the residence, using a piece of cardboard torn off a Cutco knives box to sweep an array of peanut shells, old scratch-off tickets, half-empty packets of ramen noodles, and Kameleon-brand condom wrappers under various armoires and antique couches. According to reports, Biden then rushed to move a dresser originally belonging to Aaron Burr in front of a hole that he said had been punched in the wall by "one of Arne Duncan's douchebag pals" during his 2010 State of the Union after-party.
Sources confirmed that Biden worked incessantly throughout the morning, pausing only to crank up Warrant's "Cherry Pie" on a battered boombox he had propped up on a chair in the reception hall.
"Ain't got time for dicking around, since I still have to figure out what shit I'm taking and what I'm gonna hawk to the new suckers," said Biden as he furiously sifted through a pile of his best "wank mags," before tossing a weathered 1982 issue of Fling into a box labeled "Keepers." "And as for the rest of this fancy crap, they say it's all property of the Navy, but I'm sure as hell ganking a flat-screen TV or two."
"I did my time helping Barry take care of business—nothing wrong with making it worth my while," the vice president added.
When pressed on his moving van's arrival time, Biden revealed he had declined the government's contracted moving company in favor of his buddies Paco and Skuzz, with whom he reportedly went "way the fuck back." The vice president admitted that while the two men weren't professional movers, they had lots of experience handling "valuables" and could be trusted to look the other way at his "office supplies," including roughly four and a half pounds of "some real dank Bubba Kush."
Additionally, Biden said he could use any extra time to scrub the carpet in the sitting room, where he had done a significant amount of spray-painting while souping up a red 1979 Harley-Davidson Electra Glide that he repeatedly referred to as his "cherry chariot."
"It blows that I have to spend my last few hours here cleaning up instead of savoring all the good times we had livin', lovin', and rockin' our sacks off," said Biden, who decided to leave behind a prized butterfly sex swing for the incoming second family. "Besides, what's the point? I'm gonna end up tossing most of this stuff in the trashola anyway."
"Except the twins," the six-time Delaware senator continued, tucking a Budweiser-brand, life-size cutout of two scantily clad cowgirls under his arm. "They're coming with Uncle Joe."