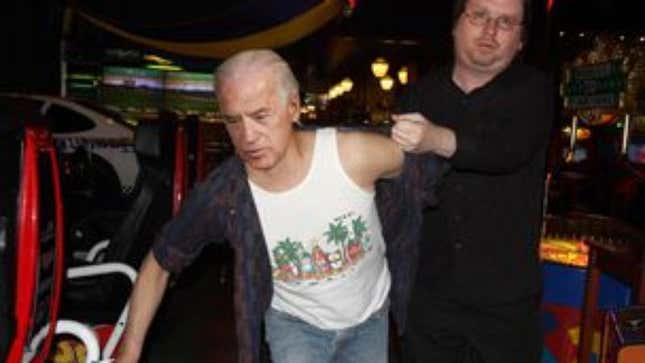 DALLAS—Following dozens of complaints from waitstaff and numerous incidents of property damage over the past 10 years, representatives from the Dave & Buster's corporation, a bar-restaurant chain offering a wide variety of arcade games, announced today that Vice President Joe Biden has been permanently banned from all 55 locations nationwide.
Supreme Court: 'We Wear Gold Crowns Now'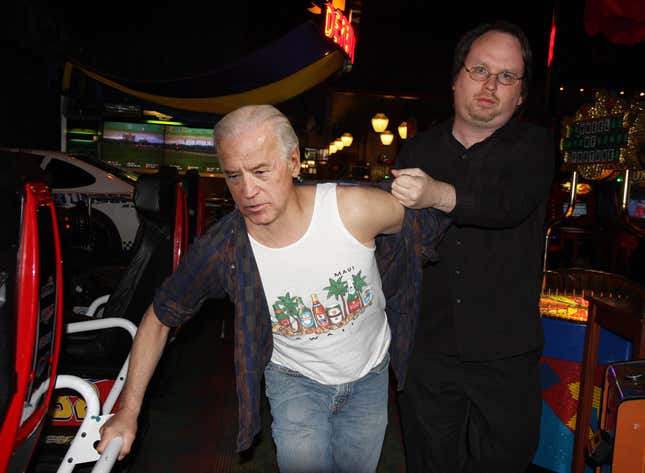 The lifetime ban came after a heavily intoxicated Biden was forcibly ejected from a Bethesda, MD Dave & Buster's earlier this week for destroying a Whac-A-Mole game, which the vice president claimed had been "rigged." According to the ensuing police report, Biden became verbally abusive when asked to leave, calling several employees "a bunch of killjoy cocksuckers."
"We are saddened that such extreme measures had to be taken in regard to the vice president's recent behavior," said Dave & Buster's spokesman David Weldon, adding that posters with Biden's image on them have been distributed to all locations. "However, Mr. Biden has been given many, many chances to act in a responsible and respectful manner while enjoying the great food and fun that Dave & Buster's has to offer. Unfortunately, he has failed to do so time and again."
"In the interests of the safety and well-being of our patrons and staff, we must insist that the vice president never set foot in another Dave & Buster's ever again," Weldon continued.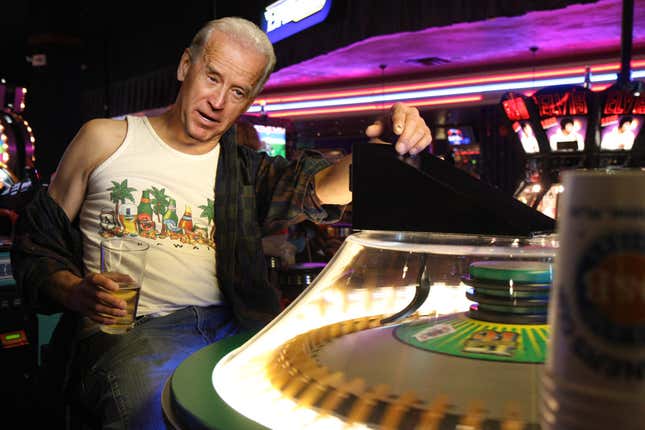 Though the scope and severity of the ban are unprecedented, Weldon said that several individual Dave & Buster's locations have previously expelled Biden for lengths ranging from six weeks to two years, with the first occurring in Dover, DE in 1990. According to records, Biden visited that location while campaigning for his fourth Senate term, and kicked over a Galaga arcade game after getting into a verbal altercation with a server over a $16 tab.
Bans from Dallas, Minneapolis, and Denver locations followed, with the most notable interdict coming in 2006 at the high-profile Dave & Buster's restaurant in Times Square. Sources said that Biden, attending the grand opening of the establishment, asked several waitresses if they wanted to "get a daisy chain going" and then placed two Skee-Balls down the front of his cutoff jeans.
After being confronted by a manager, Biden reportedly threw several air-hockey disks into the dining area as an ill-conceived distraction and was tackled by a security guard while running toward the exit.
"He was loud but basically not bothering anyone at first," said Miami Dave & Buster's manager Rick Perelson, who was forced to ban Biden from his restaurant in 2002—in part for physically ousting a 14-year-old from a Dance Dance Revolution arcade game. "That is, until he got really drunk and started telling other customers what they should order."
"And after what he did to the bathroom, I was really left with no choice," Perelson continued. "Just disgusting."
According to other Dave & Buster's employees, Biden has not historically respected the bans that have been placed on him. After he was barred from the Tempe, AZ location in 2007, the former senator would reportedly do burnouts in the parking lot with his Trans Am while waiting to pick up a waitress employed there at the time, a woman identified only as "Candi."
Though Biden's problems with the Dave & Buster's company appear to be unique among those who have held his office, he is not the first vice president to run afoul of a business. In a famous case in 1869, Schuyler Colfax was barred from entering any location of the Great Atlantic and Pacific Tea Company in the state of New York after a series of episodes involving the upending of pickle barrels.
And Spiro Agnew was told to "never set foot again" in the Children's National Medical Center of Washington following a 1971 incident.
Despite having described Dave & Buster's as his favorite restaurant dozens of times in the past, Biden is evidently unperturbed by the lifetime ban.
"The vice president wouldn't patronize that glorified Chuck E. Cheese's if it were the last place on earth," Biden aide Jim Tomlin told reporters at a press conference earlier today. "Who gives a crap about that stupid dump?"
"Besides, his 15-year ban from the Hustler Club is up next month, so it doesn't really matter anyway," Tomlin added.