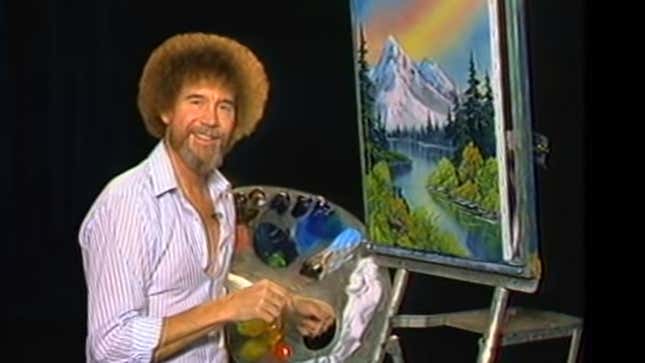 Bob Ross: Happy Accidents, Betrayal & Greed, a new documentary about the late painter and television personality, has caused controversy for some of the ways it depicts his family relationships and business dealings. The Onion looks at the biggest revelations from the new Bob Ross documentary.
To achieve his signature calm, Ross would exhaust himself by shrieking for 20 minutes straight before taping began.
Though he kept it from his audience, he secretly thought blue and green were the same color.
He rarely put people in his paintings because he worried he'd never be able to get them out.
Despite his kind, gentle TV persona, the real Ross was actually only sort of nice.
Terrifying implication that art could be commodified for profit.
The palette he used on his show had been attached to his hand ever since a childhood gluing accident.
Many critics actually consider Rembrandt to be the better of the two painters.
He had a troubled youth with multiple arrests for incredibly soothing graffiti.
People will watch pretty much anything.