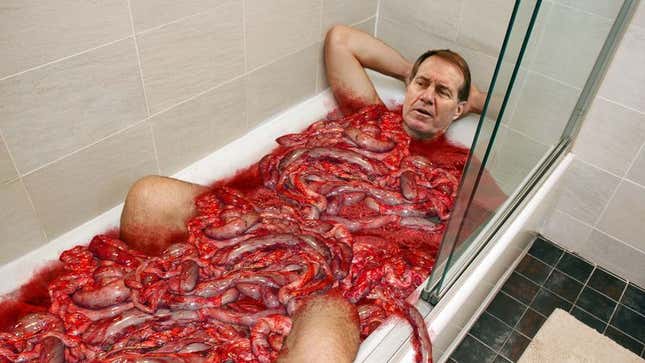 FOXBOROUGH, MA—In an effort to relieve the stress of the Patriots' disappointing 31-34 loss to the Buffalo Bills, New England head coach Bill Belichick reportedly relaxed at home Sunday night by soaking in a bathtub filled with warm entrails.
104-Year-Old Man Awarded WWII Medal Just To Be Nice
Belichick, who admitted that blowing a 21-point lead over a division rival had left him feeling frustrated, angry, and extremely nervous, said his anxiety over the Patriots struggling with their fundamentals "simply melted away" the moment he eased his body into a tub brimming with freshly disemboweled internal organs.
"Immediately after returning from Buffalo, I was feeling fairly disheartened and knew I needed to unwind, so I went straight home, headed down into my sanctum, and filled up the bathtub with bubbling, steaming hot viscera," Belichick said. "There's just something about the scent of gastric acid and the silky feel of intestines between your toes that's so refreshing. It really helps you forget about giving up nine completions of 20 yards or more."
"Oh, it's really hot," added Belichick, describing the moment he first dipped a toe into the torrid innards. "Every now and then, it just does me good to remember what it felt like when my body held human life and warmth."
Belichick said soaking for more than an hour in entrails provided an excellent diversion from the painful memories of the Patriots' secondary missing tackles, the offensive line's atrocious run blocking, and quarterback Tom Brady throwing four interceptions. According to Belichick, deeply breathing in the gamy, earthy reek of recently eviscerated organs was both invigorating and soothing.
The 59-year-old coach told reporters that completely immersing himself in bodily fluids transported him to a serene place where the Patriots defense has not allowed more yards than any other team in the NFL this season and where his blackened and decayed soul could take solace. In addition, Belichick created a tranquil environment by lighting several candles made from human tallow and using an aromatherapy diffuser to enjoy the placating vapors of an essential oil extracted from charred flesh.
"All the problems of the defense just seem to disappear when you inhale the uplifting scent of that burnt skin," Belichick said. "The moment I began savoring the delightful odor of scorched muscle tissue, I felt far more relaxed and at peace."
"It made me realize we can correct mistakes, improve our schemes, play with more focus, and crush opponents until all of their lifeless, broken bodies are scattered facedown on the field," he added.
During the relaxing bath, Belichick said he added an extra bucket of hot entrails on several occasions, placed chilled slices of kidney over his fatigued eyes, gently massaged his lower back with a femur, and calmed his nerves by sipping a cup of bile tea.
The three-time Super Bowl champion coach also confirmed he reduced the anxiety caused by 93 yards in penalties by listening to his Sounds Of The Rwandan Genocide CD. Belichick said its high-quality recordings of blood-curdling screams and the hoarse pleas of a mother begging for someone to spare her children, as well as its white noise of constant moaning, weeping, and the digging of mass graves, put him in a meditative state.
According Belichick, as he sunk below the surface of digestive fluids and opened his eyes, staring up at a gall bladder, small intestine, and spleen bobbing along in the fetid mixture of enzymes, mucus, chyme, blood, and feces, he realized the Patriots have a lot to be optimistic about following the defeat, including Wes Welker's 217 receiving yards and solid pass protection for Tom Brady.
Although in recent years he has attempted to relieve the stress of NFL losses by watching game film of opponent's injuries, curling up on the couch to peruse favorite passages in his first edition of the Necronomicon—which is handsomely bound in the skin of stillborn babies—or enjoying a prized collection of human skulls from the Cambodian Civil War, Belichick said nothing was as soothing as bathing in entrails.
"It just makes me so much more…whole," Belichick said. "Now I feel good enough to go enjoy a fire in the crematorium out back, but first I should probably clean up the rest of Devin McCourty."