DALLAS—In the last press conference Bill Parcells would give this year after leading the Cowboys through a frustrating 9-7 season and an excruciating first-round playoff loss to the Seattle Seahawks, the hard-nosed coach surprised reporters by revealing that he "was glad to see the season, and with any luck [his] career, come to an end," stating that "I can't remember a time in my life when I haven't hated football."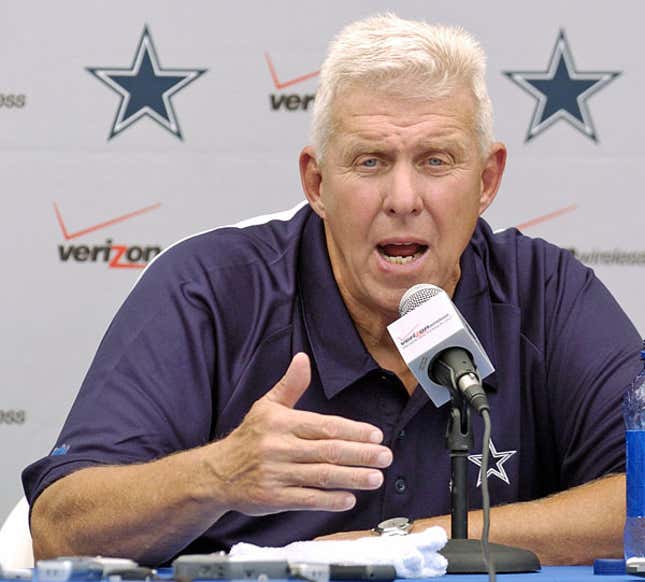 This Week's Most Viral News: September 22, 2023
"Come on—anyone who paid attention to my career must have suspected it," two-time Super Bowl-winner Parcells told stunned members of the press at the Cowboys practice facility Tuesday, reacting to their disbelief with surprise of his own. "When did I ever look like I was enjoying myself? When did you last see me smile on the sidelines or in the locker room? You must have at least wondered why I was always so angry with everyone around me."
"I'll tell you why—I was goddamn miserable," Parcells added. "Football sucks."
The coach expounded on his statements by explaining, in acid tones and with an exasperated manner, how he "just sort of fell into coaching" after playing college football at Wichita State, an experience he described as "pretty okay, I guess, at least for young men."
"But coaching? All that pressure, having to deal with all those dumbass players, just to play a game that's basically a lot of choreographed shoving?" Parcells said. "Screw that. Screw football. Seriously, I wonder sometimes why I was so good at it."
Parcells explained that he developed his trademark style of possession-oriented, run-first, ball-control football in an effort to not spend too much time thinking about a game that he found "basically pretty freaking dumb."
"No one was more surprised than I was when it worked," Parcells said. "Surprised and damn disappointed, really. Turns out football's really simple. Hell, a freaking ape could coach this game. Guys like Belichick, Cowher, Holmgren, you know why they're successful? Because they're actually too smart to coach football. Come to think of it, I bet they hate it too."
"The worst part of my success was that it meant if I wanted any kind of successful career, I had no choice but to spend my time dealing with really stellar guys like Drew Bledsoe, Lawrence Taylor, Keyshawn Johnson, and Terrell Owens," Parcells said in an effort to explain his often fractious relationship with most of his players. "Solid-gold citizens, football players. If they're not boring as hell, they're arrogant drug-crazed felons."
"You guys thought I was hard on them to make them better players," Parcells added, "but really I was hard on them because, except for Harry Carson and that one blond guy from the Giants, I hated every man who ever played for me very, very much."
Parcells said that, although the sport had led him down a cold, lightless path that seemed to lead down an ever-steeper path toward a premature stress-hastened death, it had taught him a few important lessons.
"First of all, never do anything you hate, even if it's the only thing you're good at, no matter how tempting the fame and the money are," said Parcells, who now regrets "measuring out my life one excruciating wind-sprint drill, one interminable video session, one bone-stick-stone stupid press conference at a time, until nothing is left at the tail end of my worthless life but regret and hatred for myself and others."
"Second of all, it's never too late to quit. Never. And sometimes it's the only right thing to do," Parcells continued. "And third, taking your hatred out on others, no matter how satisfying it may be, no matter how much those stupid wide receivers deserve it, is not really right. And I intend to make this the heart of my Hall of Fame acceptance speech when they put me in Canton in a few years."
"Now all of you go to hell," Parcells said, ending the press conference with his trademark frankness and inspiring laughter among reporters. "You mental children should be ashamed of yourself, making a living sucking at the teat of angry overgrown losers like me."
Parcells is expected to make an announcement in the next few days concerning either his retirement, his future as general manager of the New York Giants, or most probably, his return to coach his much-deplored Dallas Cowboys for next season.