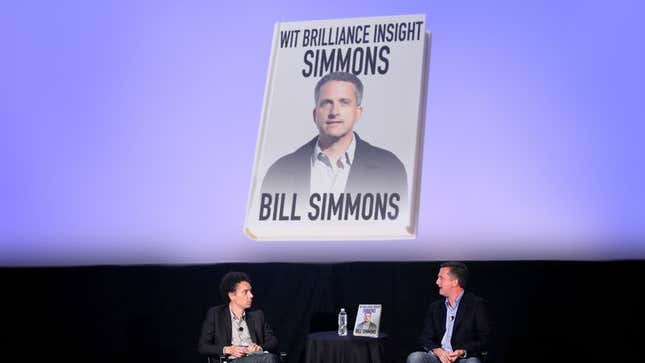 BOSTON—Grantland and ESPN sports columnist Bill Simmons has written a new book titled Wit, Brilliance, Insight, Simmons, a semiautobiographical amalgam of sports, pop culture, and American history as seen through the unique lens of how goddamn ingenious Simmons is.
Study Finds LSD Highly Effective At Ruining Nephew's Baptism
Wit, Brilliance, Insight, Simmons contains 2,096 pages; 84 chapters; 344 charts, tables, and graphs; 186 photographs of Simmons standing next to former Celtics players, sitcom actors, or Barack Obama; six appendices, including one explaining the book's more than 16,000 obscure but undeniably apt references; and an exhaustive index cataloguing mentions of more than 700 Boston athletes, 600 athletes from other cities or regions, and 500 television characters, as well as 6,000 mentions of Simmons himself.
"I'm extremely proud of this book, which I think I'd really have to call my life's work—or, at least, the work of my life thus far," Simmons said at a launch party sponsored by publisher McSweeney's and hosted by Malcolm Gladwell, who did not manage to find an opportunity to speak. "And it's a great book, if I do say so myself. I still think of myself as the Cousin Oliver of sportswriters, but today I feel like Dr. J in 1983."
"That's an unloved late-series Brady Bunch character and the only year Julius Irving won an NBA championship," Simmons added. "Sorry if I lost you for a second there."
Simmons, who began his career as "The Sports Guy" on AOL, broke new sportswriting ground with such insights as the way in which sports, like Beverly Hills, 90210, is a metaphor for life, and how fanhood when your team is winning is different from fanhood when your team is losing in the same way Diff'rent Strokes is different from Webster—while one is obviously and demonstrably superior, both are far better than nothing.
In his 14-page introduction to Wit, Brilliance, Insight, Simmons, pop culture critic Chuck Klosterman poses the question of whether Simmons is brilliant because of his decision to embrace the entirety of television while writing for people who like to watch sports on television or, indeed, in spite of it.
Simmons himself declined to address the question.
"What I really love about my writing—and believe me there's a lot I love about it—is that my love for my writing comes across in what I've written," Simmons said while signing books for party attendees, some of whom had reportedly requested the honor. "I have in any case been told it does, sometimes at its oddest moments, and that, for me, is a source of great pride. But I confess what I'm most proud of are the comparisons to the greats: Damon Runyon, Ring Lardner, David Halberstam, John McPhee, Aaron Spelling. I'm really glad I was able to make those."
"I've been blessed with an amazing career," Simmons said. "When I think of how my writing could have been the work of any number of people capable of comparing the '80s show Dynasty to the '90s Bulls dynasty, well, I feel like the luckiest smartest man alive."