LOS ANGELES—Bill Walton, the former NBA Most Valuable Player and popular current NBA broadcaster, spent the entire running time of Tuesday night's Milwaukee Bucks–Los Angeles Lakers game lavishing praise and affection on his son Luke, a Lakers small forward.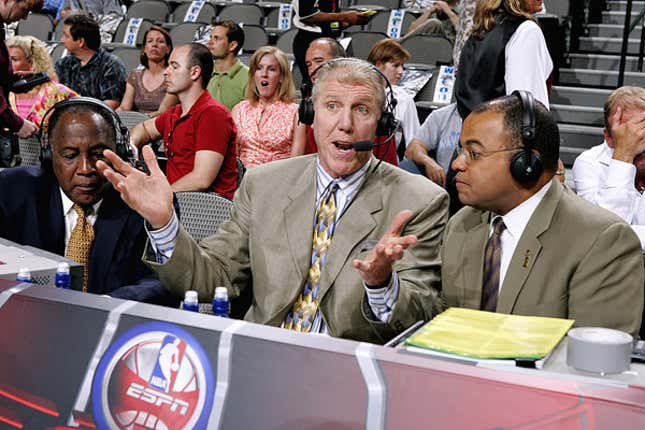 This Week's Most Viral News: September 29, 2023
"Just look at my big boy Luke standing tall and proud," Walton said during the visiting team introductions, ignoring the on-screen graphics displaying the career stats of Bucks All-Star guard Michael Redd. "While my mentor, shaman, and spirit guide John Wooden taught me 99.999 percent of almost everything I knew about the greatest sport in the world, Luke taught me everything else—and even more about that greatest game of all—the ceaseless jubilant dance of the great ever-turning mandala of Life. Truly, the boy is father to the man. The boy is father to the man."
"Nice pass!" Walton added, as Luke found himself boxed in at the post and kicked the ball back out to the top of the key, where Lamar Odom's jump shot put the Lakers up 11-9. "Nice pass indeed."
"It does my old heart good to see Luke keep on truckin' in this big old City of Angels, where I made such fond memories in a different era and learned for myself, like the great poet Bob Dylan once asked a heartbroken nation, how many roads a man must walk down before they could call him a man," Walton continued, as the second quarter of play began with the score already an astounding 67-44 in favor of the Lakers. "Yes, I may indeed be suffering from a 'touch of gray,' as the great Jerry Garcia once said, but with the sight of my pride, my joy, and my only true immortality before me, I will get by."
"Oh, yes! Throw it down, big man! Throw it down!" Walton said in a rare acknowledgment of on-court events as Luke Walton scored two of his 14 points on a wobbly lay-up. "It's just possible that that was absolutely the smoothest and most fundamentally sound shot that I've witnessed yet this decade. Truly, the student has become a master in his own right, and the apple has not fallen far from the gnarled, wizened tree with two bad ankles I've become."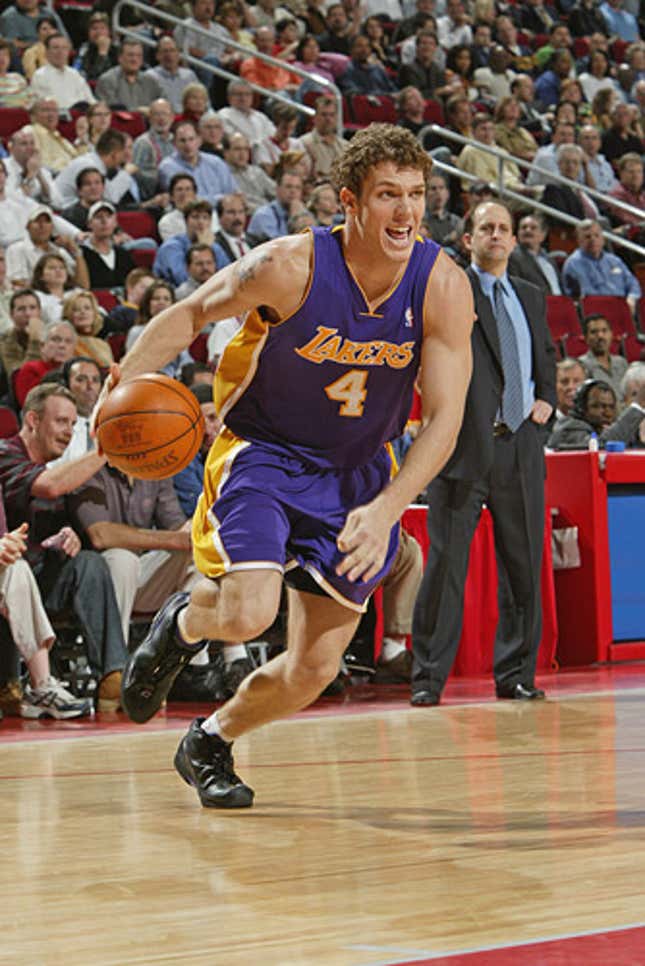 "Why, it was just a week or so ago, I was watching the great John Fogerty sing 'Fortunate Son' for the good people during the halftime show of our Thanksgiving holiday," Walton continued, as Kobe Bryant collided with Milwaukee center Dan Gadzuric, suffered brutal compound twin spiral fractures of his right fibula and tibia, and was carried off the floor with his career almost certainly over and his prospects of walking again in doubt. "And I thought to myself: Neither you nor I, Mr. Fogerty, you faded sage of a more innocent yet equally doomed epoch, neither you nor I are fortunate sons. But I hope my Luke is."
"Looks like we're ready to get going again after the interruption," Walton added as the last of Bryant's blood was mopped up and the younger Walton inbounded the ball. "Nice pass."
"I couldn't give him the world without war my generation wanted so badly for his, but I tried to raise that boy right, and I share this with all the fathers, sons, mothers, daughters, and—and everyone out there with a family," Walton added as play stopped for almost 15 minutes while a Bengal tiger, brought in as part of the Lakers' floor show, escaped and brutally savaged seven audience members. "We are all fortunate to have one another. Your team can be your family, and I played on a lot of close teams, but Luke, Adam, and Nathan, and Chris, they're my Omega Point. And what's more, they're my actual family."
"Yes, I'm their father," Walton added. "They're my sons. And Luke, my son, is playing his heart out tonight."
"Thanks for joining myself and Snapper Jones for this meeting of the Bucks and Lakers, the team for which my boy Luke has become a man right before your very eyes and mine—eyes he'll steal right off your face if you're not careful, but that's all right… the future belongs to him," Walton said as the broadcast concluded. "To him and all the fine young men everywhere, blessed be them all. Amaste."
The Bucks won the game, 109-105. Luke Walton finished with 14 points and seven rebounds in 29 minutes of play.