HARTFORD, CT—Moving swiftly and discreetly like CIA field agents on some kind of black-ops mission to infiltrate a terrorist cell in a hostile country, coworkers of soon-to-be 29-year-old Catherine Greyson clandestinely passed a birthday card around the office of Rhodes Insurance Corp. on Friday, sources confirmed.
Furtively weaving in and out of cubicles like spies trying to evade capture after killing a high-value target deep behind enemy lines, employees took turns writing personalized greetings and signing the floral-patterned card, which, like a silenced 9 mm pistol, was kept carefully out of sight.
"Shh, this is for Catherine," whispered marketing assistant Greg Carmichael, looking over both shoulders as though preparing to leave a thumb drive inside a hollowed-out park bench. "We've got to make sure the card gets around to everyone who hasn't signed it yet before she finishes up her morning meeting."
"We can't let her see this," he added, using the same hushed tones as a CIA handler debriefing an informant in the back alley of a crowded Beirut slum. "I don't want to ruin the surprise."
According to sources, Carmichael slipped the card to human resources manager Jane Yardley, who slyly handed it to coworker Eric Daniels as if in a crowded Amsterdam train station passing along a briefcase containing sensitive government information, doctored passports, and hundreds of thousands of dollars in unmarked bills. Project manager Sarah Johnston opted to sign the card in the more secure kitchen area, taking the long route past the color copier so that her cover wouldn't be blown by Greyson.
G/O Media may get a commission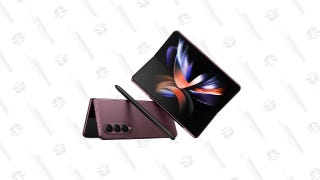 Save Up to $300
Galaxy Z Fold4
Clutching the birthday card and a fine-point Sharpie, Johnston reportedly got the attention of I.T. supervisor Dale Trackler by asking if he "had done this yet," speaking in a code that would be understood by her fellow agent but misleading to any eavesdropping counterspy.
Reports confirmed Trackler then took it upon himself to get signatures from the rest of the tech department, but while doing so was suddenly interrupted by the sight of Greyson coming down the hall. Like a Green Beret rappelling down the side of nuclear facility after planting a computer virus, Trackler retreated in the opposite direction, safely hiding the card inside his jacket while Greyson passed by.
"I had to act fast, or she would have seen the card," said Trackler, speaking as though the deed somehow qualified him to receive a CIA Intelligence Star for his "voluntary act of courage under conditions of grave risk." "It's one of those sparkly ones too, so if she had spotted it, she would have definitely known what was up."
"Luckily, she was looking over at someone in accounts, otherwise I don't know what I would have done," added Trackler, whose concerns made it seem as though his only option at that point would have been to ingest a cyanide capsule.
Once everyone had signed the card, sources said that employees began gathering in the break room, staggering their arrivals one by one like agents meeting up at a predetermined rendezvous point somewhere in Budapest. At the request of receptionist Debbie Chen—who, as the office equivalent of CIA director David Petraeus, had authorized and financed the $3.99 mission—Greyson was then summoned in and presented with the card.
"Oh, wow, I can't believe you guys remembered my birthday is this weekend," Greyson said. "You really didn't need to do all of this."
"Still, though, very sweet of everyone to think of me," she added, making a mental note to throw away the card as soon as she was alone, thereby destroying any evidence the covert operation had ever taken place.