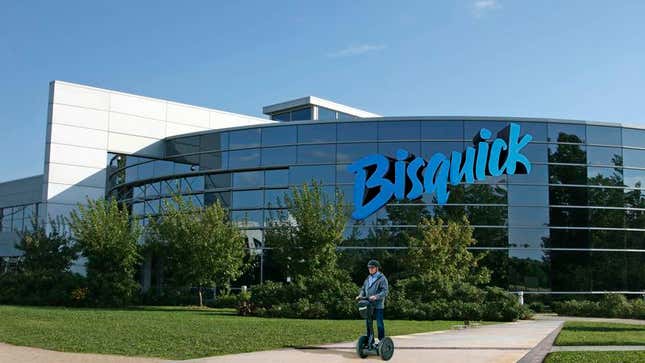 SUNNYVALE, CA—Explaining how every feature of the sleek, modern work environment was expressly constructed to foster creativity and innovation, executives from Bisquick unveiled the company's immense new Silicon Valley campus Friday.
Edgelords Explain Why They Love Elon Musk
The 650,000-square-foot Gehry Partners–designed complex, built to accommodate the baking-mix maker's growing staff and expansive research division, reportedly includes a soaring seven-story glass atrium, dozens of diversely themed and luxuriously appointed meeting rooms, a state-of-the-art batter lab, and a landscaped 8.5-acre rooftop green space and recreation area.
"Bisquick is always looking toward the future, and every aspect of our new headquarters reflects our commitment to supporting the best minds in the home-baking industry," said Bisquick VP of employee engagement Melissa Reinert, adding that the prime Bay Area location and dozens of onsite amenities were intended to attract the very best talent from around the world. "Our goal is to remove any barriers to productivity and give employees every resource—from custom nonstick griddles to personal nap pods—that they could possibly need to succeed."
"We want our employees to be dreaming big," Reinert continued. "After all, the pancake and biscuit recipes being devised on this campus are the ones everyone will be mixing 10 years from now."
According to company sources, the campus's main building, a distinctive angular structure of gleaming steel and glass nicknamed "The Playground," features a sprawling open-plan layout meant to facilitate employee interaction. To move between departments—as far as a mile between IT and Weeknight Meal Ideas—the company has reportedly provided several hundred rechargeable electric scooters, while a fleet of Wi-Fi-equipped Bisquick vans is said to be available 24 hours a day to shuttle workers between the complex and their homes in San Francisco, Berkeley, San Jose, and other surrounding cities.
"It's well known that Bisquick expects a lot from its employees, but in return we've strived to give them the benefits to match."

Reinert said the values Bisquick sought to embody in the design of the campus are the same that drive the company itself: simplicity, freshness, quality, and fun. To that end, Bisquick added many communal facilities, including a full-size saltwater swimming pool, 10 onsite pancake bars stocked with organic fruits and various flavors of syrup, a Japanese zen garden hand-constructed in Kyoto and reassembled on campus, and a weekly lecture series at the grounds' 2,000-seat amphitheater featuring speakers such as futurist Michio Kaku, fiction writer Stephenie Meyer, and former British prime minister Tony Blair.
Additionally, located in a black cube-shaped building in the northwest corner of the campus is Futurequick, Bisquick's secretive advanced R&D group accessible only to a select few employees with the highest security clearance, which is purportedly responsible for trailblazing technological feats like the company's premade Shake 'N Pour pancakes and the ice cream wafflewich.
"It's well known that Bisquick expects a lot from its employees, but in return we've strived to give them the benefits to match," said Reinert, highlighting the company's free onsite daycare and hot yoga classes. "Our workers are unquestionably the best, and this environment is meant to empower them to build their own agendas. In fact, we encourage every hire to set aside 20 percent of their time for quick-bake passion projects."
"Our Bisquick Bakery Refrigerated Dough product was actually dreamed up by an employee in Finance during his Free-Focus Time," she added. "That's a perfect example of the kind of brilliant minds we have here at Bisquick."
While many in the area have hailed the arrival of Bisquick, some longtime residents—wary of higher rents and the company's famously insular corporate culture—have expressed skepticism.
"Bisquick is just another one of these Silicon Valley behemoths that moves in and totally changes the community—and not for the better," said local resident Peter Watson, who noted that the land used for Bisquick's indoor rock climbing wall used to be open park space that the city sold to help attract the company. "When I moved here in the '80s, it was all students and families; now, my whole street is nothing but Bisquick millionaires in their electric cars and luxury penthouses."
"My neighbors and I have complained to the city council, but with Bisquick's deep pockets, there really isn't anything we can do," Watson added. "I guess we just have to put up with it and hope that, sooner or later, this pancake bubble bursts."