COLUMBUS, OH—The gloriously jubilant gospel singing that pours forth each Sunday from Bethel African Methodist Episcopal Church is enough to make local resident Doug Kamin wish he believed in all that God bullshit.
Kamin, who lives two blocks from Bethel AME Church, passes the church most Sundays en route to his local Starbucks. Though he has rejected the existence of God ever since discovering Marx and Nietzsche in the 10th grade, Kamin admitted that the exuberant singing of the church choir often produces in him a feeling of longing.
"It must be so life-affirming to be in there, connecting with fellow human beings and celebrating your faith while making that joyful noise," said Kamin, a doctoral candidate in political science at Ohio State University. "I still say it's a big, delusional fairy tale, this whole religion thing, but what's the harm in believing in a 2,000-year-old carpenter and some 'holy ghost' if it makes you happy?"
Kamin first discovered Bethel AME Church in May 2000, shortly after moving to the neighborhood. Long accustomed to dismissing all forms of Christian ceremony and worship as "hysterical" and "cult-like," Kamin overheard a rendition of "The Old Ship Of Zion" that led him to amend his opinion.
"I can't remember the words, but the soloist sang something like 'Join me on the old Ship of Zion, and you'll find peace in the Lord,'" Kamin said. "The song probably went back to the slave days. Anyway, it stopped me dead in my tracks. I just stood in front of the church and let the music surround me. For that moment, I totally forgot what an artificial construct God is."
G/O Media may get a commission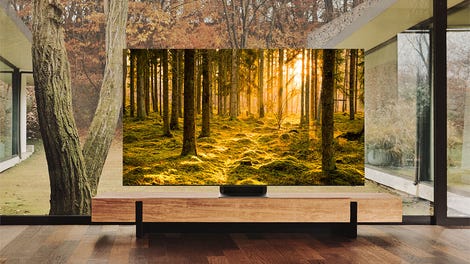 Up to 40% off
Samsung Smart TVs
Kamin said the gospel hymns he heard that first day reverberated in his head for hours.
"I found myself humming 'Mary Don't You Weep' and 'Move On Up A Little Higher' and all these other songs," Kamin said. "It made me think how amazing it is that a historically oppressed people can continue to persevere and derive strength from its music and its faith. I was very moved."
Added Kamin: "From a purely sociological and historical viewpoint, that is. Not spiritually."
Despite his attraction to the Bethel AME Church, Kamin still can't bring himself to believe in the existence of a supreme being.
"There's simply too much evolutionary and cosmological evidence against it," Kamin said. "No offense to anybody, but I just can't buy into the parting of the Red Sea and the Immaculate Conception and all those other Biblical tall tales any more than I can The Odyssey."
Kamin said he would love to experience a Bethel service, but expressed doubt that he would be welcome there.
"I bet they can smell an atheist a mile away," Kamin said. "I shouldn't taint their experience with my cold rationalism and irrefutable logic. And the fact that I'm white probably wouldn't help matters, either."
Kamin need not worry, said Rev. Lawrence Stovall, Bethel's senior pastor.
"People of all colors and creeds are welcome in the house of the Lord, even non-believers like Doug," Stovall said. "Perhaps our abiding faith in Jesus and love for our fellow man will, at the very least, inspire him to quit living in his head all the time."