CHICAGO—According to witnesses, a loud black man approached a crowd of some 4,000 strangers in downtown Chicago Tuesday and made repeated demands for change.
"The time for change is now," said the black guy, yelling at everyone within earshot for 20 straight minutes, practically begging America for change. "The need for change is stronger and more urgent than ever before. And only you—the people standing here today, and indeed all the people of this great nation—only you can deliver this change."
Homeless Man Describes Horrors Of Sleeping In Public Park During Community Theater Production Of 'The Tempest'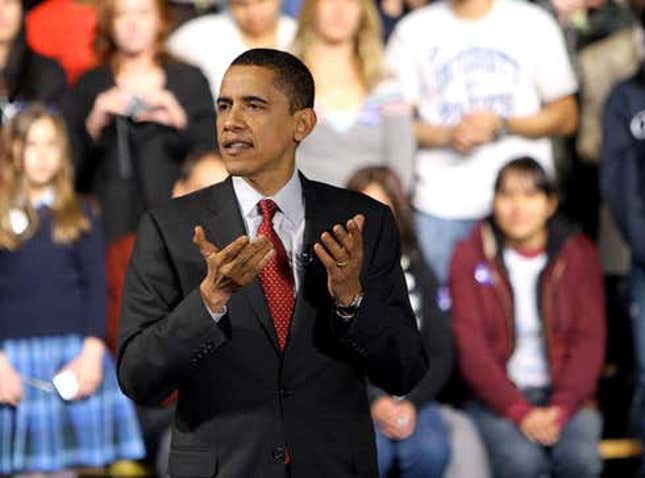 It is estimated that, to date, the black man has asked every single person in the United States for change.
"I've already seen this guy four times today," Chicago-area ad salesman Blake Gordon said. "Every time, it's the same exact spiel. 'I need change.' 'I want change.' Why's he so eager for all this change? What's he going to do with it, anyway?"
After his initial requests for change, the black man rambled nonstop on a variety of unrelated topics, calling for affordable health care, demanding that the government immediately begin withdrawing troops from Iraq, and proposing a $75 billion economic stimulus plan to create new jobs.
"What a wacko," Schaumburg, IL resident Patrick Morledge said. "And, of course, after telling us all about how he had the ability to magically fix everything, he went right back to asking for change. Typical."
"If he's really looking for change, he's got the wrong guy," Morledge added.
Reports indicate that the black man has been riding from city to city across the country, asking for change wherever he goes. Citizens in Austin, TX said they spotted the same guy standing on the street Friday, shouting far-fetched ideas about global warming. Cleveland residents also reported seeing him in a local park, wildly gesticulating and quoting from the Bible. And last week, patrons at the Starlight Diner in Cheyenne, WY claimed that the black man accosted them while they were eating, repeatedly requesting change.
"I saw him walk in and I knew he was headed straight for our table," said mother of three Gladys Davies. "He just stood there smiling at us for a while, and asked how our food tasted. Then he went and did the same thing at the next table over. The nerve of some people."
Those who encountered the black man Tuesday said he engaged in erratic behavior, including pointing at random people in the crowd and desperately saying he needs their help, going up to complete strangers and hugging them, and angrily claiming that he is not looking for just a little bit of change, but rather a great deal of change, and that he wants it "right now."
"I'll be honest, when that black guy said he would 'stop at nothing' to get change, it kind of scared me," local mechanic Phil Nighbert said. "Just leave me alone."
Though many were taken aback by the black man's brazen demands, some, such as Jackson, MS's Holly Moser, sympathized with him. She gave the black man credit for boldly standing up and asking every last person around him for change.
"I told him I'd give him some if I saw him later, even though I probably won't," Moser said. "Very nice man, though."
Most, however, ignored his requests.
"I'm a hardworking American who pays his taxes, and the last thing I need is some guy on the street demanding change from me," said William Overkamp, a Springfield, IL gun-shop owner.
He added, "What he really needs is a job."