PENSACOLA, FL—Harold Enderby's friends say that when he first saw the Navy's televised announcement that the Flight Demonstration Squadron, better known as the Blue Angels, would be holding open tryouts for the first time in its history, the lifelong aviation buff turned to his fellow sanitation workers at Doug's Dugout Bar-N-Grill and said, "Mark my words—I'm going to be a Blue Angel if it's the last thing I do."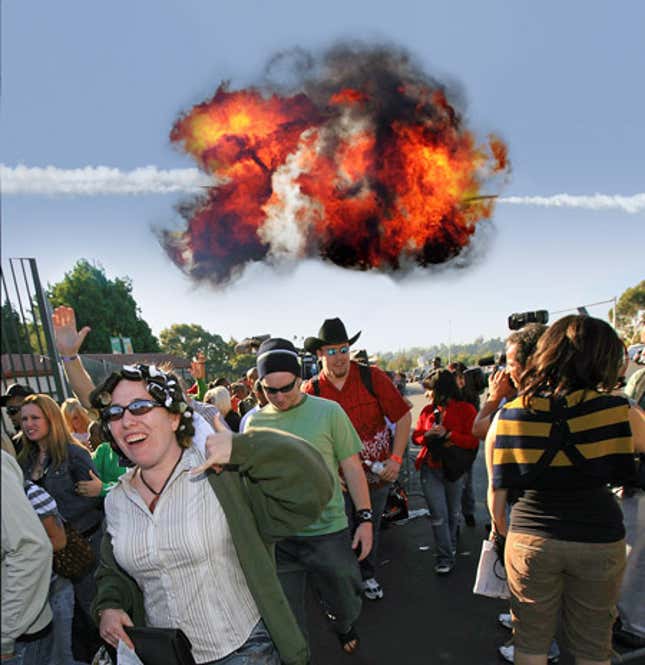 Edgelords Explain Why They Love Elon Musk
And this Sunday, that dream came true for an incredible 43 seconds, as Enderby got the chance to fly the famed Blue Angels' F/A-18 Hornet directly into the tarmac during the first day of the Navy's most dramatic—and colorful—audition program ever.
Since 1946, the Blue Angels have recruited only elite military fighter pilots. But this week and this week only, the Navy is giving the public a rare treat: allowing ordinary, everyday citizens a chance to try out for the world's premiere stunt flying team. Memorial services for Enderby, along with five other late aspiring aviators and 81 others from the assembled crowd and surrounding communities, will begin Friday and continue throughout the month.
"Some of these folks may not have worked their way through four years of the Naval Academy, 10 years of flying missions as a naval aviator on three different carriers, two sessions at the fighter school at Miramar, and another 18 months of special aerobatics and flight operations here at Pensacola—like I did—but they sure had spirit," Blue Angel member Johnny Krewsh said. "They gave it their all and that's what counts. My hat is off to them, and to their surviving family members."
With would-be pilots lining up by the thousands and crowds predicted to grow even larger over the next six days, the excitement and death toll are both expected to rise.
"It was quite a sight to see so many citizens arriving at the airbase entrance just hours after the initial announcement," said Lt. Cmdr. Maxfield Walton, the officer in charge of registering and interviewing the excited applicants, as well as contacting their next of kin. "Who knows? Your old math teacher, a cab driver, the guy in the next cubicle who can't seem to do anything right—anybody could be the next Chuck Yeager. Now this is their chance to strap themselves into a† $41 million 1,200 mile-per-hour airplane and show us what they can do."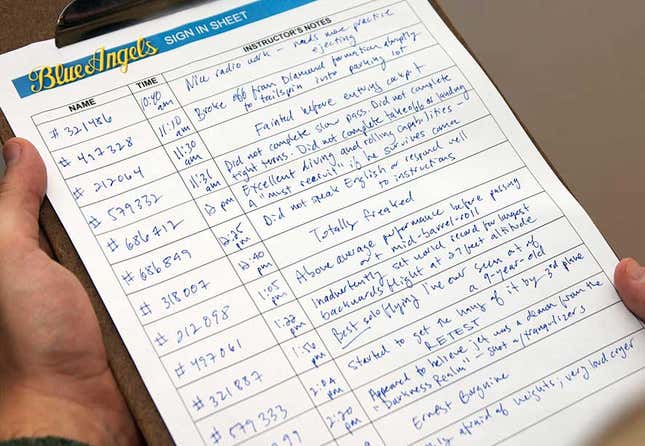 Though some of the amateur Angels got into the cockpit, suddenly realized they didn't know what they were doing, and jumped right back out, Navy officials said all who put aside their fears or lack of experience or physical disability to climb aboard a fighter jet were stars today.
The once-in-a-lifetime tryouts will continue throughout the week. But long after the flames resulting from this unique recruiting experiment have died—which FEMA personnel said should happen within 10 days—the fire of these plucky applicants' enthusiasm will shine on.
The enthusiasm of Erin Rappaport, a Springfield, IL eighth-grader who played flight simulators on her PlayStation and impressed Naval flight teams when she sat in the F/A-18 Hornet's cockpit for the first time and already knew, or could guess,† the functions of many of the jet's 188 different controls.
"That sounds just like Erin," said Rappaport's math teacher, Janice Billingsly. "We'll miss her very much."
Erin wasn't the only special person who flew here today; she wasn't the only female, or the only person to crash into Pino's Pizza on Grove Avenue, or even the youngest. But, witnesses said, she displayed incredible grit and a can-do attitude to her classmates who were inside eating pizza when she tried to fly by and wave.
Officials also singled out the determination of San Dimas, CA's Alfred K. McAllister—affectionately described by Blue Angels flight instructor Harmon Links as a "hell of a tough old guy"—who took off and just kept going.
"We almost couldn't find enough phone books for him to sit on, and he decided against the helmet because it knocked off his glasses," Links said. "But what a trooper. He never once looked back. Radar finally lost track of him about 200 miles out over the Atlantic, still climbing."
"I think he thought he got to keep the plane!" Links added. "If we ever locate and recover the wreckage, we hope to give him the proper burial he deserves."
Others noted the beaming face of Peter Collsworthy, a foreman at an Akron, OH cement plant for the past 25 years, who got the biggest roars from the crowd by far.
"He may have flunked the 'near-miss' part of the high-speed aerobatic pass, caused the death of a man with 17 years' flight experience when he sheared the wing off of Cmdr. Hickock's plane, vomited into his helmet, panicked, inverted the aircraft with the throttles maxed, and hit Mach 1 just before crashing into bleachers full of spectators with almost a full load of fuel," Blue Angels commanding officer Brock Saxon said. "But he nailed the steep climb and the steep dive, and he certainly had showmanship. If there's one thing I keep telling my cadets, it's that you can't teach enthusiasm. I think we all learned a little something about the power of raw enthusiasm here today."
"That crowd was rocking out to 'Danger Zone' when he plummeted into them at the speed of sound," said Lois Collsworthy, Peter's widow. "That would have meant a lot to him. He always loved that song."