TORONTO—Responding to criticism that the team should have done more to deal star pitcher Roy Halladay by the trade deadline, Blue Jays general manager J.P. Ricciardi revealed at a press conference Monday that there was no such person as the alleged six-time All-Star.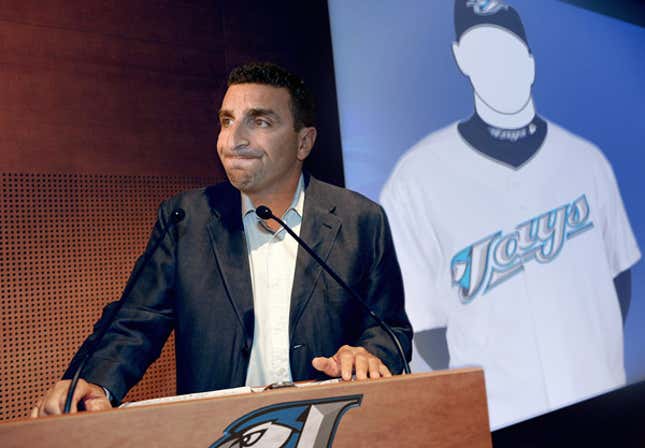 CDC Issues Dire Warning That Nick Cannon Is Feeling Horny
"Please, guys," said a defensive Ricciardi, who shopped "Halladay" around to the Phillies and Red Sox, among other teams. "A 6-foot-6, 225-pound pitcher with a 94-mph fastball who plays 200 innings a season? We're not giving that guy away for just anything, even if he does exist."
"We developed, by which I mean made up, a really good pitcher here, one of the best in baseball," said Ricciardi, who compared Halladay to a young and real Bob Gibson. "No one made an offer that came close to what Roy—who as far as they knew was a living, breathing baseball player—was worth. We went into negotiations looking for a made-up power bat, or at least two pretend arms that we could slide right into the rotation. I would have even accepted one existent major-league player."
Ricciardi continued: "The best the Phillies could come up with was Kyle Drabek and a prospect to be fabricated later. You're going to have to do better than that if you want Roy Halladay."
Halladay, who was fake-drafted by the Blue Jays in 1995, is credited with 142 career wins and 45 complete games, though Ricciardi confirmed that the fictional right-hander is just an amalgam of statistics compiled by Juan Guzman, Pat Hentgen, Woody Williams, Esteban Loaiza, Josh Towers, Gustavo Chacin, and other assorted Blue Jays pitchers through the years.
"We needed a new face for the franchise back in 2002, but our roster was pretty thin," Ricciardi said. "So we included a clause in our pitchers' contracts that said anytime they posted a decent start it'd be attributed to a 'Roy Halladay.' Then after the game, we'd say, 'There's a Halladay start,' or, 'Good old Roy, at it again.' At the end of the season, we said he'd won 19 games, and scouts were asking about him all over the place. It wasn't really too difficult adding him to the roster, since we haven't had any press covering the team in 15 years."
Ricciardi shrugged and added, "Roy's my uncle's name. And whenever we needed a face, like for his baseball card, we just used a picture of our UPS guy."
Roy Halladay is just the latest in a long string of completely fictitious Blue Jay greats, a list that includes Dave Stieb, Jesse Barfield, and Joe Carter, whose home run to win the 1993 World Series was actually just a two-run single in the seventh inning by Paul Molitor.
For their part, the Blue Jays clubhouse seemed happy that the abstract concept of Roy Halladay remained in Toronto.
"We heard the rumors, but you never expect a player like Roy to be said to play anywhere else," first baseman Lyle Overbay said. "It's not what Roy would want. Of course he deserves a chance to win, but he should win as a fake Blue Jay."
Catcher Rod Barajas added: "Our front office believes in us enough to give us the players to compete, real or imagined. We may be 11 games back of the wild card, but having a make-believe Roy Halladay is better than having no Roy Halladay at all."
Reactions around baseball were muted, as the revelation seemed merely to verify doubts that a pitcher of Halladay's caliber would ever play in Toronto.
"Those first couple of years you can't really control [playing in Toronto], but then you demand a trade and get out of there," ex–Blue Jay Orlando Hudson said.
When asked if he remembered playing with a Roy Halladay, Hudson said, "I don't remember any of my Blue Jay teammates."
Manager Cito Gaston admitted to being nervous when Halladay was selected to start the 2009 All-Star Game. "We sent [starting pitcher] Brian [Tallet] over to St. Louis in a specially made-up Halladay jersey. We thought for sure someone would notice at that point. But hey, who recognizes Brian Tallet?"
Ricciardi did not seem concerned about the inherent deceit behind the Halladay trade negotiations, insisting that some of the greatest players in baseball history were creations.
"Baseball is built on little deceptions: the curveball, the hidden-ball trick, the existence of Stan Musial. And we're not the only team who bends the truth. The Padres played 212 games last year just to make a little extra money. Just slid by and no one noticed. Milwaukee doesn't even have a third base."
When asked to explain his team's inactivity at the trade deadline, Ricciardi bristled, saying, "Look, we are in fourth place in the toughest division in baseball, and the only way to remain competitive is by cutting salary, trading for prospects, and building for 2011."
"Obviously, if Roy Halladay existed, I would have traded him," he added. "I'm not an idiot."