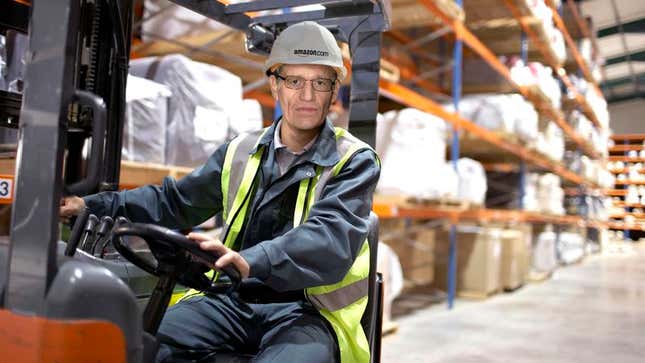 BELLEVUE, WA—Following yesterday's announcement that Amazon.com founder Jeffrey Bezos would be purchasing daily newspaper The Washington Post, sources confirmed today that Post associate editor and legendary investigative journalist Bob Woodward had already been repositioned at a new staff position in one of Amazon's main warehouses just outside of Seattle.
CDC Issues Dire Warning That Nick Cannon Is Feeling Horny
Amazon.com sources say that Woodward, who is reportedly now a junior warehouse associate at the web company's Bellevue-based warehouse, will be primarily responsible for stocking the factory shelves, tracking and packaging online orders, and several other daily tasks related to the location's inventory.
"I know it's only Bob's first day, but I think it's going to take him a little while to get the hang of working here," said warehouse manager Sam Griffin, who confirmed that the veteran reporter who helped break the Watergate scandal would be making $11.50 an hour at his new position and $12.50 for any weekend or night shifts. "He keeps saying that at his old job he got to 'pick his own assignments' or something, so I guess he's not really used to having a boss. Apparently, the guy's never worked a forklift before either, so that's going to be a tough couple of weeks of training."
"The one thing I'll give him is that he does seem very curious," Griffin added. "I mean, he's always asking questions and he has a little notepad and a tape recorder out at all times, so hopefully he picks something up from all that."
Warehouse sources told reporters that, when not undergoing training, Woodward has so far spent the majority of his first day attempting to conduct short one-on-one interviews with his coworkers, and reportedly sorting through copious amounts of handwritten notes in high-traffic areas of the warehouse's floor.
Other employees added that in the few hours of the day Woodward has managed to do his job, he has displayed virtually no skill for it.
"Bob was barely able to pack one box of shoes that was going out for shipment today, and then once he finished he wanted to know everything about the recipient," said fellow warehouse associate Matt Briggs. "He said he was using it for some sort of investigative thing he was writing about conditions at Amazon.com warehouses. I told him to do that stuff on his own time if he really wants, but for now we're all trying to get out of here at 5."
"Christ, if he wants to investigate something, then he can investigate where the boxes of Sopranos Season 4 DVDs are and go shelve them in backstock," Briggs continued.
Woodward had no comment for reporters about his new position, but was able to confirm that an unnamed source in the warehouse's HR department said he would need to find new employment by the end of the week.