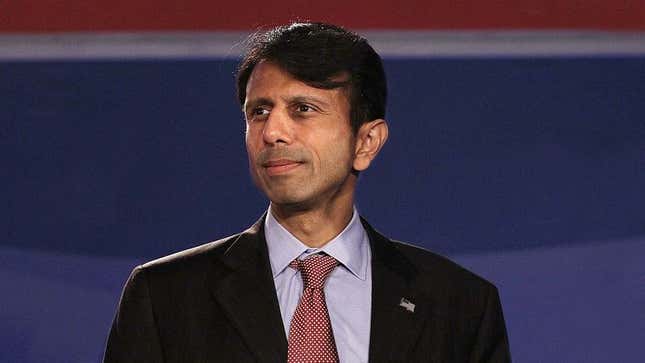 BATON ROUGE, LA—Citing the intense pressures and scrutiny placed on political candidates and the people in their lives, Louisiana governor Bobby Jindal announced Tuesday that he's not sure he wants to put his family through the rigors of a two-month presidential campaign.
This Week's Most Viral News: September 29, 2023
The 43-year-old former congressman told reporters that while his wife and three young children are tremendously supportive of his political ambitions, he recognizes that a relentless six-to-eight-week run for the White House would be hard on them nonetheless.
"If I were to declare my candidacy this June, I'd immediately have to head out on the campaign trail and would likely be apart from my family for as much as half the summer—that's a sacrifice I really have to think about," Jindal said of a potential bid for the Republican Party's 2016 presidential nomination. "We're talking four, maybe five big town hall events in the early primary states, a handful of public rallies, and a few Sundays spent at meet-and-greets with local voters. That's multiple weekends on the road, and I'm not sure it would be fair to my kids."
"I could wind up missing a half dozen of [son] Slade's Little League games, which is a lot to ask," he continued. "That's a third of the season right there."
"Imagine what it's like being 10 or 13 years old and having your dad spend dozens of days running for president—what would that do to your life?"
The second-term governor went on to state that if he seeks the GOP nomination, the Jindal family "might as well forget about" planning a summer vacation any sooner than mid-August.
Though Jindal stressed that while he personally had no qualms about enduring the extreme media attention, he admitted that he hated the thought of subjecting his wife and kids to the harsh glare of the public spotlight for a couple of news cycles. According to Jindal, they would have to steel themselves in preparation for a demanding campaign that would take their husband and father all the way through Iowa, a fair amount of South Carolina, and maybe a couple counties in New Hampshire.
The prospective candidate confirmed he would not throw his hat in the ring without first sitting down with his family for a long, soul-searching discussion of any concerns they might have about watching him run for upwards of 50 or even 55 days, and likely missing such major milestones as his children's first day of school this year, their second day of school, and possibly even the remainder of their first week of school.
"Imagine what it's like being 10 or 13 years old and having your dad spend dozens of days running for president—what would that do to your life?" said Jindal, who admitted that during the roughly five-day-long peak of his campaign he might be too busy to stay in touch with his loved ones. "And we could be in the thick of it right up until a few days after the 2015 Iowa Straw Poll. If I hold, say, six fundraising dinners, that's six meals I'm skipping with the kids. Not to mention I'll miss my daughter's big dance recital, which is really important to her."
"Oh, wait, no I won't," he added. "That's in September."