POTRZEBIE, BLECCHISTAN—Questions regarding the fate of Mad magazine reporter Phil Fonebone, kidnapped at the hands of Blecchistani extremists three months ago, were answered Monday with the discovery of his body at an undisclosed location near Potrzebie.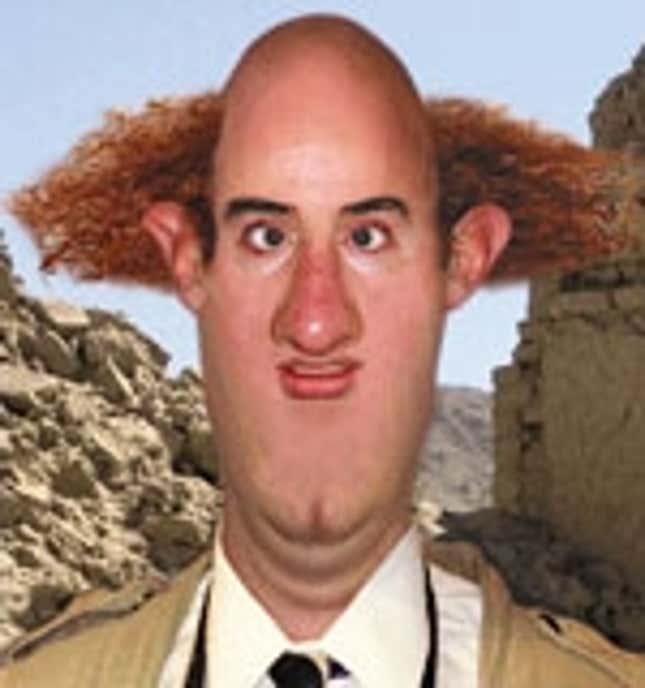 This Week's Most Viral News: September 29, 2023
"Phil Fonebone's death was a brutal act of barbarism perpetrated by a group of clods, finks, and schmendricks who stand in direct opposition to the values we cherish as a democratic society," read a statement issued by Mad magazine. "On behalf of journalists and freedom lovers everywhere, we condemn this senseless, furshlugginer act of violence."
Widely admired by colleagues in the field of malaprop journalism, Fonebone, 32, won a 2002 Pee-yew-litzer Prize for his coverage of the Blecchistani crisis. He also earned praise for reportage on such stories as the rise of Ayatoldya Soslayme in Iranaway and the hunt for terrorist leader Whoah-Ahma Big-Loudmouth.
Fonebone disappeared on March 9 when Mad's trademark dirigible, used by the reporter to get a "Berg's-eye view" of the Blecchistani war zone, was shot down near Potrzebie by unidentified extremists armed with oversized slingshots. The weapons, it is believed, were provided by illegal arms dealers, possibly Moronicist extremists in the Blecchistani countryside.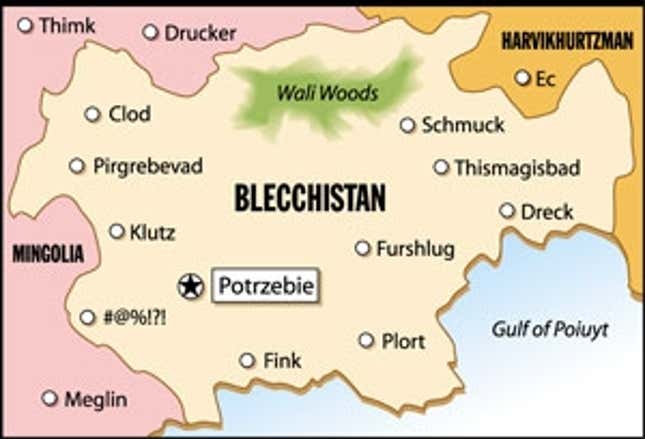 The motivation for the attack remains unclear, but, according to a report by the Al Jerkzeera News Network, the kidnappers were seeking a ransom of "$35 million—CHEAP!" from the editors of Mad.
With its strong anti-establishment stance and open criticism of social mores, Mad has long been viewed as an enemy by Potrzebian extremists, who consider it a corrupting Western influence. Blecchistani ultra-conservatives, known to confiscate stockpiles of Mad hidden in tree forts or under the mattresses of rebellious Blecchistani youths, have denounced the publication as "a bunch of garbage that will rot children's minds" and its editors as the "usual gang of idiots." Still, some Blecchistani youths, defying authorities' efforts to rid the nation of the magazine, have hidden copies inside large, state-sponsored textbooks and conservative propaganda.
"It is clear that Fonebone's irreverent coverage of 'the lighter side of international terrorism' earned him many enemies in Blecchistan," Mad editor Melvin Coznowski said. "But even in the face of death threats, he remained brave, saying with a wry smile, 'What, me worry?'"
Though many of the specifics regarding Fonebone's murder remain unclear, some details are known. The body was badly decomposed, but coroners identified it by its oversized, folded-over feet. As for the identity of the perpetrators, reports suggest the involvement of one or more mysterious, trench-coated espionage agents dressed in either all-white or all-black clothing, and described as "angular, birdlike males with wide-brimmed, pointy hats."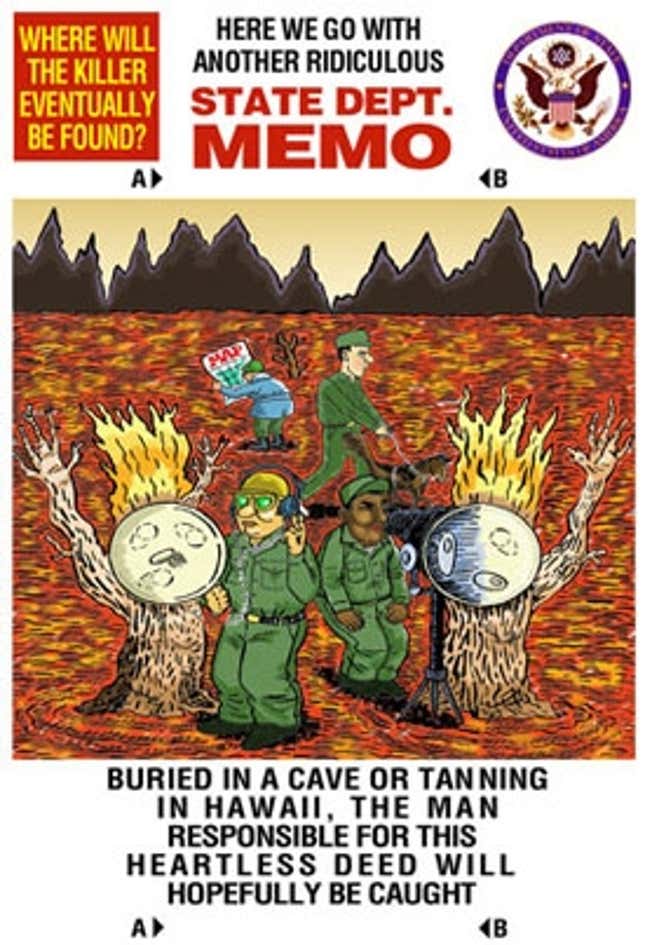 A recently leaked memo from the State Department also confirms the interception of a Morse-coded message suggesting that the plot may have been masterminded by a shadowy figure known only as "Prohias." This same figure may have been responsible for an elaborate swivel-turret backwards-firing cannon found at the scene of the dirigible attack.
At the time of his capture, Fonebone was tracking down members of the al-Jaffi terrorist network, a group widely believed responsible for the devastating Snappy Answers To Stupid Questions Atrocities, a string of May suicide bombings intended to undermine efforts to establish democracy in Blecchistan. Asked if they knew anything about rumored al-Jaffi involvement in the Fonebone murder, suspects detained in connection with the bombings replied only with a series of three sarcastic variations on "No," leaving a fourth response blank for State Department officials to fill in themselves.
Mad staffers praised Fonebone for his passionate commitment to the cause for which he died.
"Phil Fonebone was a tireless crusader in the fight for a free press," managing editor Roger Kaputnik said. "This shameful act of violence against such a courageous man can only be described as 'murder in a jugular vein.'"
Continued Kaputnik: "Time and time again, Mad has faced the threats of oppression and tyranny. We have been attacked from the far right, when Estes Kefauver conducted his witch hunt on comics in the 1950s, and from the far left, when Fidel Castro forced one of Mad's chief contributors to flee Communist Cuba for the subversive content of his cartoons. We have taken plenty of lumps—tall, elongated lumps circled by chirping birds and musical notes—yet we've never given in. Or folded in. The perpetrators of this act thought they could destroy the free press, but they have succeeded only in rallying the free press against them. Phil Fonebone's death was truly a 'Ker-Schlumpf!' heard 'round the world."
A statement released by Gladys Fonebone, Phil's widow, echoed Kaputnik's sentiments.
"Phil believed that by exposing the truth and attacking hypocrisy, the world is made a better place," Fonebone said. "He dedicated his life to working toward a future where tolerance and compassion are values all people share. And that is a scene we'd all like to see."