WASHINGTON— In a blatant show of disgust and indifference toward her senatorial duties, Sen. Hillary Clinton (D-NY) repeatedly yelled "boring" from her seat Wednesday, interrupting New Mexico senator Jeff Bingaman's speech in support of S. 3125, a bill that would extend certain expiring provisions of the Internal Tax Revenue Code of 1986.
Clinton's declaration of boredom and the various iterations that followed—including shouts of "Bored," "I'm bored," "This is stupid," "This is boring," and "Oh my God, I'm so bored"—were not reportedly targeted at one person in particular but at the entire assembly. According to those senators present, Clinton delivered her unprompted remarks while she slouched in her chair, rested her head atop the back of her seat, and fixed her eyes on the Senate Chamber's ceiling.
"Shut up," a visibly exasperated Clinton said in a forceful monotone when Sen. Bingaman attempted to resume his speech. "Shut up. Shut up. Shut up."
"Stop being boring," Clinton added. "Why can't we do something fun for a change, like run for president?"
Despite suggestions from nearby legislators that she keep her voice down, Clinton once again interrupted Bingaman before the conclusion of his speech when she began a slow, exaggerated clap for her colleague in an apparent attempt to get him to leave the podium. When Bingaman tried to speak above the clapping, Clinton addressed him with pointed sarcasm, saying, "Great speech, Jeff. Just great. Really brought the house down."
G/O Media may get a commission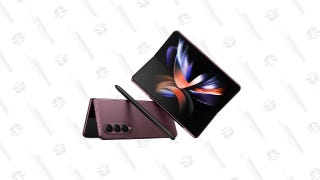 Save Up to $300
Galaxy Z Fold4
Clinton then reportedly asked the senator seated next to her, "How long do these things go?" and spent the next 45 minutes slowly rubbing her temples.
Although her fellow lawmakers admitted they were startled by Clinton's most recent outburst, they were not surprised. The disruption, one senator said, follows a pattern of rude behavior that began in June, when Clinton returned to the Senate after a narrow loss in the Democratic primaries.
During the first meeting she attended following her crushing defeat, Clinton greeted the 99 other senators by loudly declaring, "Ugh, kill me now." She then made what could be described as a "Yap, yap, yap" gesture with her right hand during the entirety of Sen. Harry Reid's (D-NV) introduction of bill S. 3268, an amendment to the Commodity Exchange Act.
Perhaps the most egregious example of Clinton's misbehavior, according to congressional records, came in July when the former presidential contender twirled her right index finger and stated "Whoop-de-doo" when Sen. Ted Kennedy (D-MA) appeared on the Senate floor for the first time since undergoing surgery for brain cancer.
"We understand that Sen. Clinton is going through a difficult adjustment right now," Reid told reporters. "But at some point she is going to have to stop blurting out 'sucks' after each person's name is called during roll."
Reid went on to confirm reports that Clinton has taken to arriving an hour late to all meetings, most often wearing pajama bottoms and an oversized Late Show With David Letterman T-shirt.
However, many of Clinton's fellow senators said they do not mind her tardiness, noting that she is actually more of a disturbance when she arrives on time. One anonymous Wisconsin senator told reporters that Clinton has been known to deliver a sustained, audible sigh while President Pro Tempore Robert Byrd calls the meeting to order; frequently votes by letting out an extended belch; repeats the title of every bill in a high-pitched, mocking tone; and, once, after her disruptions caused the former first lady to be escorted out of the Capitol, raised both middle fingers in the air and proposed that the entire Senate go fuck itself.
"Yesterday I spoke to [Clinton] about the reauthorization of the Higher Education Act, a bill she used to be very passionate about," Sen. Tom Harkin (D-IA) said. "She pretended to fall asleep while I was speaking, started fake snoring, woke up, and said, 'I'm sorry, Tom, were you saying something?'"
"She's worse than Kerry was in 2004," added Harkin, referring to Sen. John Kerry (D-MA), who, after his loss in the presidential election, spent the remainder of the congressional year seated in the back of the chamber, trying to master "Rocky Raccoon" on his guitar.
Despite receiving several verbal warnings, Clinton has shown no signs of amending her behavior. As chair of the Subcommittee on Superfund and Environmental Health, the senator is expected to resume her duties tomorrow by banging a gavel in front of a silent audience for approximately 10 straight minutes and leaving for lunch.