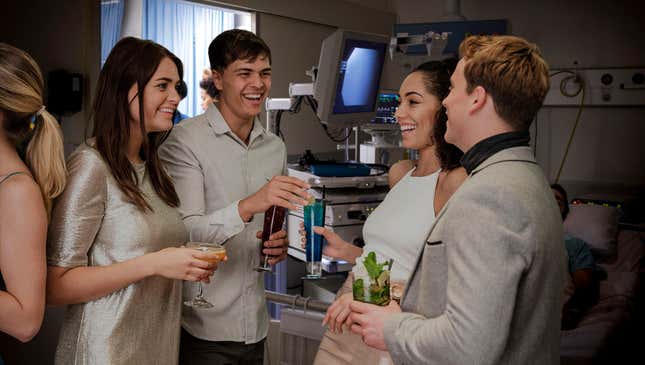 BOSTON—Billing the evening as a unique opportunity to get up close and personal with occupants of the thousand-bed facility, Boston General Hospital held its first-ever Night Among the Patients Saturday, a gathering that reportedly featured cocktails, hors d'oeuvres, and live music.
According to organizers, the 21-and-over, after-visiting-hours event allowed those in attendance to tour the hospital with drink in hand, clinking glasses with friends and looking on as critically injured arrivals were stabilized or patients with acute renal failure underwent dialysis. Guests said they also mingled with doctors and nurses hard at work in the ER, listened to a band play classic rock favorites in an intensive care unit, and partook of artisanal Jell-O squares with cups of orange sherbet.

"When the sun goes down, this Level 1 trauma center is just waking up," hospital public relations director Jenny Kraus said of the fundraising event, which boasted several dance floors throughout the oncology wing, as well as food trucks serving popular local favorites outside in the ambulance lane. "We wanted to show that Boston General can be every bit as fun as a bar or a club, while also providing cool activities your favorite night spot lacks—like the chance to be right there in the room as an 82-year-old man struggles with complications from pneumonia, or to simply stroll through the maternity ward and see a number of pregnant women in labor."

"With our hourly reconstructive surgery demonstrations, you can even munch on salmon-mousse canapés while watching a physician perform a skin graft on a real-life burn victim," Kraus continued.

Administrators at the top-ranked research hospital confirmed they relaxed many of their usual rules and regulations for Night Among the Patients. This reportedly included waiving occupancy restrictions so that individuals under observation in the psychiatric unit could all be wheeled into one room to make space for the two-hour laser-light show and "sound odyssey" presented by Boston General's resident mix master, DJ Smooth.

Officials said that between 8 p.m. and midnight, ticket holders were allowed to wander in and out of patients' rooms and purchase alcohol from cash bars set up in the palliative care center and a rehabilitation clinic where stroke victims were learning to walk again. Cocktails were served in vials and test tubes and, according to the drink menu, included several custom creations such as "200 CCs of Tequila," "The Flatliner," and "Dr. Gerald Stickney's World-Famous Gin Rickey." Also available was a rum-and-vodka-based jungle juice decanted from a bedpan.

"I'm having an absolute blast—it was so amazing to get that close to a person having a limb amputated," said event attendee and Boston resident Janet Raleigh, who laughingly recalled how her dress was spattered with blood when she went to check out the procedure and got sprayed by a severed artery. "But my favorite part was when our tour guide, Miguel, took us down to the morgue. He had so many awesome stories, because he basically knew when and how every person in the hospital had died. Plus, he had an in with the coroner, so we got to see one of the super good body bags—a guy who died of measles."

"He also showed us the biopsy lab and let each of us pick out a tumor to take home!" Raleigh added.

Many guests stated that the highlight of their night was the interactive "exploration station," where they could touch a set of preserved organs laid out on a tray, reach inside an incubator and pick up a premature baby, or test out a piece of multimillion-dollar laparoscopic technology on a friend.

But others said they preferred the "leukemia meet and greet," which, for an extra $45, allowed them to take a photo with a patient undergoing chemotherapy and hand them a paper cup filled with oral meds.

"Honestly, it cost a little more, but I spent 20 minutes in front of one patient just staring at him, and I felt a real connection," Somerville, MA brand consultant Anthony Christiano said of his meet-and-greet experience. "I could tell the guy was a little nervous, but it wasn't long before he let me get close enough to reach out and feel his gown."

"It sucks that he'll be dead in two months, but I'm still grateful I got to touch him," Christiano added.

Kraus, the PR director, told reporters the positive feedback the hospital had received was enough to ensure this Night Among the Patients wouldn't be the last.

"We'll be back again with a whole new theme," Kraus said. "Next time, get ready for 'MRSA After Dark: A Tribute to Antibiotic-Resistant Bacteria.' Trust us—you'll want to bring some gloves."