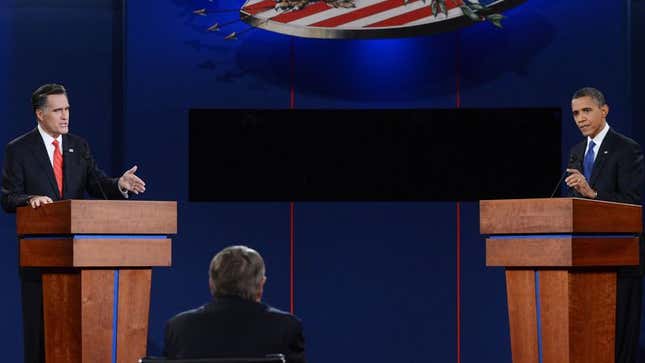 BOCA RATON, FL—Citing the continuous regurgitation of the same campaign talking points and the media's exhaustion of almost every conceivable sound bite, political analysts confirmed that the only way tonight's presidential debate will matter at all is if both candidates enthusiastically endorse a mandatory national eugenics program.
This Week's Most Viral News: September 22, 2023
"At this point, Mitt Romney and Barack Obama's positions on the issues have been dissected for voters thousands upon thousands of times, so it stands to reason that this 90-minute debate will have no effect on the election unless the two men jointly endorse a plan to purge society's gene pool of undesirable traits through government-enforced selective breeding," Time magazine's Mark Halperin said. "You're going to hear Romney irrelevantly bring up the Benghazi attacks and Obama evade giving any specifics on talks with Iran. That's it. So, barring someone flat-out stating that America as a society should systematically control human procreation for the purpose of propagating desirable genetic traits in our children, thus weeding out those deemed "unfit" for reproduction and ultimately creating a Master Race, you can probably tune this one out."
Halperin added that most viewers will only be watching the debate to listen for any poorly worded turns of phrase likely to inspire Internet memes.