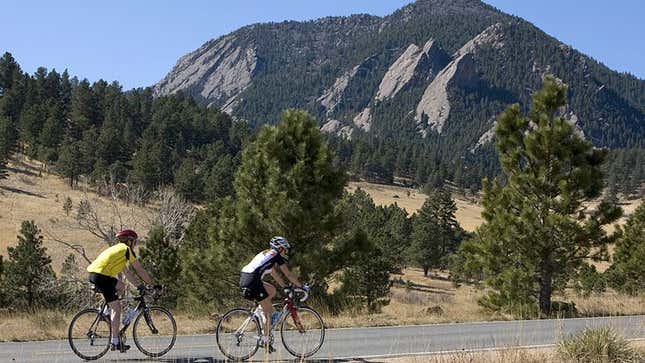 BOULDER, CO—The picturesque city of Boulder once again placed first in American Living's annual tally of the nation's 20 best places to raise abducted children, taking top honors for the third consecutive year.
"With plenty of cultural amenities, unsurpassed recreational opportunities, and an inviting lack of neighborhood watch groups, Boulder is the ideal place to raise a captive family," the magazine's editors wrote in a two-page feature spread. "The city is large enough for new residents to quickly blend in, yet small enough that one could easily track down a child who manages to escape from the attic crawlspace in the dead of night."
Editors also lauded its many bike paths.
"Boulder is the perfect place for me and the girls," said a local resident who asked that we refer to him only as Peter. "Trust me, we've lived all over: Sacramento, Reno, Tucson, Dallas, Orlando, northern Mexico for a few weeks, Dallas again, even Alaska. Nowhere else comes close."
In addition to its No. 1 overall ranking, Boulder also placed in the top five in several individual categories of the American Living index, including median income, school quality, basement size, annual number of search warrants issued, and green space.
"Everyone here is so friendly," said Mary Brown, who moved to the region last November with her common-law husband. "They're quick to smile and say hello, but they never ask any prying questions, like why you have an Asian baby."
The city of 300,000, located in the foothills of the Rockies, also earned high marks for its stunning scenery and access to "countless outdoor attractions and mountain getaways." Millions of acres of protected wilderness can be found within a half hour's drive of the city center, allowing captors to take their children on overnight camping trips, weekend hikes, or longer excursions as needed until media coverage dies down.
"This is beautiful country out here," said David Walker Janssen, a self-described preacher who has lived for years on the outskirts of Boulder. "Rugged peaks on one side, endless golden plains on the other—God truly chose this land. Just as He chose those flaxen-haired angels to be my rightful brides."
Aside from its natural beauty, Boulder also impressed American Living's editors with its 300 sunny days per year, its wealth of free cultural events, and the fact that building a soundproof backyard shed does not require filing any paperwork with city hall.
"The Boulder business community could not agree more strongly with American Living's assessment," Northern Colorado Chamber of Commerce president Dan Warburton said. "Everything you could possibly need to raise your kidnapped children—ample sunlight, nearby hardware stores with all the tools and rope you could ever ask for, coffee shops where you can sit for hours planning out your next move, even abandoned warehouses—it's all right here. So come, discover Boulder."
While the community's nurturing environment has won the near unanimous praise of visitors and abductors alike, Boulder's most meaningful words of endorsement came from its young people.
"Boulder is great," said 15-year-old Samantha Pritchard, who has lived in the area since April or May or maybe it was June 2007. "I love living here in Boulder. Yup, I love living right here in Boulder, Colorado."
"That's Boulder, Colorado," she added.