CINCINNATI—In an effort to reach out to first-time paper towel users, Procter & Gamble introduced a beginner series of its Bounty paper towel brand Tuesday specifically designed to assist novices in acclimating to the household cleaning product.
Company representatives told reporters that the new entry-level paper towels, called Bounty Beginners, will feature bold labels and guide markers clearly printed on the surface of each sheet as well as a tutorial DVD with step-by-step instructions for use. These learning aids, sources said, will help ease the anxiety that keeps some people from buying paper towels and will demonstrate to potential users that paper towels are not a technology to be intimidated by.
This Week's Most Viral News: September 29, 2023
"Bounty Beginners will provide wary consumers with all the information they need to get comfortable with paper towels," spokesperson Dave Lee said, adding that it is currently all too common for users to struggle with a standard roll of paper towels for minutes or even hours before ultimately giving up on a spill. "We understand people's trepidation, and our goal is for them to be able to grab a roll off the shelf without a second thought." "With the help of Bounty Beginners, you'll be wiping up all kinds of things without fear, and sooner than you ever imagined possible," Lee added.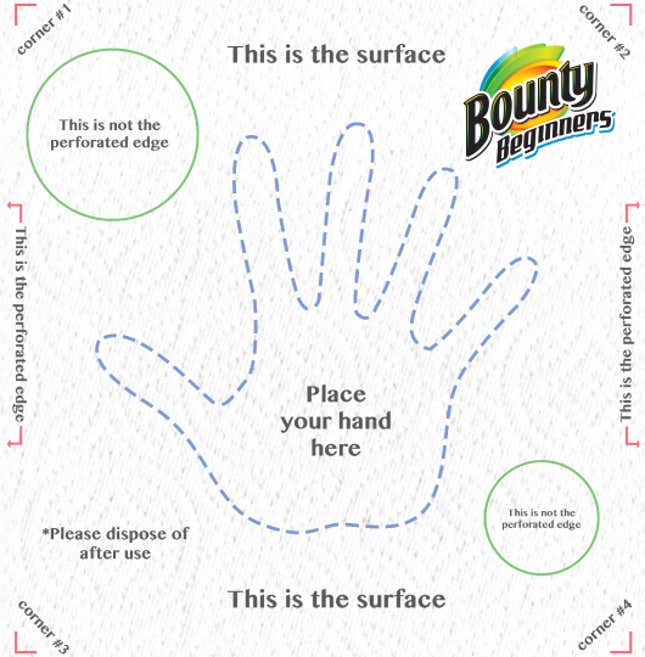 According to Bounty Beginners designers, the product's most innovative features are its heavily annotated, color-coded sheets that clearly identify each part of the paper towel, including the corners and the edges, as well as several special labels that explicitly indicate when the roll is down to its final sheet and that the cardboard tube should not itself be mistaken for a paper towel. The center of each sheet also features the dotted outline of a hand, meant to remind consumers what part of the body to use with paper towels and where to place it.

In addition, the instructional DVD will reportedly be accompanied by a companion 15-page booklet containing diagramed directions for using paper towels and covering fundamentals such as towel positioning, wiping technique, and towel disposal.
"Now that you've successfully torn your paper towel from the roll, you might be wondering where to position the paper towel in relation to the spill," reads an excerpt from the section "You've Ripped Off Your Sheet—Now What?" "Simply place the paper towel directly on top of the spill so that it's able to absorb the liquid—not beside the spill where there isn't any liquid. If the spill doesn't make direct contact with the paper towel, it will not be absorbed."
"When the paper towel is dirty, dispose of it and tear off a new one," the text continues. "You can tell if it's dirty just by looking at it. If the spill is now on the paper towel instead of the surface you just wiped, your towel is dirty and should be thrown away."
In addition, sources told reporters that the Bounty Beginners website will contain a regularly updated FAQ section featuring questions such as, "Are paper towels the same as napkins?" "Will my paper towels ever expire?" and "Can paper towels accidentally absorb my child, spouse, or pet?" The site will also include detailed safety information on incorrect uses of paper towels, including eating paper towels as food and using paper towels to wipe up fire.
Bounty Launches Beginner Series For People New To Paper Towels
"What we're hoping is that once consumers have mastered Bounty Beginners, they'll have all the tools they need to confidently clean up stains using any of our other paper towels," said Lee, noting that most users will likely need to finish 10 or more Beginners rolls to reach such a level of mastery. "If we can put them at ease, we're confident they'll be Bounty customers for life."
"Of course, we're also launching a hotline where anyone can get help from paper towel experts 24 hours a day," he added. "Even experienced users can have questions from time to time."
At press time, sources reported that the majority of Bounty Beginners users were completely entangled in them.