MENASHA, WI—After seeing the rough cut of his new TV commercial, Bob Dieber, 46, owner of Menasha Lanes, told the 30-second spot's creator to make it look "more Matrix-y," sources reported Tuesday.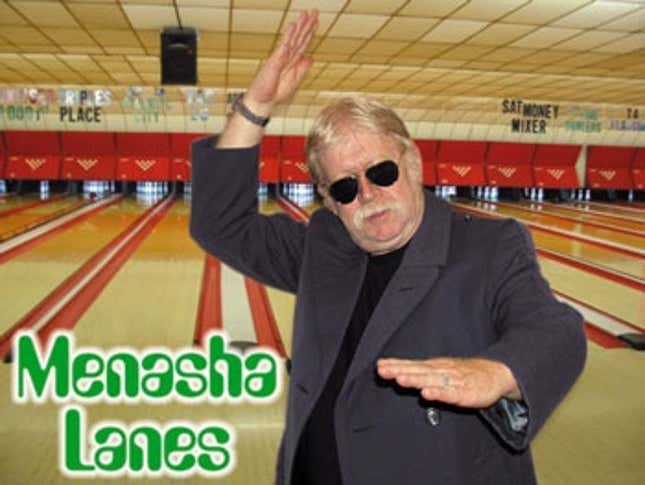 Supreme Court: 'We Wear Gold Crowns Now'
"Yeah, it definitely has the Matrix thing going like I wanted, but I can't help feeling like it could have more," Dieber said of the ad, slated to air on Appleton/Green Bay UPN affiliate WACY-32 during upcoming Judge Hatchett telecasts. "There needs to be more special effects or something. Like maybe a bowling ball flying through the air in slow motion. That'd be a pretty
funny twist."
The ad, as scripted, features Dieber bowling in a dark trenchcoat similar to the one worn by Laurence Fishburne's Matrix character Morpheus. After bowling a strike, Dieber turns to the camera, strikes a martial-arts pose, and says, "At Menasha Lanes, you are The One."
Though the commercial conveys the low prices, fun family atmosphere, and new bumper bowling one can enjoy at Menasha Lanes, Dieber said it lacks the "dazzling computer-y feel" of The Matrix and The Matrix Reloaded.
"Is there any way we can work in those falling green letters or something?" Dieber said. "And I'd love to throw in some of those levitating effects. There could be a shot of me in the snack bar, and I jump into the air and just stay there while the camera spins all around me. That'd grab people's attention."
Dieber's suggestions have caused headaches at Hot Spot Films, the local production house shooting the ad. Especially frustrated by his efforts to up the Matrix ante is director Andy Schuba.
"We pride ourselves on being the commercial-production house in the Fox River Valley area," Schuba said. "We have a state-of-the-art editing suite and a special machine dedicated to titling effects. But the things Bob wants to do would run 10 or 20 times over the budget for this project, if we could even do them at all."
In spite of his limited resources, Schuba has made every effort to satisfy his client, trying to closely replicate the multiple-camera "freeze" shots popularized in the Matrix films. With only one handheld Hi-8 video camera, Schuba attempted to slow down the ball as it approached the pins, then "pan around the other side of the ball quickly." The effort ended in frustration.
"[Cameraman] Derek [Gund] was supposed to run around the ball as it was rolling down the lane, but his shots were all too bumpy to use," Schuba said. "On the third or fourth take, he twisted his ankle in one of the gutters and had to take the rest of the week off. Normally, I wouldn't even try something like that, but Menasha Lanes is one of our biggest accounts, and we really want to keep them happy. It's been tough, though."
Schuba said that Dieber, though well-intentioned, does not understand the technical complexities of his ideas.
"He's really hands-on with his ads, but in the end, he doesn't really know what he's getting into," Schuba said. "He wants full CGI effects, multiple-camera stuff, stop-action filming. You just can't do that stuff on a $900 budget."
Spoofing hit movies is nothing new for Dieber: The Matrix spot is Menasha Lanes' fourth movie-inspired ad in the last decade. The first was a 1993 Terminator 2-inspired ad in which Dieber donned a leather jacket and said, "Bowl here once… and you'll be back."
"People really got a kick out of that one," Dieber said. "I can't tell you how many people would see me in the street or standing in line at the post office and shout, 'Hey, Terminator!' Years later, I still get that every now and again."
In the summer of 1995, the Terminator ad was followed by a Wayne's World ad, in which Dieber, wearing a long black wig and brandishing a guitar, invited viewers to "Party on at Menasha Lanes!"
"That was a good one, too," Dieber recalled. "The kids loved it."
In 1999, looking to tap into the Austin Powers craze, Dieber donned a purple paisley sports coat and shouted, "Menasha Lanes is shag-alicious, baby!" The ad, which has run for the past four years on local Milwaukee Bucks telecasts, will be retired in September when the Matrix spot is set to debut.
Schuba, who collaborated with Dieber on those previous ads, said he always feels pressure to top the last commercial.
"The viewers have come to expect a lot from us, and we don't want to let them down," Schuba said. "We've got to continually raise the bar. I want to deliver a 30-second Matrix-looking bowling-alley ad more than anyone. But what Bob wants is a tall order, even for a production company like Hot Spot."