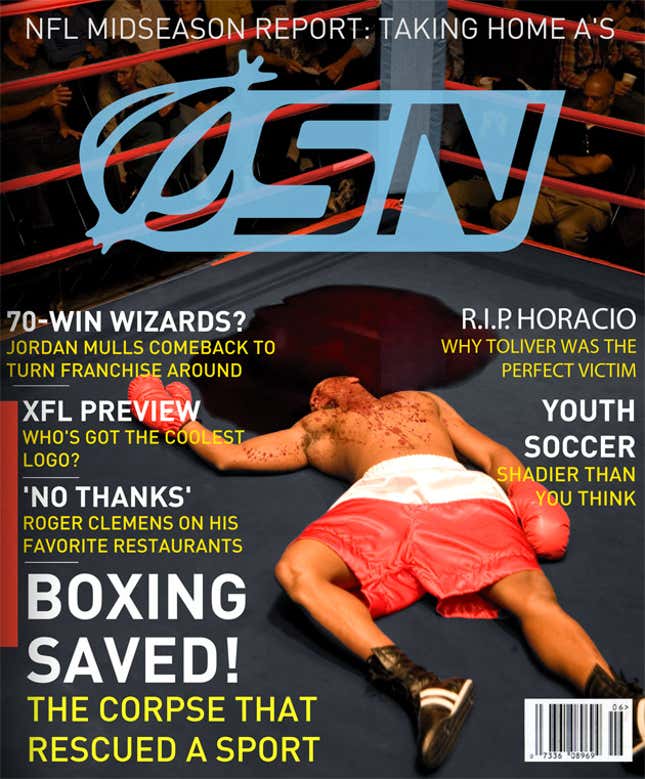 Disappointing scene in Las Vegas as boxer Hector Ansada failed to kill his opponent Kent Sudder in the ring today. Despite Sudder's clearly out-of-shape physique and a referee with near-criminal level tolerance for violence, Ansada was not able to deliver the final death knell that would have snuffed Sudder's spirit forever and send over 10,000 bloodthirsty spectators home happy.
This Week's Most Viral News: September 22, 2023
Highlights:
First Round: Ansada jumped ahead early with four devastating crosses early on. Sudder was essentially out on his feet after those four stunning blows, but flailed his arms around enough to create a semblance of life.
Sixth Round: Many in attendance swore they saw the grim spectre of death descend upon the arena, but everyone would have to wait as it merely turned out to be Sudder's mother draping herself in a black funeral shawl and wailing throughout the round.
Seventh Round: The closest thing to a fight stoppage as Sudder's estranged brother leapt into the ring and attempted to have Sudder sign a newly revised copy of a last will and testament that would have given his brother the proceeds of the fight.
Eleventh Round: Ansada delivers the final blow of the bout, a light jab to the body that doubled Sudder over and sent him careening to the mat with a sickening thud. Even through the joyous calamity of death that rung through the arena, doctors around the ring could sense something was wrong, sending the coroner back to his perch and actually breaking out some resuscitation equipment. Sure enough, Sudder was not dead.
There is a happy coda to the tale however. As Sudder's prone form was wheeled to the locker room where he would die minutes later, his body was showered with warm beer and stale popcorn from the death-deprived crowd. A security guard took issue with the fans and attempted to remove them from the arena. Other fans intervened by punching the security guard, who responded by firing wildly into the crowd, killing three. So though death went unrealized in the ring itself, there was more than enough outside it to make it a great night for true boxing fans.