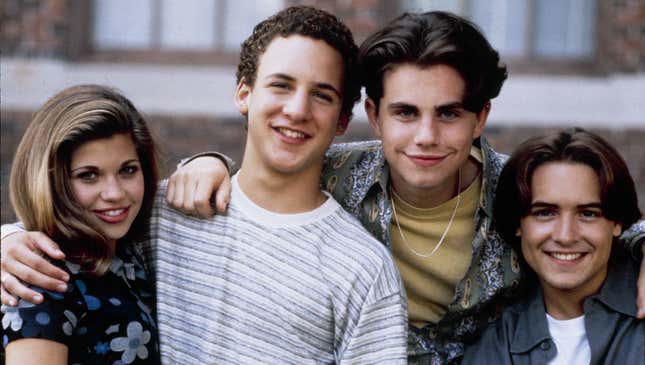 September 24 marks the 25th anniversary of the debut of Boy Meets World, the hit ABC show following the coming-of-age story of Cory Matthews. The Onion looks back at some memorable milestones from the show's seven-season run.
This Week's Most Viral News: September 22, 2023
---
1993-2000:
Just an unbelievable amount of shit piled on poor Shawn while the rest of the characters deal with their little rich people problems.

---
1994:
In one of the series's strongest episodes, Cory leaves his comfort zone to pursue something he wants only to find it's not exactly what he expected, and he learns a valuable lesson about life.

---
1995:
Eric suffers a traumatic head injury, leading to three laugh-out-loud seasons.

---
1996:
Mr. Feeny suffers a heart attack after Cory and Shawn prank him by hiding his heart medicine.

---
1997:
Topanga throws her fucking life away by deciding not to go to Yale and marrying Cory instead.
---
1998:
When Shawn's dad passes away, Mr. Matthews offers to let Shawn sleep in his car for one night.
---
1998:
Cory and Shawn have a brief falling out after arguing about the impeachment of Bill Clinton.

---
2000:
The final episode closes with Mr. Feeny saying "Class dismissed" to an empty room, confirming earlier hints in the series of his descent into dementia.