NEW YORK—With the Dow Jones Industrial Average dipping below 12,200 at lunchtime today, floor trader Michael Campos, 24, is making an extraordinary personal effort to bring the index over the top before the closing bell later this afternoon.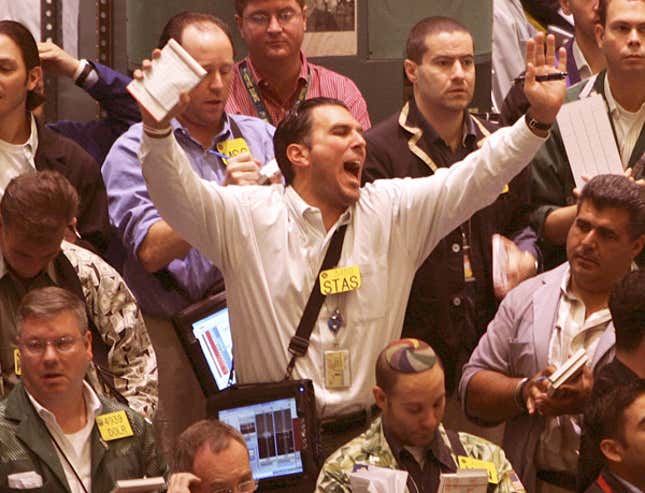 Study Finds LSD Highly Effective At Ruining Nephew's Baptism
"C'mon, show some pride out there for God's sake," Campos said from the floor of the New York Stock Exchange. "What the hell is wrong with you? Hey, Johnson & Johnson, put a little heart into it!"
Though the Dow Jones, comprising 30 of the largest and most widely held public companies in the United States, fluctuates based on external market forces such as supply and demand, Campos said the Dow can overcome any obstacle if it "just shows the will and determination" to do so.
"Forget those rumors that OPEC will cut production by 1 million barrels a day, and just remember that what matters is what's in here," Campos said, pounding an open palm against his chest. "This is crunch time. Now let's show those chumps why we're the number one stock-market index in the world."
"That's what I'm talking about!" Campos added with a fist pump after seeing Proctor and Gamble Co.'s value jump a half point. "P&G's got the fire. How about the rest of you, huh? Where's the energy? You all have to be hitting on all cylinders, not just one or two of you."
"Don't get down, do not get down," he added. "Plenty of time left. Plenty of time."
Despite Campos' insistence that the Dow just needs a little boost before the closing bell to regain some much-needed confidence, Solomon Smith Barney financial analyst Troy McGrory said a late-afternoon rally was unlikely.
"With several technology companies failing to live up to forecast projections, and the Labor Department reporting a larger than expected jump in core wholesale inflation, it's shaping up to be a tough day for the index," he said. "I don't see how the Dow can pull itself out of this kind of slump."
But Campos, a recent graduate of McMaster University's Degroote School of Business, said he doesn't want to hear excuses.
"The problem is we're complacent," Campos said. "This stock index is satisfied with 12,000 points when it should be shooting for 14, 15, or 16,000. You can't be afraid of success. You have to lay it on the line, trust one another, and leave it all on the floor every single day."
"I believe in my heart that this is the finest group of companies this index has ever seen," Campos added.
Despite a general consensus among analysts that the Dow's recent record highs are due in large part to a strong three-month upswing in the benchmark index of blue-chip stocks, Campos maintains that the success came because the index "wanted it."
"All right!" said Campos when the index crept to 12,150 at 2:35 p.m. "Now we're showing a little life out there!"
Though he reportedly considered burning $1 bills in order to boost the American currency's value overseas, and distributing phony Wall Street Journals reporting that the Federal Reserve was planning to lower interest rates, Campos said the Dow "didn't need the help."
"Look at United Technologies Corp—we called you up to the bigs and you're showing us all what you're made of," said a visibly moved Campos, choking back tears as he gazed up at the giant electronic ticker. "I'm so proud of you right now."
Though colleagues said they appreciated the enthusiasm Campos has brought to the floor, veterans of the business said the inexperienced floor trader still had much to learn.
"You've got to understand that there are good days and there are bad days out there," said Greg Samuels, 57, who has worked the markets for 30 years. "You can't win them all, and if you take every little trade personally, it will kill you."
Despite Campos's pleas to "finish strong," it appeared at press time that the index will close just below 12,200. According to Campos, if the Dow doesn't want to disappoint the billions of people who pay good money to watch it succeed, it had better learn from today's mistakes, and use its late momentum to "come out fired up and ready to go tomorrow."