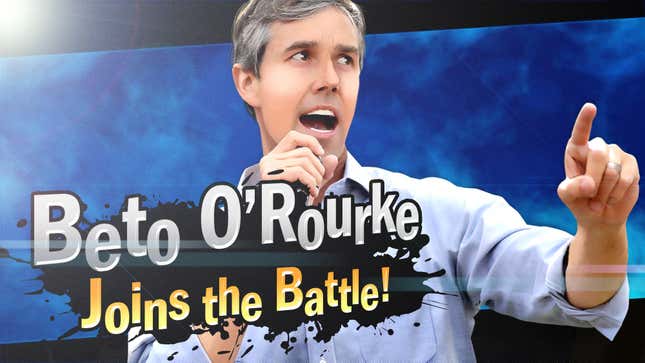 Watch out, Smash players! A new foe has appeared. The Beto O'Rourke campaign just broke new ground recently by making Beto the first presidential candidate available as a Super Smash Bros. Ultimate DLC fighter.
CDC Issues Dire Warning That Nick Cannon Is Feeling Horny
The former Texas congressman and gubernatorial candidate will become the 83rd character to join the all-star roster of combatants. According to his description on the Nintendo Game Store, he's available for only $5.99 in a package that includes his own stage in an El Paso diner along with five musical tracks inspired by his work in the post-hardcore band Foss. His default costume is a blue oxford shirt, but it looks like he has three alternatives consisting of the same shirt with the sleeves rolled up to different lengths!
"We at Beto For America aren't afraid to try new things, and we think making Beto a Smash character is a great way to reach out to younger voters and get them excited about his run for the presidency," said Jen O'Malley Dillon, Beto's campaign manager, explaining how they worked in partnership with Nintendo to create an avatar whose abilities and move-set reflect the politician's character and policies. "Our hope is that watching Beto duke it out with Meta Knight and Samus will familiarize millennials in this country with everything this candidate represents."
"As a campaign working to fix a broken America, we pride ourselves on going to spaces other candidates wouldn't consider, and Smash is definitely the next frontier," she added.
In terms of playability, Beto boasts an array of versatile special attacks, such as throwing Whataburgers, bashing opponents with a guitar, and plowing through enemies while riding a skateboard. His Final Smash is pretty cool, too, with Beto starting by getting up on a table and body slamming his opponent. It's hard to land, but if done successfully, it's an instant K.O. As for his taunts, he can call for his enemies' impeachments as well as insulting them in Spanish. Overall, we would rank him as a third-tier character, between Bowser Jr. and King Dedede.
Although he has only been out for a short while, we're already hearing that Beto is proving to be an extremely popular character, with most readers choosing him as a CPU opponents so that they can spend hour after hour just endlessly wailing on him.