ATHENS, GA—The inevitable breakup of Henry Loemer and Frieda Jaynes, which occurred publicly on Sept. 25, left almost a dozen local residents secretly amused Monday.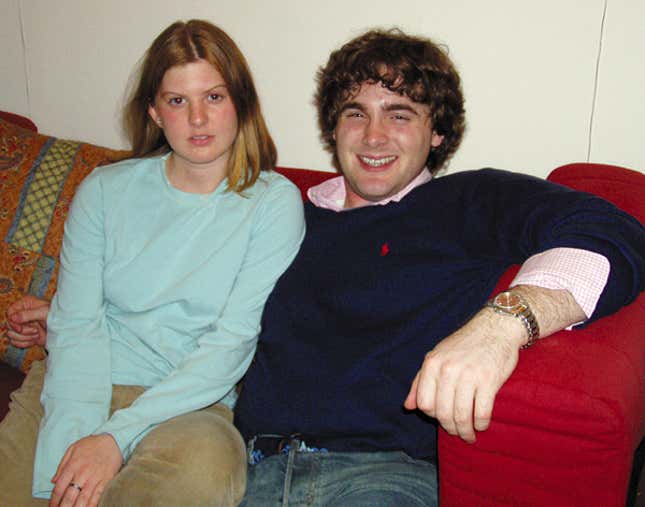 Study Finds LSD Highly Effective At Ruining Nephew's Baptism
"There's nothing funny about this situation—except everything," said Jaynes' best friend Deanna Vodak. "They were a terrible couple and never should've been together in the first place. They fought constantly and had nothing in common, other than they were both lonely and liked fucking. Not that I'd ever say that to their faces."
Jaynes and Loemer met two years ago at the University of Georgia, where they developed a flirtatious friendship based on a shared interest in Tom Robbins novels. The two launched their strained relationship in July with a drunken kiss at a bar, and the subsequent coupling ended a six-month sexual dry spell in each of their lives.
Loemer and Jaynes' torrid relationship came to a hilarious end in front of seven of their friends.
"A group of us went out for drinks at McGarvey's [Tavern]," said Jerry Pittman, a mutual friend of the couple. "We were all having a good time until Frieda took offense at some joke Henry made about the waitress. She sat and glared at him for 10 minutes. It might have made everyone uncomfortable if Frieda hadn't scrunched her face up like a 6-year-old letting everyone know she was mad."
When Jaynes could no longer contain her anger, she chastised Loemer for his failure to acknowledge her feelings. Loemer said he'd be more attentive to her feelings if she'd communicate them, "instead of shutting up like a fucking clam all the time."
"Even that might have slipped under the radar if Henry hadn't turned to Jerry, asked if he looked like a mind reader, and rubbed his temples like a psychic," friend Emily Solie said. "The next thing I knew, Frieda chucked a salt shaker at [Loemer]. But it was a totally weak sidearm throw and the salt hit an empty table to the right of us."
When Jaynes screamed, "There! Can you read that?" the assembled friends could barely conceal their amusement.
The small argument escalated into a screaming match. Jaynes expressed her disgust for Loemer's body, and he called her under-educated and spoiled. The fight ended when Loemer pulled Jaynes' photo out of his wallet, ripped it in half, and stormed out of the bar.
The fact that Loemer and Jaynes were dating for less than three months heightened friends' enjoyment of the frivolous sturm und drang.
"Frieda was devastated," Vodak said. "She kept saying, 'It's over, it's over,' as if we hadn't caught that. Then she called the breakup 'tragic.' We tried to console her, but the moment she went to the bathroom, we all cracked up."
Pittman spent Friday with Loemer to provide his hilariously heartbroken friend with companionship. When the two friends walked past McGarvey's, Loemer choked back tears, while Pittman choked back laughter.
"Henry said he could never set foot in that 'tainted place' again," Pittman said. "I can understand why Henry wouldn't want to go back, but 'tainted'? He acted like nuns had been slaughtered there. And the night they broke up was only the third time we'd ever even been there. I mean, give me a break."
Frequent phone calls and visits have kept friends abreast of the ex-couple's daily tribulations.
"I was talking to Frieda yesterday and she said, 'How could this happen? We were so right for each other,'" Vodak said. "Luckily, I passed off my gasp as a cough. My favorite part was when she said she threw the mix CD Henry made her into the river, as a symbolic rejection of their life together. Oh, man. What a riot!"
Ever since the breakup, the ex-couple's friends have surreptitiously called one another to trade ludicrous details.
"When I was at Henry's house, I heard this message from Frieda demanding $20 for Blockbuster late fees,'" Solie said. "It was this diatribe about how he was going to have to find someone else to support his 'secret Sex And The City habit.' I thought I was hallucinating when I heard that one."
Solie said she and her friends can justify their behavior.
"I'd understand if they'd been soulmates, but they were terrible together," Solie said. "Frieda's a bit of an introvert, and Henry's pretty cocky. When they got together, he transformed into a loud asshole, and she turned into a spiteful, controlling harpy. We like them fine apart, but together, they were ridiculous."
"I still don't know how I've managed not to laugh right in their faces," Solie added. "I'm sure this is going to get old in a week or two, but in the meantime, it's funnier than anything on Conan."