MERRIMACK, NH—Just two years after unveiling the talking remote-controlled meat thermometer and the telescope with an mp4 player, scientists at Brookstone, Inc., reported Tuesday that the towel alarm clock, which even the most optimistic upscale-gadgetry experts believed could not be available until at least the 22nd century, is a mere decade away from becoming a reality.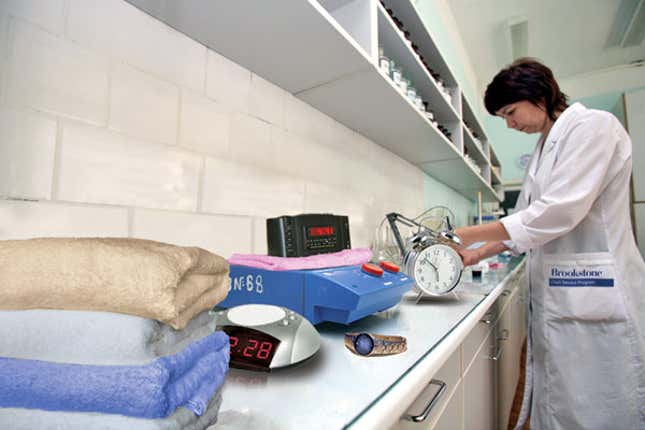 Sources from Brookstone Labs, the top-secret, 1,200-acre high-tech gift-development facility perhaps most famous for being the birthplace of the video toothbrush, said that a viable towel alarm clock could be sold to consumers as early as 2017 thanks to recent advances in ferromagnetism, piezoelectric actuators, and cotton.
"This device will forever change the way we live," said Bryan Davies, Brookstone's executive director of research. "No longer will people have to lug their alarm clock from the bedroom to the shower every morning."
"The days of not having an alarm clock on your towel will soon be over," Davies added.
A concept that once existed only in the annals of science fiction and in the fantastical predictions of unique-gift visionaries, the towel alarm clock will allow man to simultaneously dry himself and receive aural alerts when a specific, user-preset time is reached.
"Whether in the locker room, by the pool, or at the beach—anywhere towels and alarm clocks once existed separately—the two will finally be brought together in the name of human progress," said Davies, noting that the projected sleek, sensitive design will allow the towel to easily conform to one's body shape, and that the clock can be used for up to 150 million years without losing a single second of time. "This could go down as the single greatest creation since the vibrating wallet-phone."
Davies would not elaborate on the exact look of the product, describing it only as "exactly what you thought a towel alarm clock would look like when you were a kid." He did, however, verify that prototypes of the product have been composed of bamboo yarn, Egyptian cotton, a Flexi-Flat liquid crystal display screen, transparent electrodes, and polarizing light filters. The clock mechanism automatically synchronizes itself with a signal sent from atomic clocks based in Colorado, guaranteeing an exceptional accuracy previously seen only in towel-less timepieces. There is also a snooze button.
According to lead engineer Dr. Gregory Spriggs, production on the towel alarm clock was not without its setbacks. In 2003, the scientists experienced problems knitting a 470-microfarad electrolytic capacitor into the fabric, and in 2005, work came to a standstill for weeks as they heatedly debated whether the alarm should be a "buzz" or "beep" noise. Last year, the scientists unveiled their first prototype, but the design had to be rethought following a series of injuries, numerous third-degree burns, and one fatality during the product's initial testing phase.
"This product is admittedly more complex than, say, a can opener with three handles," said Spriggs, gesturing toward Brookstone's new tri-handled flex-grip can opener. "But if this groundbreaking commingling of towel and alarm clock truly comes to pass, we might soon live in a world where people will never be late or wet again."
This accelerated effort to complete the towel alarm clock has forced Brookstone to put several other inventions on the back- burner, including the self-serving pie tin, the motorized travel pillow, and the digital voice recorder hammock. However, Davies said that production of the hands-free golf putter and English–French translator is on schedule and the products will be in Brookstone stores in time for Father's Day 2008.
In response to Brookstone's announcement, rivals Sharper Image and Hammacher Schlemmer revealed that they, too, have spent years secretly working on their own versions of the towel alarm clock, aiming to release them in the next five years. Both versions will reportedly include extra features, such as a stopwatch function and a compass.
Brookstone's Davies, however, was quick to criticize his competition.
"Regardless of who releases the product first, they'll never match the quality, simplicity, and durability of our towel alarm clock," Davies said. "Besides, why would anyone ever need a compass on their towel?"