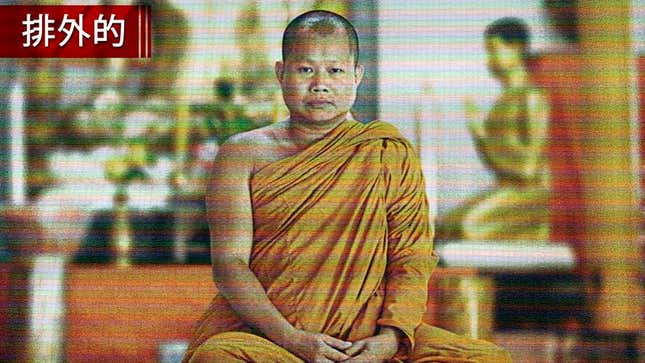 WASHINGTON—In a 45-minute video posted on Tibetan websites Thursday, Tsuglag Rinpoche, leader of the Buddhist extremist group Kammaṭṭhāna, threatened to soon inflict a wave of peace and tranquility on the West.
This Week's Most Viral News: September 22, 2023
Speaking in front of a nondescript altar surrounded by candles, burning sticks of incense, and a small golden statue of the Buddha, Rinpoche did not specify when or where an assault of profound inner stillness would occur, but stated in no uncertain terms that the fundamentalist Buddhist cell plans to target all Western suffering.
"In the name of the Great Teacher, we will stop at nothing to unleash a firestorm of empathy, compassion, and true selflessness upon the West," said Rinpoche, adding that all enemies of a freely flowing, unfettered state of mind will be "besieged with pure, everlasting happiness." "No city will be spared from spiritual harmony. We will bring about the end to all Western pain and anxiety, to all destructive cravings, to all greed, delusion, and misplaced desire. Indeed, we will bring the entire United States to its knees in deep meditation."
"Wisdom and virtue to America!" continued Rinpoche. "Wisdom and virtue to all living things on earth!"
According to reports, Rinpoche stressed throughout his address that Kammaṭṭhāna soldiers would continue waging a tireless holy war on Western feelings of emptiness and negativity for as long as necessary, noting that "a jug fills drop by drop" and that "it is better to travel well than to arrive."
The extremist leader specifically criticized the United States for its "blatant disregard of karmic balance within the universe" and ominously claimed that Americans will "one day soon" experience the highest form of metaphysical equilibrium through a union of both body and mind. Rinpoche also said all Western nations would "pay a heavy price in negative thinking and self-doubt" if they do not immediately engage in serious introspection and true spiritual liberation.
Sources confirmed the video then featured an uninterrupted 19-minute clip of water quietly flowing between rocks in a small forest creek.
ABOVE: Watch a short clip from the Kammaṭṭhāna's 45-minute video.
"From New York City to London, Madrid, and Paris, we will not cease until every major metropolis is left in a state of total nirvana," said Rinpoche, brandishing a pink lotus flower before claiming that Kammaṭṭhāna will seize any opportunity to aggressively instill a deep-seated sense of oneness in all Westerners. "We offered the unenlightened governments of America and Europe a chance to embrace the Eightfold Path, but you have refused. Now, we have no choice but to impose a peaceful spiritual reawakening upon you."
"And if you think even for a moment that we will ever relent, remember this: Thousands of candles can be lit from a single candle, and the life of the candle will not be shortened," Rinpoche added. "You have been warned."
Kammaṭṭhāna, a radical Mahāyāna Buddhism movement, was founded in Nepal in the late 1970s with the explicit mission to spread a fundamentalist interpretation of the Four Noble Truths to all nonbelievers. According to experts, the multinational organization operates somewhere in a remote region of the Himalayas, though the current whereabouts of Rinpoche and Kammaṭṭhāna's other high-ranking members are reportedly unknown.
Kammaṭṭhāna first came to international prominence in 1997, when five of its members boarded a New York City subway car and held 42 hostages in a state of transcendent serenity for seven hours while performing atonal syllabic chants. The group then claimed responsibility for a severe 2004 outbreak of interconnectedness in central London, later traced to a 23-year-old Kammaṭṭhāna sleeper cell operative who sat cross-legged in Trafalgar Square and read aloud from The Gateless Gate collection of 13th-century Zen koans.
Kammaṭṭhāna claims to gain "thousands of newly reincarnated followers each day" and is reportedly known to recruit many young Buddhists from around the world, training them in tranquil insurgency tactics at covert monasteries across Eastern Asia.
"I want to assure all Americans that we are fully aware of these threats from Kammaṭṭhāna, and they will not be taken lightly," acting Secretary of Homeland Security Rand Beers said at a press conference shortly after Rinpoche's video surfaced, adding that several U.S. cities have been placed on high alert and authorities are watching closely for any suspicious peaceful activity in densely populated areas. "We do believe that Kammaṭṭhāna currently possesses the means to inflict widespread balance in the collective subconscious of an American city. However, we are doing absolutely everything in our power to prevent that from happening."
"The danger of total enlightenment is very real," Beers added. "And we must be prepared."
At press time, sources confirmed that President Obama has authorized a preemptive strike on Kammaṭṭhāna and deployed a fleet of predator drones to bomb Tibet.