WASHINGTON, DC–More than four months after his Jan. 20 inauguration, the realization that George W. Bush is actually president of the United States finally hit the American people this week.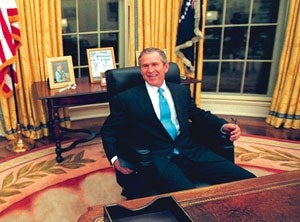 The fact of the Bush presidency, which sunk in with most Americans sometime between 11 a.m. Sunday and 4 p.m. Tuesday, has stunned citizens of all races, ages, income levels, and party affiliations.
"Whoa," said Bill Wylecszki, 38, a Odessa, TX, grocery-store owner. "George W. Bush, former owner of the Texas Rangers and failed oilman, is president. This is too weird."
"I guess with the media circus and all the other craziness surrounding the election-recount fiasco, I just kind of looked at it like it was some sort of funny TV show," said Amanda Milner, 37, a Red Wing, MN, bank teller. "I never really thought about it as something that was actually happening. And once Bush finally got sworn in, I don't know, I suppose I must've just subconsciously assumed that there would be another recount or another election in a few months or something."
Americans hit with the sudden realization have reported feelings of nervousness, confusion, and disorientation. The effects are said to be fairly uniform across the nation, with a particularly high concentration in Florida.
"A few nights ago, I was watching The Tonight Show, and [Jay] Leno was making some typical joke about Bush–you know, the kind we've all heard a thousand times before–and I was thinking, 'Boy, wouldn't it be bizarre if he actually got elected?'" said Ocala, FL, homemaker and mother of four Janis Niering. "Then it hit me: 'Wait a minute–I think he was.'"
Even months after Inauguration Day, the presidential situation never really dawned on most Americans. This, political experts say, was largely due to the fact that former president Bill Clinton continued to dominate the news through much of February, March, and April, while the media paid little attention to Bush.
"The stolen White House furniture, the missing Ws from the White House computers, the Clinton office in Harlem, the whole Marc Rich pardon thing… it just seemed like Clinton was still president," said Mary Ellen Buis of Salina, KS. "I know that doesn't make sense, but that's what it was like."
"Evidently, I should have taken it all a lot more seriously," Buis continued. "I mean, he's apparently going to be our leader for the next four years, minimum. But who knew?"
Even Republican Party leaders have expressed surprise over Bush's occupancy of the White House.
"Early in the presidential race, we all expected Bush to get stomped by Al Gore," Sen. Orrin Hatch (R-UT) said. "But once the race got tight, we were so excited that we might actually win, it was sort of unreal. But I'm not sure we ever really gave much thought to the idea that it might actually happen. It was more like some strange dream or something."
Pausing to rub his eyes and shake his head, Hatch added, "Wow."
For the first 24 hours after the mass realization, Bush remained silent on his status as president. This, political analysts say, was because the full scope of the truth had only begun to dawn on him, as well. After conferring with top advisors in a six-hour closed-door session, Bush finally addressed the nation Tuesday evening.
"My fellow Americans," Bush said. "God, it sounds so weird to actually be saying that. Anyway, I know we've all had a bit of a shock lately. To be honest with you, I'm a bit blown away by it all myself. But it appears that, for whatever reason, I am now the leader of the free world. And that's something we're all, myself included, going to have to get used to."
Added Bush: "Any comments or advice anyone might have would be welcome at this time."