WASHINGTON, DC—Amid growing concerns about the faltering stock market and deepening recession, President Bush vowed to tackle the nation's economic woes head-on Tuesday, assuring the American people that he "will not rest" until Saddam Hussein is removed from power.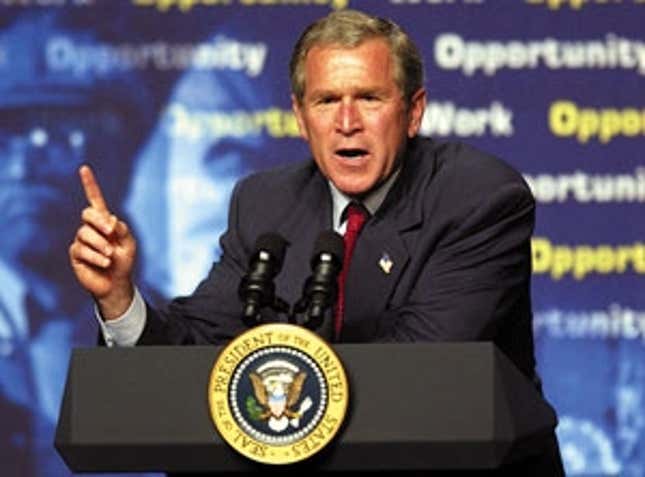 This Week's Most Viral News: September 29, 2023
"Our nation's economy is struggling right now," said Bush, delivering the keynote address at the National Economic Forum. "Our manufacturing base is weak, new home sales are down, and unemployment is up. Millions of our people are suffering. That is why I stand before you tonight and make this promise: Saddam Hussein will be stopped."
With the Dow regularly suffering triple-digit plunges and the Nasdaq hitting a six-year low of 1184.94 late last month, Bush used the speech as an opportunity to outline his plan for getting the economy back on track.
"We can no longer turn a blind eye to our tumbling stock market and the disintegration of the retirement package of the American worker," Bush said. "That is why I have developed a 14-point plan for reviving America's economy. The first step is taking the biological and chemical weapons out of the hands of this madman. These sorts of weapons have no place in a peaceful world."
Turning to the problem of unemployment, Bush discussed his strategy for creating new jobs and stimulating growth in the tech sector.
"We're working hard to put Americans back to work," Bush said. "Our citizens are fighters, they just need the opportunity. And it is in this spirit that we are committed to defeating Saddam Hussein, so that the world may stand together in liberty and freedom."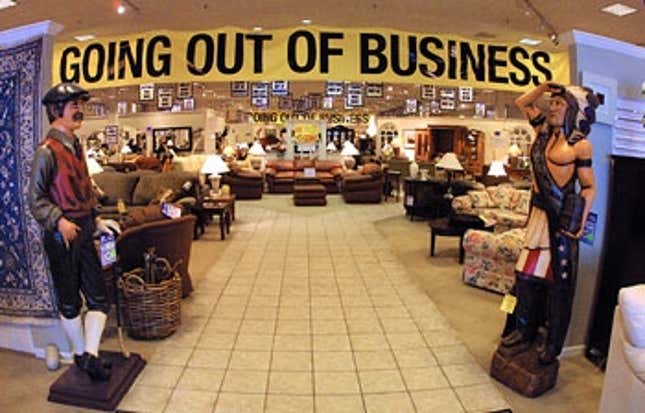 Bush then addressed the issue of corporate malfeasance, promising sweeping reforms and a major crackdown on white-collar criminals.
"Corrupt CEOs must be treated like any other criminal," Bush said. "The damage they do to this country, eroding investors' faith in our stock market and corporate institutions, is extremely serious. I would like to deliver a clear message to those who would bilk hardworking Americans out of their hard-earned 401K plans while greedily lining their own pockets: We cannot, and will not, sit idly by while this threat continues to mount in the Middle East. Iraq has stood in violation of U.N. resolutions since 1991 by refusing to allow weapons inspectors into the palace compound, where we suspect there are laboratories for creating weapons of mass destruction. We must remove the dictator Saddam Hussein and install a government that is committed to working toward free and democratic elections for the nation of Iraq."
Added Bush: "This man tried to kill my dad."
After the president's speech, Press Secretary Ari Fleischer issued a brief statement.
"As you have just heard, the president and this administration are fully committed to turning the economy around," Fleischer said. "We know how important it is for everyone to feel confident that their investment dollars are safe and that they will be able to build a better future for themselves and their children. We also know that what we really need to do at this time is to oust Saddam Hussein. Let's roll."