WASHINGTON, DC—As experts issue increasingly dire warnings of an avian flu epidemic, President Bush signed an executive order Tuesday authorizing the mass slaughter of "all bald eagles found anywhere within our borders."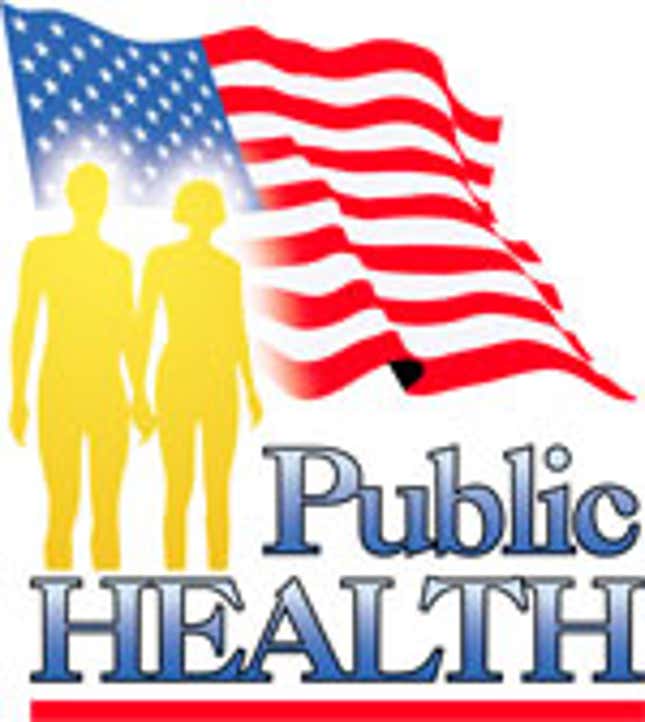 This Week's Most Viral News: September 22, 2023
"As president, my first duty is to protect the American people, whether the threat is terrorists or deadly, fast-mutating bird viruses," said Bush, standing on the lawn of the National Mall before a specially built pyre stacked with recently killed bald eagles. "This proactive initiative will rid our nation of this potentially disease-ridden winged animal."
Bush added: "I want these birds rounded up, tied down, and their throats slit."
Executive Order 1342A, which calls for the annihilation of the bald eagle, specifies that each carcass shall be wrapped in a single American flag, doused with gasoline, and burned.
The order, written by members of Bush's Council of Advisers on Science and Technology, nullifies the 1973 Endangered Species Act and the 1940 Bald Eagle Protection Act. It will be overseen by the Department of the Interior, which will work closely with state natural-resource agencies and National Guard units to ensure that the bald eagle threat is eliminated.
"This order was developed with the help of my top science advisers," Bush said. "We can all trust that their wisdom, manifested by this bold, eagle-killing initiative, will protect us from any deadly bird-related diseases."
Secretary of State Condoleezza Rice will meet with the Canadian prime minister and Mexican president next week to discuss eradication efforts for bald eagle populations in their countries. The Department of the Interior's deadline for bald eagle annihilation is July 4, 2006.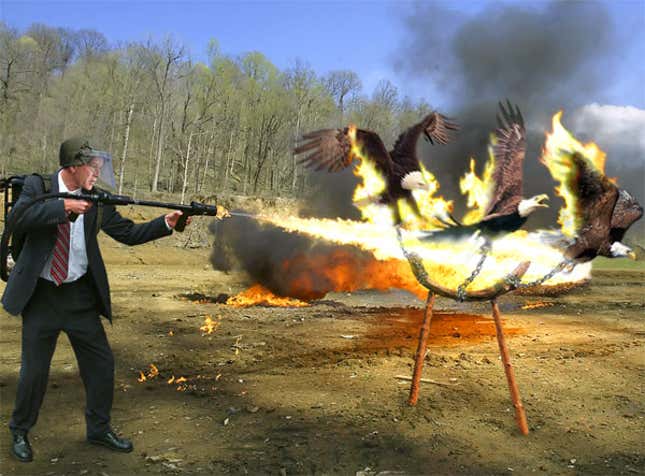 According to White House sources, Bush is adopting a hands-off attitude regarding the methodology of eagle slaughtering. Telling advisers that he would prefer that the eagles have their throats slit for "humane purposes," the president said he is willing to allow wildlife officials to exercise their own judgment. According U.S. Fish and Wildlife Service Director "Whooping" Dale Hall, the killing strategies are many and varied.
"Bald eagles may not be as imposing as, say, bears or wolves, but they are surprisingly difficult to kill," Hall said. "We can blow them off their perches with air rifles, stun them with ball-peen hammers, or break their wings, beaks, and necks, but still, some survive."
Hall continued: "I'm encouraging officials on the local level to utilize 'certain kill' methods, such as wrapping the eagle in radioactive waste and burying it upside-down in an old-growth forest."
Hall urged Boy Scout troops to join in the effort by ferreting out eagle nests and smashing the eggs underfoot.
The FWS estimates the population of the bald eagle, which the Second Continental Congress designated as the national bird in 1782, to be roughly 20,000 in the lower 48 states, with an additional 35,000 in Alaska. Tuesday afternoon, the FWS elevated the bald eagle's endangered-species status from "stable" to "severely threatened," its most serious designation.
Administration critics have suggested that the president's plan is too narrow in scope, and leaves Americans susceptible to contact with a wide variety of other dangerous birds.
"What about less prominent but far more abundant fowl common to residential areas, such as bluebirds, cardinals, or geese—shouldn't they die, too?" said Democratic Party strategist Elaine Quigley, appearing on MSNBC's Hardball. "Benjamin Franklin once said that the wild turkey, not the bald eagle, should be the emblematic bird of America. Why aren't we executing those, too?"
The Office Of The White House Counsel, which oversees the usage of all executive-branch insignias, is expected to approve a new eagle-free presidential seal as early as next week.