WASHINGTON, DC—Vowing to "exact justice for the taking of innocent American lives," a determined and defiant President Bush deployed more than 14,000 ground troops to the West Nile Monday.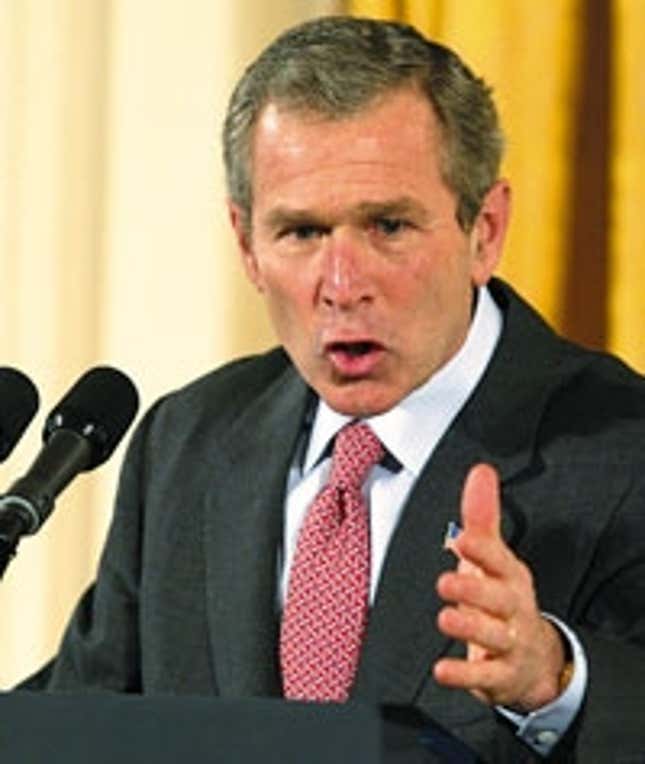 CDC Issues Dire Warning That Nick Cannon Is Feeling Horny
"My fellow Americans, an enemy from overseas has attacked us in our own land, waging biological warfare against us on our home soil," Bush said in a nationally televised speech from the Oval Office. "We must send a strong message to our enemies in the West Nile region that this virulent aggression against America will not go unpunished; it will not stand."
Bush's decision to deploy troops came on the heels of three more West Nile virus deaths over the weekend—one in Louisiana and two in Illinois—bringing the national death toll to 51.
"These cowards want to bring down our very way of life," Bush said. "They have sought to rob us of our ability to leave the house without repellent. But what they did not count on is the tremendous spirit and resolve of the American people. No one, be they man or mosquito, will dictate what we put or don't put on our skin for protection."
Armed with anti-mosquito munitions, American Special Forces made landfall at Damietta near the mouth of the Nile early Tuesday, and by dawn had erected U.S. Army netting over the city. Bush promised that the netting, expected to extend all the way to Khartoum by the end of the week, will eventually stretch nearly 1,000 miles to the Nile's source and "as far to the west as necessary."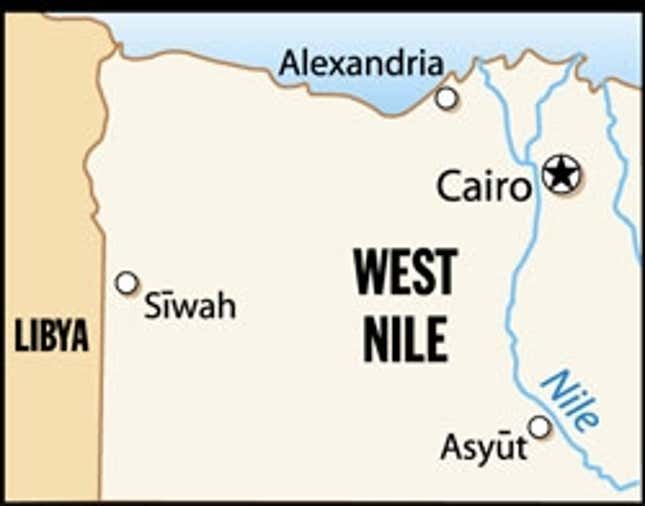 "The United States will not stand idly by while people or insects who despise everything we stand for develop weapons of mass infection," Bush said. "The only way to fight a pestilence such as this is to attack it right where it breeds—in this case, the lands to the west of the Nile River."
Though not made public until Monday, Operation Deep Desert Off! began at approximately 3 p.m. EST Sunday when Air Force F-15 aircraft armed with mosquito-seeking Sidewinder missiles flew in support of F-18s deploying military-grade citronella napalm. By nightfall, special DEET-dispensing flamethrower tanks of the First Armored Infantry were scouting out possible base camps 100 miles west of the Nile.
Though details of the plan remain classified, Defense Secretary Donald Rumsfeld said the ultimate goal of Operation Deep Desert Off! is to "eradicate the deadly, virulent strain of anti-Americanism that has spread from the West Nile to our own shores."
"We have 14,000 fully armed and equipped American troops in the region right now who are prepared to take the fight to this foreign threat," Rumsfeld said. "I must stress that it will not be easy, as the war we wage is not against a traditional enemy. This enemy operates in secrecy, striking when and where we least expect. It is an enemy without borders. But I am nevertheless confident that the evildoers responsible for killing those 51 Americans and infecting hundreds more can be defeated by Christmas."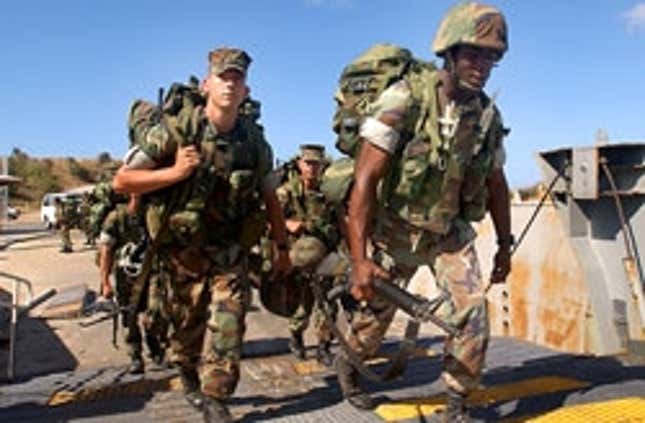 Response to Bush's troop deployment has been mixed.
"This ridiculous show of force is patently not the way to fight the West Nile virus," said Dr. Arnold Bloch of the Centers For Disease Control. "Foreign military action will do nothing to halt the spread of this disease and does not help those currently infected with West Nile. Besides, Bush should have deployed those anti-mosquito jet fighters along the eastern seaboard and garrisoned the Mississippi River area last year, when there was still a chance to contain the disease's domestic spread."
"Only two years ago, Bush said he would try to control his retaliatory impulses," Senate Majority Leader Tom Daschle (D-SD) said. "But in the past six months, he's invaded the West Nile, petitioned Congress for economic sanctions against Japan for the crop devastation wrought by the Japanese beetle, and threatened China with nuclear attack if its snakehead invasion was not halted. If he continues this hardline military stance on all overseas natural threats, he will badly damage his chances of ever solving future crises peacefully."
Undeterred, Bush maintains that the time to strike is now.
"We will hunt down and capture those who bring sickness and death to our shores," said Bush during a visit to the St. Louis home of Robyn Crist, 35, whose husband Dan was one of the first West Nile casualties. "Nothing can deter us from bringing down these bloodsucking anti-American parasites."